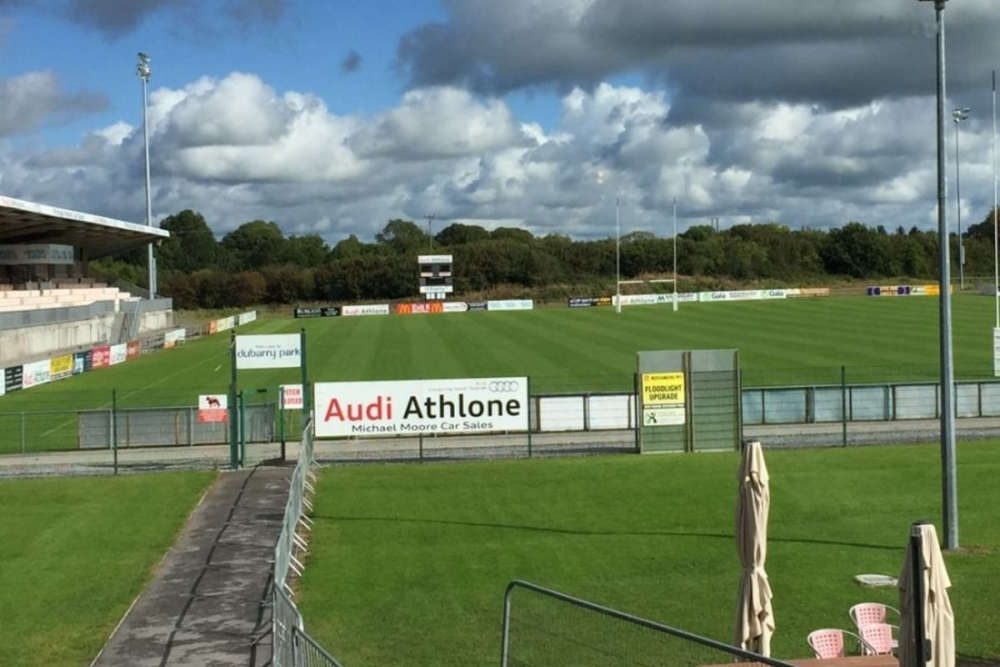 They welcome table topping Queens University to Dubarry Park next.
CORINTHIANS 7 BUCCANEERS 31
Buccaneers overcame a potentially tricky Connacht Senior Cup hurdle when they recorded a clearcut 31-7 victory over Galway Corinthians at Corinthian Park on Saturday. The Tribesmen had been on a free-scoring winning run of late in the All-Ireland League and the Pirates were wary ahead of their raid west. But Buccs dominated from the start, building up a 24-0 half-time lead and then displayed resilience and pragmatism to protect theiradvantage after the change of ends.
Both teams were depleted for various reasons but, nevertheless, the midlanders will be fairly satisfied with the performance of their squad on a bitterly cold, windy afternoon. The visitors had the sun and diagonal breeze to their backs in the opening half and made the most of the elements on a heavy sod in front a scattering of spectators for this quarter-final contest. Buccs had 25 points to spare over the hosts when the teams met in the Connacht League earlier this season but it was felt that this would be a close contest. However, the Athlone side signalled their intent from the kick-off and scored an excellent try within 3 minutes. Following a penalty punted to the left, Buccs spun the ball smartly from left to right and Ruaidhri Fallon's pass sent Ross Murphy-Sweeney scampering away for an unconverted try in the right corner.
The Pirates pack then shoved Corinthians off their own put-in at a scrum near the home ten metre line and enterprising handling saw the ball moved from left to right again before Shane Layden switched direction and made serious yardage before being hauled down. His forwards were swiftly up in support and Evan Galvin applied the finishing touch for a try converted by Stephen Mannion for a 12-0 lead inside the opening 17 minutes.
Buccs notched their third try 9 minutes later. A smart lineout move was followed by a strong carry by Darren Browne that brought the midlanders close to the home line where his fellow forwards arrived quickly and, after some patient probing, Fergus Galvin dived over for another unconverted try in the right corner. A clever diagonal kick on the half-hour by Fallon put pressure on Corinthians and Ross Doogan's deliberate knock-on earned the home centre ten minutes in the sin bin. Buccaneers opted for a scrum in front of the posts and, following a nudge forward, the ball was spread to the left where Layden delivered a try-scoring pass to Harry Hughes.
Mannion added an excellent touchline conversion to this 33 rd minute try for a 24-0 lead. A fifth try looked likely just before the interval but Cian Breathnach made a vital steal and followed that up with a fine break that gave Corinthians a rare position close to the visitors' line where Buccs held them out.
With the slope and the strengthening breeze behind them, Corinthians made a promising start to the second half. A series of penalties got them a foothold inside the Buccs 22 but the Pirates defence, despite losing the influential Mannion to injury after 42 minutes, remained steadfast. When Buccaneers lost possession while advantage was being played Corinthians got in for a 53 rd minute try converted by David Keane. It would have been debateable had the game been closer. A lesson to be learned here by Buccs, nevertheless, in that you should always play the whistle!
Much of the final quarter was contested in midfield as Corinthians were rarely able to threaten a disciplined and well-organised Buccaneers defensive shift before any hopes of a home comeback were ruled out after 67 minutes. Buccaneers kicked a penalty to touch on the clubhouse side and, following a good lineout fetch, the Pirates put in yard-gaining maul. Good ball retention ensued as they sought a gap in the Corinthians rearguard, which was found by Layden and he surged through for a try which Michael Hanley converted to complete the 31-7 scoreline.
This was a fine all-round display by Buccaneers with the backline, where Layden, Fallon and Mannion shone, showing lots of enterprise and the pack hungry for work.
The scrum was solid and there was fine variation in the lineouts. The evergreen Martin Staunton led by example with Evan Galvin, Danny Qualter and Browne contributing notably. Buccaneers now progress to an away semi-final next month against the winners of holders Sligo v Galwegians with league champions Ballina awaiting the victors in the decider in March.
CORINTHIANS:- E.McMahon; M.O'Connell, C.Stapleton, R.Doogan, C.MacDonald; D.Keane, J.Whyte; J.Noone, J.Savier Gaspar, M.Conneely; G.Kilkelly, A.Broderick (captain); C.Breathnach, C.Joyce and C.Huxford.
Replacements:- G.Noone (for J.Noone), J.O'Connell (for Whyte), H.Woodhennessy (for Kilkelly), A.Nash (for Savier Gaspar), G.O'Connell (for Conneely), C.Kilkelly (for Breathnach) and L.Gardner.
BUCCANEERS:- R.Fallon; H.Hughes, S.Layden, S.Mannion, R.Murphy-Sweeney; M.Hanley, E.O'Reilly; J.Kelly, D.Browne, M.Staunton; R.Byrne, D.Qualter; C.McCann, E.Galvin (captain) and F.Galvin. Replacements:- T.Shine (for Mannion, inj. 42 mins), K.Kiripati (for Browne, 50 mins), S.O'Connell (for Kelly, 50 mins), A.Flanagan (for O'Reilly, 60 mins) and J.Kelly (for McCann, 72mins).
Referee:- Andrew Fogarty (Connacht).
BUCCS HOME TO LEADERS QUEEN'S ON SATURDAY
BUCCANEERS face what could be a season defining fixture when they host leaders Queen's University at Dubarry Park as the Energia All-Ireland League resumes following the festive break.
High-scoring Queen's have been the pacesetters since the commencement of the campaign, losing just one game to date to Cashel. In their final outing of 2021 the Ulster side defeated Buccs 32-15 in Belfast but the Pirates were very much in that game until two late scores ensured victory for the Students. College No.8 Gary Dillon was the star performer on that occasion and Buccaneers must curb his influence on Saturday. David Whitten is another key operator in the Queen's pack while Michael Orr, Robbie Johnston and Richie McMaster are a threat in their backs unit. That win opened up a nine points gap at the top of the league table while defeat meant the Athlone side slipped to fourth.
A number of errors cost Buccaneers dearly at Dub Lane but otherwise the midlanders lasted the pace, caused Queen's lots of problems and could have edged a fast-flowing encounter had they taken the chances they created, particularly early on.
Encouragingly Buccs had a decent workout when winning away to Corinthians last Saturday. There their main concern was an injury sustained by Stephen Mannion. His availability and that of Tabo Maree, who made a late appearance in Belfast, could be crucial for the Pirates. Hopefully, Buccs will have some of their Academy players available from Connacht; surely the province would relish a club competing in Division One?
If Buccaneers are close to full strength, play to their potential and ability, they can reverse the result from last month's meeting. A home win would not only benefit the Shannonsiders but also the other contenders in Division 2A. An enthralling and lively contest is in prospect in which big home support could prove crucial so let's see a large crowd in Dubarry Park on Saturday for what could be the game of the season.
Kick-off is 2.30 p.m.
Other Fixtures
The AIL match may be the headline game but Buccaneers have a busy fixtures list this weekend, albeit the IRFU could yet defer matches due to the ongoing pandemic so check the club's website www.buccaneersrfc.com later in the week for any changes. Buccaneers Seconds, whose Connacht League game away to Creggs was one of those matches pulled last weekend, are scheduled to return to action on Sunday when Dunmore are visitors to Dubarry Park for a last sixteen Connacht Junior Cup joust. Dunmore are presently fourth in Junior 1B and will be stubborn opponents but Buccs should have sufficient quality and grit to prevail. Kick-off is at 2p.m.
Meanwhile, an hour earlier, Buccaneers Women entertain Our Lady's Boys Club in the Connacht Womens League at Dubarry Park. OLBC are top of the table and enjoying a very successful season so it looks a tough test for what is a relatively inexperienced Buccs squad. Kick-off 1 p.m.
Finally, Buccaneers U-20's resume their J.P.Fanagan Leinster League Premier 3 campaign with a trip to Lansdowne Road where they square up to Lansdowne. Unbeaten Buccs top this division while the metropolitan club, who have lost just one match, lie in fourth place. The midlanders resources could be stretched this weekend but if the young Pirates can call on most of their frontliners then they have the wherewithal to maintain their winning run. Kick-off in Dublin is 2.30 p.m.
50/50 DRAW
The winners in Buccaneers RFC Christmas 50/50 Draw were Frank Sheeran who won €362, Lisa Galvin who won a €100 hamper, and Kevin Griffith who won 2 bottles of wine. First 2022 weekly winner was Padraig Donohoe who won €148. Thank you to everyone who supported this key fund-raiser during 2021. It costs just €2 per week to enter and you can set up a bank standing order or direct debit to join for 3 months, 6 months or a full year. Contact our Administrator Geraldine at 0861732711
for full details.
CONDOLENCES
Deepest sympathy is extended to Graham Ross and family on the death of his father Edward.