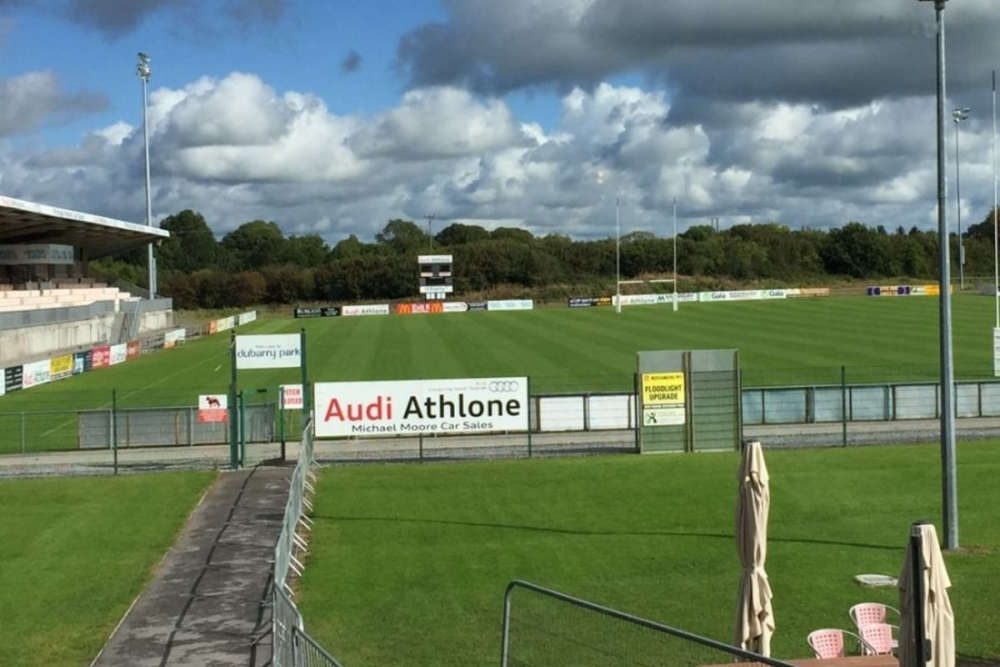 Buccs dropped to 4th in Division 2A following the loss to the league leaders.
QUEEN'S UNIVERSITY 32 BUCCANEERS 15
The top of the table clash between Queen's University and Buccaneers provided highly entertaining fare with the league leaders forced to battle all the way to maintain their winning sequence and their perch on top of the Energia All-Ireland League Division 2A as it breaks for the festive season. Queens were that bit sharper and slicker but a gallant Buccs display pushed them all the way before the home side prevailed 32-15 on the first visit to Dub Lane, Belfast, by the Shannonsiders. The Pirates gave a very good account of themselves but errors ultimately proved their downfall on a damp grey afternoon.
Buccs made one change for this encounter, Martin Staunton returning at tighthead prop and Charlie Ward moving to the bench. The well-appointed venue has a plethora of pitches and sports, but the rugby pitch also doubles for GAA usage and thus the line-markings caused the midlanders some confusion in the early stages.
But once they sorted that out on the soft underfoot conditions, Buccaneers took the game to the Students and they opened the scoring with a 7 th minute Michael Hanley penalty from 35 metres. They swiftly stretched that advantage a further seven minutes into the game. Stephen Mannion made a break along the right and spotted acres of space behind the defence. He deftly chipped over the cover but was tackled late to deny him a clearcut scoring opportunity. Referee Padraic Reidy had no hesitation in awarding a penalty try and also flashing a yellow card to the offender
Graham Curtis. 10-0 to Buccs.
It should have got even better for the Athlone side at the end of the opening quarter. Ruaidhri Fallon made a scything break from his own half and Buccs got right to the Queens line where James Kelly and Staunton were both held out. The Pirates were then held up over the line but the ball should have been moved smartly to the right flank where Thomas McGann was totally unmarked; unfortunately, his shouts for
possession went unheeded.
Buccaneers were to rue that missed opportunity just five minutes later. David Whitten won a lineout on his own 22 and fed Robbie Johnston who made good ground up the middle. He offloaded to Jonny Hunter who finished the move with a fine finish for a try in the left corner. Richie McMaster added the touchline conversion and confidence flooded back into Queens ranks. College grabbed the lead just before halftime, capitalising on a wayward pass by Will Reilly, and an enterprising counter-attack was completed by Curtis Pollock for an unconverted try that gave Queens a narrow 12-10 lead at the interval.
Queens made the perfect start to the second half with another slick move yielding Hunter's second try on 42 minutes. Although McMaster's conversion rebounded off an upright, now assisted by the diagonal breeze and the slope the hosts went for the jugular. Further impressive interplay led to their bonus point try scored by Michael Orr wide on the right. Although McMaster was again unable to convert, Queens now led 22-10 with half an hour to play. The few Pirates supporters attending must have been fearful that the homesters could run riot as they have done in most matches this season. But this was a more sustained performance by Buccaneers and they dug deep, despite finding it difficult to make progress upfield. However, a series of fine drives followed a penalty to the right, and they got close to the Students' line.
This time Buccs showed greater awareness and the ball was moved to Mannion who was held out close to the uprights. He got the ball to Hanley who showed great resolve and strength to charge in through two defenders for a 54th minute try.
Although his seemingly straight-forward conversion rebounded off an upright, Buccs were still very much in the contest at 22-15.
Queens continued to attack but were met with committed and determined defending until the 72 nd minute when a home maul following a lineout put the visitors under increased pressure earning replacement prop Ward a trip to the sin bin. McMaster duly slotted over the resultant penalty. Buccs kept battling valiantly and a losing bonus point looked possible. But in the final action of a fast-flowing and exhilarating duel, Shane Jennings slipped off a tackle and Ben Heath scooted in for a try at the posts. McMaster's conversion proved the final act of a very entertaining affair. The
32-15 bonus point win stretched Queens lead at the top of the league table while
Buccaneers slip to fourth as Cashel and Ballymena both won. But Buccs can take positives from this contest. They lasted the pace, and it was quick, and they defended resolutely for most of it. However, they kicked too much possession away, not the shrewdest option against a College outfit, and the lineouts went awry in the second half. The scrum held up well and there was some enterprising play in the backline. But errors contributed to three Queens tries and mistakes of this nature must be eliminated.
Fallon and Mannion were pick of the backline with Staunton, Byrne and Galvin doing their utmost in the forwards exchanges where Tabo Maree made a welcome return in the final quarter. Queens No.8 Gary Dillon was the top performer on the day and lock Conor McMenamin proved a thorn at lineout time. Curtis and Johnston were prominent in a lively home backs unit.
QUEEN'S UNIVERSITY:- M.Orr; G.Curtis, B.Heath, R.Johnston, J.Hunter; R.McMaster, C.McKee; A.Lupari, H.Long, M.Millar; N.Philipson, C.McMenamin; D.Whitten (captain), C.Pollock and G.Dillon. Replacements:- P.McAlpine (for Millar, 46 mins), C.Poole (for Long, 55 mins), S.Wilson (for Lupari, 55 mins), A.Lupari (for Philipson, 74 mins), S.Martin and J.Humphreys.
BUCCANEERS:- R.Fallon; T.McGann, S.Layden, S.Mannion, S.Jennings; M.Hanley, W.Reilly; J.Kelly, D.Browne, M.Staunton; R.Byrne, D.Qualter; B.McDonnell, E.Galvin (captain) and C.Booth. Replacements:- C.Ward (for Kelly 47 mins), K.Kiripati (for Browne, 57 mins), E.O'Reilly (for Reilly, 60 mins), T.Maree (for Qualter, 64 mins), E.O'Carroll (for Layden, 69 mins) and J.Kelly (for McDonnell, 74 mins).
Referee:- Padraic Reidy (IRFU).