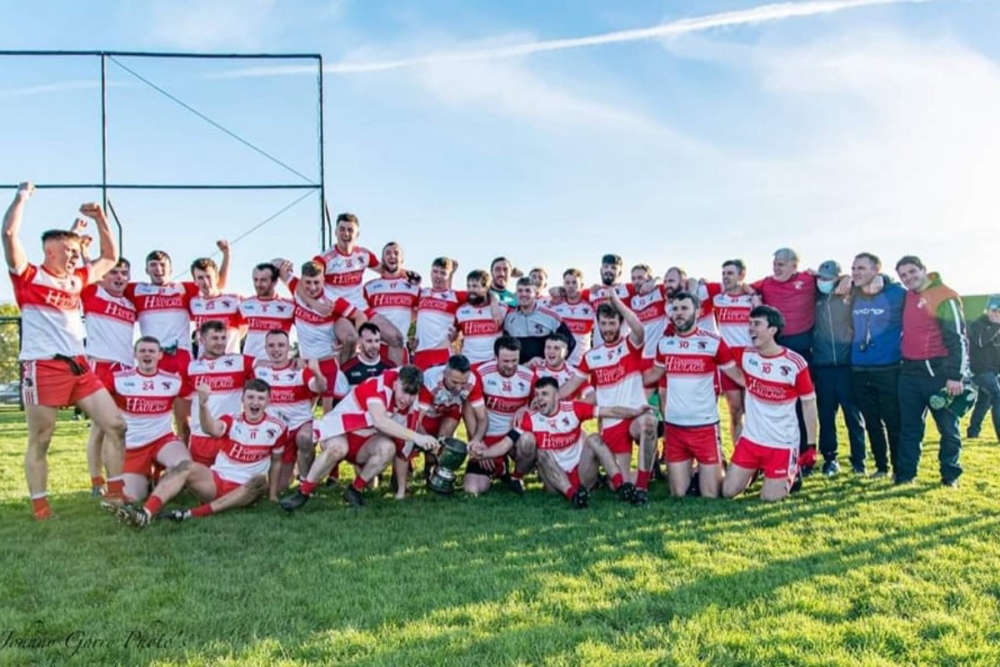 Photo Credit: Clonbullogue GAA Facebook
Kildare champions Kilcullen stand in their way.
Clonbullogue march out to take the field in Newbridge in less than 24 hours on a huge day for everyone in the 400 strong parish.
Kildare champions Kilcullen stand in the way of a remarkable win in the Leinster Junior Club Football Championship.
It's been a year of growth for the Intermediate champions of the faithful county and an exciting one on the pitch. A new generation of talent is emerging led by Offaly forward Keith O'Neill, who's captured many a lustful glare from neighbouring parishes for his performances as they captured silverware.
That superb early season form continued in the provincial series as they claimed the scalp of Longford's, Louth's and Kilkenny champions en route to this point.
It all boils down to a meeting with the Kildare champions Kilcullen, who have looked impressive Barndarrig of Wicklow, Grange from Carlow and Dublin winners St. Marks.
Throw-in is at 1pm on Saturday.
It was a strange Christmas, but a welcome one says boss Joe Kilmurray:
Yeah, we finished up on the 19th after O'Loughlin Gaels and gave the guys time off and it was important really cause with Covid it was long year too, so we let them enjoy themselves and took some time off and then we just reconvened.
I won't lie it was difficult there a couple of weeks between isolation and covid cases things like that. That was just the norm around the country unfortunately, at the moment and we've recouped and guys are mad for action and we're looking forward to the weekend.
With winning the intermediate was a great buzz around and then just looking forward to the Leinster club, it was something the club have never done before.
So, we're just we're enjoying every minute of it and the lads are really enjoying it.
On what it means to a village the size of Clonbullogue and Kilmurray's thoughts on the opposition:
It's in a different experience. It's nice to travel to go outside the county and you get good support and you know you get other clubs supporting them too, which you know it's a different feeling.
It's a nice experience for everybody that's involved.
The GAA is a great network you know; you have friends everywhere so you always get some information but look you don't read too much into it either.
You kind of have to concentrate in your own game and Kilcullen are very good. They're progressive team and they were relegated last year, but it went straight back up and they're a very young team and not too dissimilar to Clonbullogue like they're young, athletic and very fit.
It'll be interesting there's about 4,000 people in Kilcullen and about 400 from Clonbullogue, you know it's a massive challenge. That's the beauty of the club championship.
Their score lines in the last couple of games have been very high and they don't concede a lot, so it'll be a good challenge for us and we just have to wait until Saturday, see how it goes.
The guys work hard though.
Our back line work hard, our midfield and then the headlines go to the forwards but it's an all-round team and a team effort. We try and work hard, that's the main thing.
Our forwards are quite young and there's plenty of up-and-coming talent there, which is great for Clonbullogue and for Offaly.
On his advice for the players based on his own experiences with Rhode?
Just go out and enjoy it.
That goes for the supporters too just go out and enjoy it.