Find out exactly what it means for each of Laois, Offaly and Westmeath.
The GAA has revealed how the 2021 inter county season will play out pending covid restrictions.
Hurling will be first to roar back to action in five weekends from now, with football following a week later.
Provincial Championships will begin in June and run until the end of August.
The Club Championships can progress when a county side exits the All-Ireland series permitting government regulations at the time.
A full breakdown is provided below:
Allianz Hurling League
The hurlers of Laois, Offaly and Westmeath will be the first to taste Allianz League action the weekend of May 8th/9th.
That means a three-week lead in period for Cheddar Plunkett and Shane O'Brien for their Division 1 campaigns.
Division 1A and 1B as announced in December will be round robin groups of six:
1A: Limerick, Waterford, Galway, Cork, Tipperary, Westmeath.
1B: Clare, Wexford, Dublin, Laois, Kilkenny, Antrim.
Each team will be guaranteed FIVE games, no quarter-finals or semi-finals will take place with the competition either having joint winners or if the top teams from 1A and 1B are drawn together during the championship, this game will double up as a league final.
There will be relegation this season and that final will be played before the All-Ireland Semi-Finals in August.
Offaly meanwhile will be playing in Division 2A along with Carlow, Kerry, Wicklow, Down and Meath.
Michael Fennelly's side will begin their season also on May 8th/9th and will need to finish top to be in with a chance of promotion as no final will take place in the lower echelons either.
No British based teams will be taking part.
Hurling Championship
Come Championship time 11 teams will be involved in the Liam McCarthy Cup in 2021.
Munster: Limerick, Waterford, Tipperary, Clare, Cork.
Leinster: Kilkenny, Galway, Wexford, Dublin, Laois, Antrim.
The provincial championships will take place with a back door system as in 2020 but there WILL BE relegation to the Joe McDonagh Cup.
The two losers of the Leinster QF's will be placed into a preliminary game where the winner progresses to round one of the qualifiers and the loser will drop a level in 2020.
In short, Laois could be relegated to from the Leinster Championship by losing just two games this season.
Joe McDonagh
Teams: Westmeath, Kerry, Meath, Carlow, Kildare, Down.
The semi-final stages proposed in December have been removed.
There will be an open draw into two groups of three, guaranteeing Westmeath two games, from which they will need to top their group to progress to the final.
That final will be played on the 17th of July in line with the Leinster Senior Hurling Final.
Christy Ring
No British teams participating therefore London drop out of the competition.
Teams: Offaly, Sligo, Wicklow, Derry, Roscommon.
GROUP A will consist of three teams playing two games each, while two teams will be put into GROUP B and play one another once.
The bottom team of GROUP A will then play the loser of the other fixture, with the defeated team in that "Quarter-Final" dropping into the Meagher Cup.
The winner of the above fixture progresses to the semi-final stages along with the other three teams.
Allianz Football Leagues
Switching codes and the football season will begin one week after their hurling counterparts, that's May 15th/16th, running through until finals weekend on June 19th/20th.
The caveat for this is IF teams due to play a league final on the weekend of June 19th are also involved in provincial championships the following weekend, no final will be played and teams will be declared joint winners.
Divisions will be split North/South allowing each team THREE round robin games.
Based on groups released in December that would mean the following:
Division 2 North: Westmeath, Mayo, Down, Meath.
Division 2 South: Laois, Cork, Kildare, Clare.
Division 3 South: Offaly, Wicklow, Tipperary, Limerick.
The top two teams in the group phase will progress to the promotion semi-finals and final with the bottom two completing a similar bracket to decide relegation.
In the shake out that means that one team from EACH north and south divisions will be promoted and relegated in 2021.
All-Ireland Football
The most straightforward part of this season will be the battle for Sam.
No teams from outside Ireland taking part.
Provincial Championships are knockout WITHOUT qualifiers.
Leinster Championship to start June 26th/27th.
NO Tailteann Cup in 2021
The All-Ireland Football Final is provisionally scheduled for August 28th/29th.
Provisional Calendar: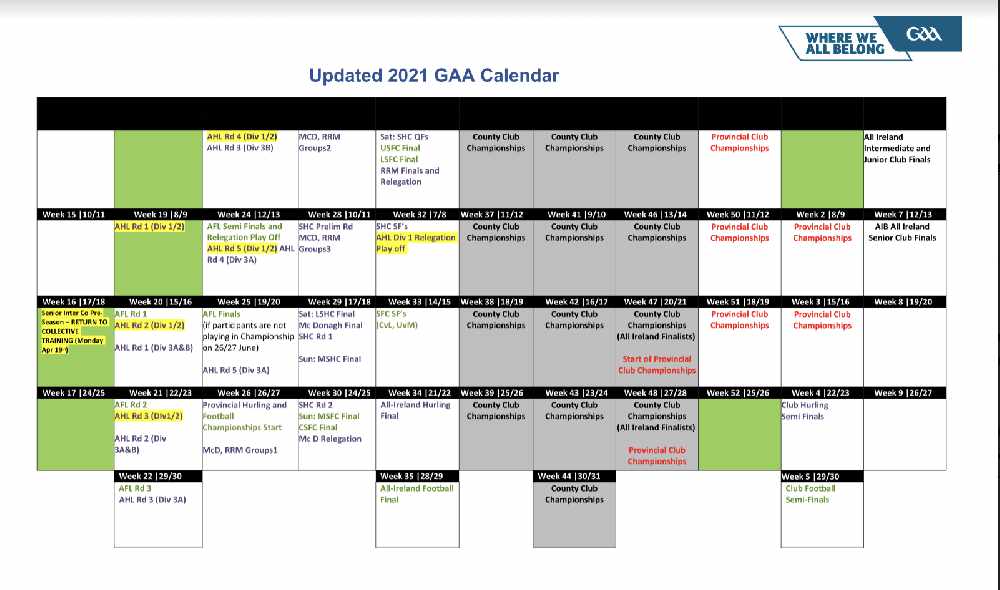 U-20/Minor Football/Hurling:
Further clarity is to be provided for these age groups with government guidance allows a return to play to take place.
Club Scene:
A framework has been put in place as follows but all depends on the level of restrictions in place in the Republic of Ireland at the time.
Club Championships with county players can resume once a team exits All-Ireland series, meaning an end of June start date for football competitions in the midlands and at the earliest July 10th for hurling.
Provincial club championships are slated for mid-November, giving county boards between two and three months to run off their club games depending on the performance of their inter-county sides.
All-Ireland Club Finals to take place February 12th/13th 2022.
The #GAA today published a revised 2021 Master Fixtures Calendar which will see the inter-county season played off in a 20-week period with the All-Ireland Senior Football and Hurling Finals in August. #GAABelong

— The GAA (@officialgaa) April 8, 2021