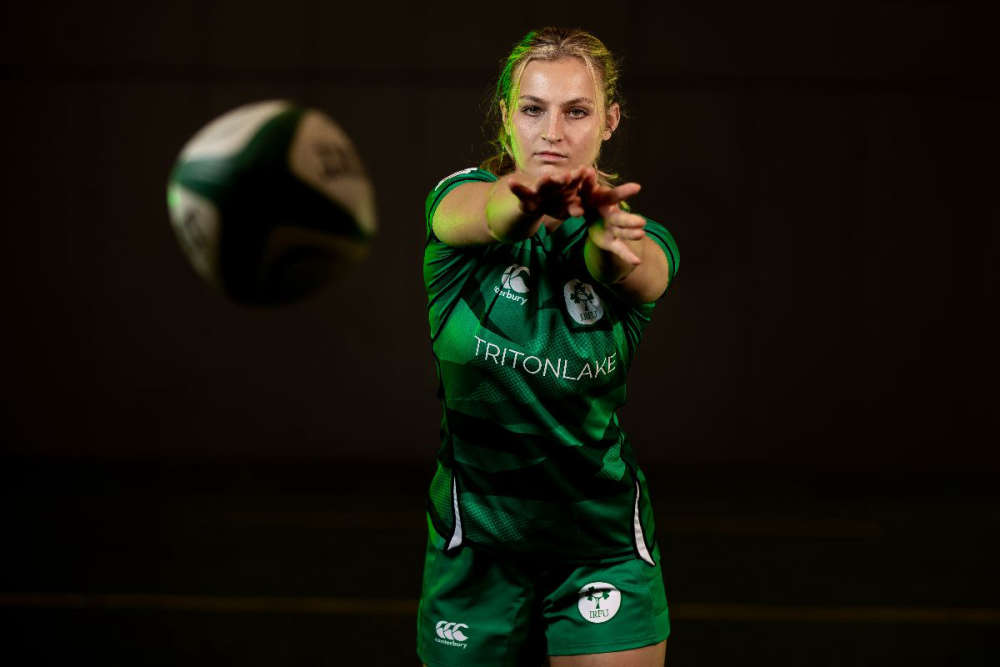 Tullamore's Megan Burns and Mullingar RFC's Katie Heffernan are in the final squad.
The HSBC World Sevens Series returns this weekend after being curtailed in 2020 due to covid-19.
Ireland are involved as a core nation in both the men's and women's competitions again this season and under new management, it's hoped that the Irish women in particular can begin to make their mark.
They've been competing on the tour as an invitational nation and then a core team for five years, achieving the following finishes:
2016: 12th
2017: 9th
2018: 10th
2019: 8th
2020: 10th
They face games against Fiji, Great Britain, Canada and Russia to open up in Pool B tomorrow and Saturday.
A number of players form the region have been part of squads since the inception of the team and the current pair involved are Tullamore RFC product Megan Burns and Mullingar RFC's Katie Heffernan.
Burns is now 21-years-old, having burst onto the scene three years ago and is taking her continued success in her stride.
We caught up with her from Ireland's team hotel in Dubai where she is looking forward to getting back on the field:
'As a squad I feel we've come back stronger than before after realising how difficult it is to train on your own. It has been so nice to come back into the team environment.
Aiden (McNulty) started with us back before our summer break and we had two tournaments in June and July and we did very well in those. So building on the ideas we implemented there more recently in France and Elche, (where they won both their games) will stand us in good stead for the world series.
We vibed with Aiden's style and he allowed us to perform as a team but also know our strengths and bring our own individual strengths to the team.'
🇦🇪 The Emirates #Dubai7s is 🔙 🔜

Check out the pools ahead of Friday and Saturday's action 🏉

🗞 Full story: https://t.co/nCZaXrrGbu#HSBC7s pic.twitter.com/jJbLqOunaQ

— World Rugby Sevens (@WorldRugby7s) November 23, 2021
There's plenty of room for improvement in terms of consistency for this Irish team and the Offaly woman is well aware of that:
'We're hoping to progress on from how we've played. It probably didn't end how we wanted to the last time around in this competition so this year we want to put everything we have into it and see if we can achieve more top six, top four finishes on a regular basis.
On a personal level, I don't know if I'll be emulating Jordan (Conroy) as top try scorer anytime soon but there's goals like getting on the world series dream team but I'm more focused on how we perform as a team and then individual accolades like those will come.'
Champions New Zealand won't be taking part in the opening leg in Dubai and there's a reduced number of teams so with that brings a greater chance of success for Heffernan and Burns:
Dubai for us is a massive opportunity, we've prepared so well and we're performing well as a team.
New Zealand aren't here and with only ten teams, it's a great chance for us to get into those top placings. I really enjoying playing against Australia but they're not in our group so hopefully we can meet them in a semi-final.
They play very passively in defense so I enjoy attacking against them.
There's an increasing sense of continuity between the XV's and VII's set up so does Megan see her future in either code?
'I think I love the sevens so much that I'll definitely be in the programme for another few years.
I haven't thought that far ahead of potentially being part of the XV's programme but it is something to consider and I wouldn't turn down the opportunity if it arose.'
Ireland Women's Sevens Squad:
Kathy Baker (Blackrock College RFC)
Claire Boles (Railway Union RFC)
Brittany Hogan (Ballynahinch RFC/Old Belvedere RFC)
Erin King (Old Belvedere RFC)
Katie Heffernan (Mullingar RFC/Railway Union RFC)
Stacey Flood (Railway Union RFC)
Aoibheann Reilly (Blackrock College RFC)
Lucy Mulhall (Rathdrum RFC) (capt)
Eve Higgins (Railway Union RFC)
Kate Farrell McCabe (Suttonians RFC)
Béibhinn Parsons (Blackrock College RFC)
Amee-Leigh Murphy Crowe (Railway Union RFC)
Megan Burns (Blackrock College RFC)
Ireland Men's Sevens Squad:
Jack Kelly (Dublin University FC)
Liam Turner (Dublin University FC/Leinster)
Mark Roche (Lansdowne FC)
Zac Ward (Ballynahinch RFC)
Bryan Mollen (Blackrock College RFC)
Billy Dardis (Terenure College RFC) (capt)
Sean Cribbin (Suttonians RFC)
Hugo Lennox (Skerries RFC)
Aaron O'Sullivan (Blackrock College RFC)
Terry Kennedy (St. Mary's College RFC)
Niall Comerford (UCD RFC/Leinster)
Ed Kelly (Dublin University FC)
Jude Postlethwaite (Banbridge RFC/Ulster).
Megan was speaking as Irish Rugby Sevens sponsors TritonLake looked forward to the season ahead, and launched a podcast, TritonLake Perform, which will explore the intersections of sport and business, and in particular, the necessary ingredients when it comes to creating and maintaining a dynamic high-performance culture.