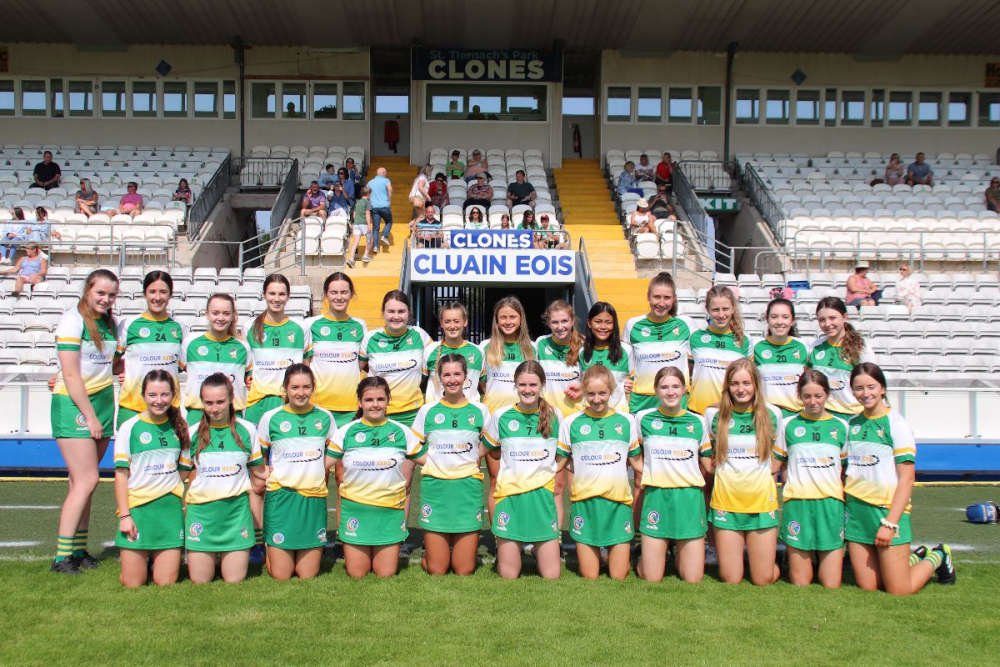 They had a comprehensive win over Derry.
Offaly 4-12
Derry 1-8
Offaly took on Derry in the Tesco All Ireland Minor B Camogie Championship semi-final on Saturday last in St Tiarnach's Park Clones. Offaly manager Declan Fogarty was again forced to make changes to the team due to availability of players.
From the throw-in the Offaly girls worked the ball up the field with some fine passing to full forward Faye Mulroney, who duly obliged with a goal within seconds of the start. Derry manged to get the ball back down the field and gain a free, which resulted in a wide. Offaly's work rated continued and two goals from Clodagh Leahy gave them a comfortable lead with only six minutes gone. Leahy followed up with a point from a free and one from play before Derry managed to register their first point just before the water break to leave the scoreboard reading 3-2 to 0-1.
Offaly continued their impressive free flowing camogie and impressive work rate with points from Sinead Hanamy, Aoife O Regan, Clodagh Leahy (from a free) and Chloe Fogarty with Derry managing two further points. However, Offaly's fourth goal scored by Faye Mulroney just before half time left it Offaly 4-6 to Derry 0-3 at the break.
From the start of the second half Derry pilled on the pressure and out-scored Offaly in the third quarter by four points to three. Offaly's points coming from Grace Leonard and two from Clodagh Leahy (one from a free). If not for the tremendous work rate of the Offaly defence, Derry would certainly have registered a lot more. After the second half water break Derry managed to break through the Offaly defence and score a goal but further points from Hannah Riley and two from Clodagh Leahy (1 from a free) left Offaly comfortable winners on a score line of 4-12 Derry 1-8.
Offaly now play Antrim in the All-Ireland final next weekend. Details of the final will be posted on the Offaly Camogie social media platforms when they become available.
Offaly team: Leah Gallagher, Hannah Feenane, Denise Connor, Chloe Hennessey, Cara Hoare, Orlagh Phelan, Sarah Fitzgerald, Grace Leonard, Caoimhe Darcy, Labhaoise Glynn, Clodagh Leahy, Aoife O'Regan, Chloe Fogarty, Faye Mulrooney, Sinead Hanamy
Subs: Caoimhe Rice, Maria Maher, Niamh Egan, Emma Nevin, Ciara Brady, Aoibhe Kennedy, Hannah Riley, Miriam O'Neill, Sarah Doherty, Cayla Fletcher, Lauren Leonard, Sarah Freeman, Eimear Rigney, Marie Cantwell
Offaly scorers: Clodagh Leahy 2-7 (3f), Faye Mulroney 2-0, Hannah Riley 0-1, Sinead Hanamy 0-1, Chloe Fogarty 0-1, Aoife O'Regan 0-1, Grace Leonard 0-1