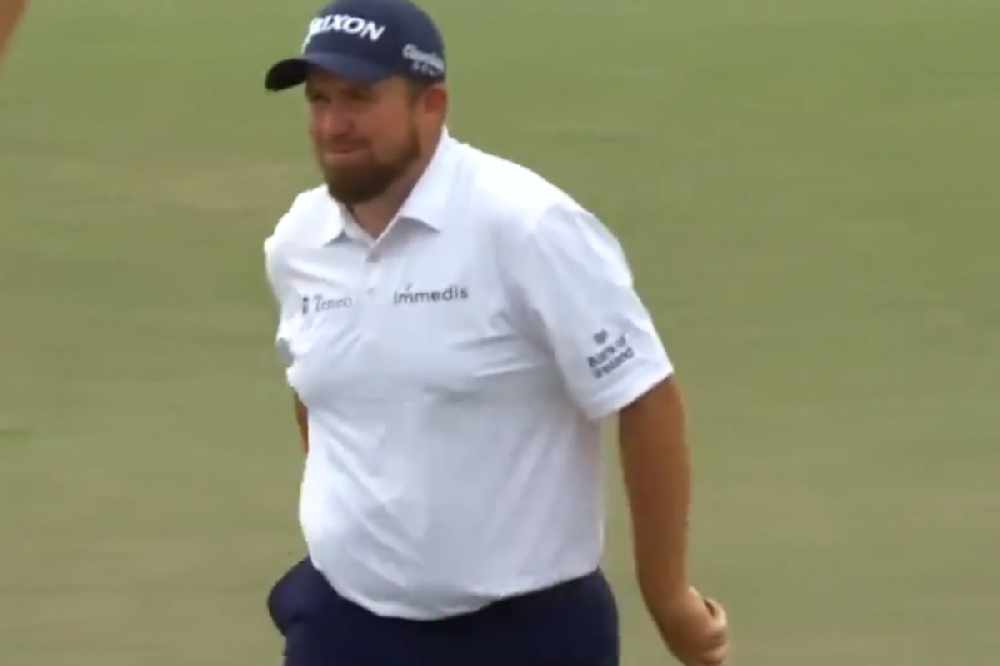 He'll resume from 1 under par just after 2:30pm Irish time.
Five birdies, two bogeys and a double bogey all scattered the card of Shane Lowry on day one at Augusta.
The Open Champion endured some highs and lows on the way to a round of 71 and a score of one under par.
That leaves him six shots of his playing partner Justin Rose, who leads on 7 under.
Speaking afterwards the Clara golfer says he was proud of his mental strength in sticking at it:
"Well, I was surprised when I came in and seen I was lying tied 8th because playing with Rosey, what he was doing. Like I even said to him inside, he didn't even do anything outrageous. He didn't even hole many long putts or chip in. It just kind of was very solid. But it was a joy to watch that round of golf. Look, I felt like I played good. I had a couple of bad errors, 10 and 15 were a bit silly, but I was very kind of proud of myself the way I hung on.
The golf course was -- oh, my God, I've never seen it like that, which was great. I loved it. I've always wanted to play Augusta like this in the Masters, firm and fast and putts getting away from you. Even though I had a 15-footer on 8 there, chance for birdie, and you're just trying to lag it down to the hole. Same on 17. Yeah, it's not very enjoyable when you're doing it, but when you look back on it, it's like, yeah, that was pretty cool."
This birdie was a bit of a head scratcher! 😂🤨

-1 after the opening round @themasters pic.twitter.com/Hd8CoHvcvo

— Shane Lowry (@ShaneLowryGolf) April 8, 2021
The 15th, a par five usually known as a good birdie opportunity turned into a bit of a nightmare that saw a Lowry chip meet a watery grave before he absolutely stitched his next shot to save bogey.
Yeah, look, I messed up myself. I knew it was a delicate chip. I hit two great shots to get to where I really wanted to get. It was straightforward enough, but I just didn't even strike it bad, I just hit it a fraction too hard. That's just the way it is, just this golf course. That's one of the easier pins from over the back of the green, so it'll be interesting to see what it's like the rest of the week.
But yeah, it was a mistake. I did well to get the next one up-and-down and make 6, and I finished nicely, so I was very happy with that.
You can watch that shot here.
The players knew that the course would show it's teeth this week, given the forecast and The Open Champion says putting in particular was even more difficult than normal:
Early on the wind was swirling an awful lot. It was quite hard to get the ball close. The greens are firm, so it's pretty difficult.
And then you're hitting it to 30, 40 feet a lot, trying to get your putts inside two feet is pretty difficult because anything outside like three feet, it gets your attention.
Yeah, it was just a complete grind out there today, and the score is showing it. I know Justin shot 7-under, but apart from him, the scores are showing how much of a grind it was.
He had a front row seat to Justin Rose's round of 65 and the lead on day one, Lowry says he didn't realise that his former Ryder Cup team-mate was going so well:
No, like he was 2-over through 7 and then, yeah, to be honest I must have been in a world of my own because I didn't think -- I knew he was going well, but obviously he took care of the holes he should take care of and then he birdied a couple other ones. That's kind of the way it is around here. Like I'm disappointed today in myself that I played the par-5s in 1-over today and I still shot 1-under. I need to play them better the rest of the week if I'm going to have a chance to do something special here this weekend.
Shane gets his second round underway at 2:36pm Irish time.