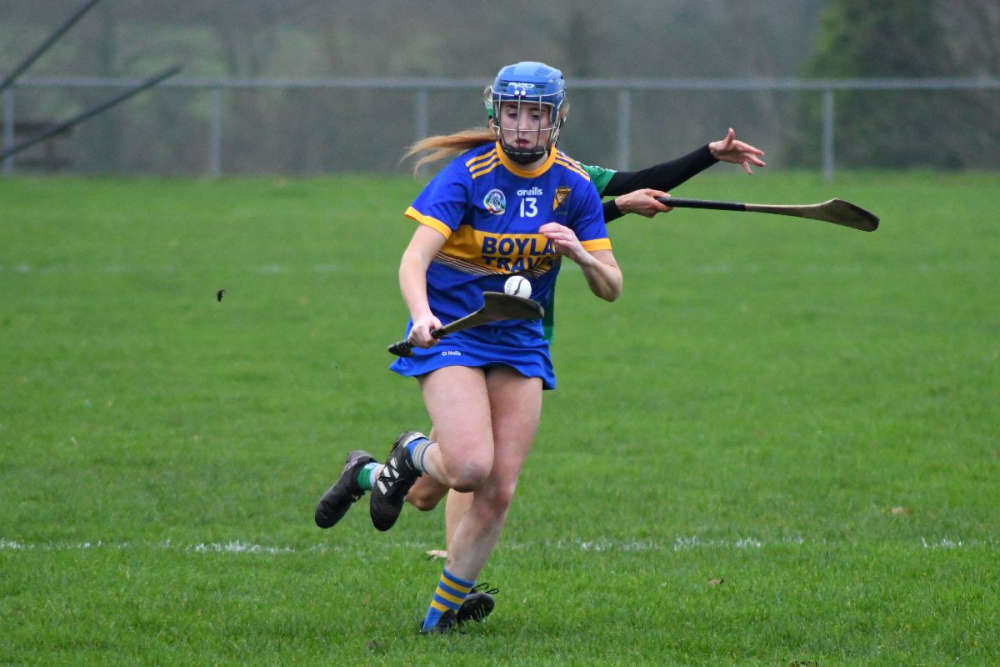 Photo Credit: Dave Boylan
Another All-Ireland final beckons.
St Rynaghs 3-15
Eglish 1-3
Report by John Gavin
After easing past Celbridge last weekend to claim their third Leinster Intermediate title in a row, St Rynaghs took on Ulster Champions, Eglish from Tyrone in Templeport, Co Cavan on Sunday afternoon. There was one change to the named St Rynaghs team before throw in with Louise Mannion replacing Siobhan Flannery in the full forward line.
Once the game got underway the Offaly champions were quickly into their stride with Kate Kenny quickly putting two points on the board for her team. Niamh McNulty hit back with a point for Eglish but surprisingly that was to be her team's lone score of the first half as St Rynagh's went on to dominate. Late replacement Mannion hit over a point that was followed Mairead Daly firing the ball to the back of the Eglish net. A brace of points from Kate Kenny and Helen Dolan and the writing was already on the wall for the Ulster champions at the 1st half water break.
It was the proverbial scenario of one way traffic when play resumed with Linda Sullivan hitting over two quick points before Helen Dolan pointed her 2nd of the game to leave her team leading by 10 points. Kate Kenny finished the scoring in the first half when she hit over two from play and with Siobhan Flannery not on the field, the free taking duties were taken care of by Kenny and she popped over her first placed ball of the afternoon to leave St Rynaghs leading 1-11 to 0-1 at half time.
Mark Dunne's team have shown both in the Offaly and Leinster Championships that they are not a team to take their foot off the pedal and they demonstrated this in the second half when they opened the scoring with Mairead Daly hitting her second goal of the afternoon. Another point from a free from Kenny was sandwiched by a point and a goal from Ciara Donnelly for Eglish but it was academic at this stage. Another point from Donnelly completed the scoring for her side before St Rynagh went on to add a further 1-3 to their tally with Offaly Player of the Year, Roisin Egan finding the net.
That win for the Offaly Champions sets them up for an All Ireland Final where they will meet a familiar opposition in Gailtir of Waterford. St Rynaghs won't need reminding of the last time the two sides met, in the 2019 All Ireland Final when a late Gailtir goal broke their hearts to seal the All Ireland title for the Waterford side. The Shannonsiders will get their chance to avenge that defeat on the 2nd weekend in January.
St Rynaghs: Ellen Gilligan, Sinead Moran, Elaine Sullivan, Meadbh Doorley, Emma Corcoran, Grainne Dolan, Katie O'Connell, Helen Dolan, Roisin Egan, Linda Sullivan, Sinead Hanamy, Mairead Daly, Aoife McLoughlin, Kate Kenny, Louise Mannion.
Subs: Siobhan Flannery, Roisin Daly, Ciara O'Connell, Niamh Finneran, Aoife Regan, Louise Flannery, Heather Moran, Sarah Moylan, Aine Doorley, Ellie Hickey, Eilish Naughton, Emma Nevin, Sarah McGarry, Tara Butler, Natasha Daly
Eglish: Julie Lagan, Francine Farley, Catherine Muldoon, Aisling Donnelly, Laura Mason, Aisling Jordan, Cathy Jordan, Casey Gallagher, Ciara McGready, Kaitlin Gallagher, Leanne Donnelly, Reagan Fay, |Shauna Kelly, Ciara Donnelly, Niamh McNulty
Subs: Cliodhna Goodfellow, Siobhan Hughes, Grace Daly, Eve Hughes, Amy Barrett, Denise Galvin, Lucy Conroy, Kelley Cuddy, Claire Hamill
Scorers:
St Rynaghs: Kate Kenny 0-9 (3 frees), Mairead Daly 2-0, Roisin Egan 1-0, Helen Dolan 0-2, Linda Sullivan 0-2, Louise Mannion 0-1, Siobhan Flannery 0-1 (1 free)
Eglish: Ciara Donnelly 1-1 Niamh McNulty 0-2