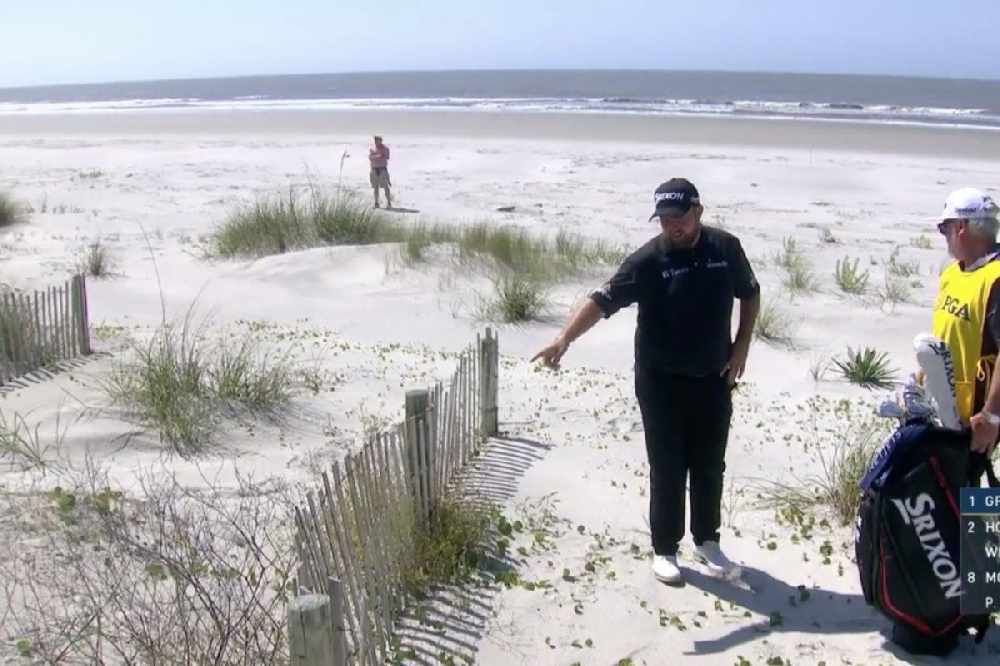 He's back on the course at 5:50pm this evening.
Shane Lowry will start the weekend still in with a chance of claiming his second major title.
The Open Champion battled hard during his second round for a one under par effort to leave him level par overall and in T-19.
He's five shots off overnight leader Phil Mckleson but with the wind and pin positions expected to play havoc on moving day, there's every chance that we could see a big shift in the leaderboard heading into the final day.
He'll play alongside Ian Poulter today from ten-to-six.
Here's what he had to say following last night's round:
Yeah, I mean, I'm really, really happy it's over. Long day, man. Quick turnaround last night didn't really help. I was goosed out there today, honestly. Like finished just about 8:00 last night and you're on the tee at 8:45 this morning. You're up at 4:00 in the morning. It's a quick turnaround. I played great yesterday and didn't hole anything. Felt like I should have shot a couple under yesterday.
Today didn't play as good but didn't really -- apart from a little trip to the beach, I didn't really hit many bad shots. You kind of put it in good position, hit it in the right places and manage to have a few nice up-and-downs. It's just so hard out there. Oh, my God, like it's -- especially when you tee off on 10 and you stand on the 14th tee, there's no let-up for ten holes, nine or ten holes. It's difficult.
Yeah, I'm happy to finish. I'm happy to be on level par. I'm five or six behind. I feel like I'm in a good place going into the weekend.
On that trip to the beach:
Yeah, it's funny, I seen a picture of Rory out there in the practice rounds, and I was trying to figure out where it was. Then I obviously found out where it was because I didn't know -- I obviously knew the sea was out there that side, but I didn't know what was out there. Look, I got very lucky there because where I hit my provisional wasn't very good, either. It could have been anything. I got lucky and managed to make an unbelievable par.
It was one of those where when I found my ball and was able to get relief and got it back in play, it was like make a 6. A 6 doesn't kill you. On this course if your mistakes are bogeys, you'll do okay, because you will give yourself a few chances. But I just wanted to try and make bogey or par and move on to the next, and I managed -- I did.
There was a little fence, and it's a movable obstruction, so for your relief, yeah, it was standard enough.
Life's a beach @PGAChampionship! pic.twitter.com/kGzWYoXOqT

— Shane Lowry (@ShaneLowryGolf) May 21, 2021
Shane's putter has been a challenge this week and he had a couple of three putts again yesterday:
Yeah, I had only one because one of them I actually had to chip off the green. I hit a bad wedge shot on No. 6. You know, it was one of those, it was so far downwind and you don't quite get it to the apex of the flight you want to get and it knocks it down and it came up 50 feet short and there was a knuckle in my way so I had to chip it over that.
You're probably going to three-putt out there. It's so hard in the wind. It's very, very difficult.
Yeah, look, the thing is I enjoy golf like this -- a couple of weeks a year. I'm trying to make the most of it this week. I feel like my game is in a good place. I feel like I played great yesterday. I feel like I scored great today. So kind of if I can put those two together over the weekend, who knows what could happen.
The closing three holes were crucial to set up the weekend's play and Lowry had a big par save on 16:
Yeah, like obviously the par save on 16 was huge. Then you have 17 and 18, they play like I hit -- you're hitting 4-iron into 17. It's one of the most difficult holes you play. I just missed it left, which is kind of where you're missing it. The funny thing is it's a straightforward enough bunker shot. I hit a nice bunker shot and holed a nice putt there.
And then 18, hit a really good drive on 18 and I was hitting 3-iron in. Missed it kind of just right in a decent spot and managed to up-and-down it.
But the 1st, as well, hit a really bad drive off the 1st, chipped out, took my medicine, hit it on to the green and then hit an awful first putt, left it 10 feet short, and then managed to hole that. So that kind of kept the momentum going. But that's what you have to do out here in these conditions. You have to hole those par saves, those bogey saves when you get under the gun. I managed to do that today, so yeah, I was happy enough.
On the significance of his caddie Bo on Major weekends:
Yeah, you have to lean on him quite a bit because it's so hard and you need someone out there to tell you -- maybe if you get down after making a couple of bogeys or hitting a couple of bad shots, you need someone out there to tell you that everyone is doing it and just to keep going, keep your head open, keep plowing on. That's what he's been doing.
He's been doing a good job this week so far, so we'll see how it goes the weekend. But yeah, you do need -- look, we all have our own relationships with our caddies. I've got a very good one with Bo. You need someone to lean on out there, especially in big weeks.
Look, if I make a run at it this weekend, that's when you're going to need him most, so we'll see how it goes.
Shane has oft spoken about his love for when courses are playing tough and how it brings the best out of him, and this week is no different:
Yeah, yeah, I get what you're saying. Like they've kept the greens nice and soft here this week, which I think has helped us an awful lot. If the greens firmed up at all, this place would be literally impossible to play golf on in this wind.
I think it's hard to get that happy medium, really tough but really fair, because you're always kind of on the edge. But I think the PGA have done a great job this week so far in doing that.
Look, it's easy for me to stand there and say I enjoyed how tough it was today because I shot 1-under, but if you asked Dustin and Sergio the same question, they probably won't give the same answer.
You know, it's a long day out there. It's tough. It's not very enjoyable when you're doing it, but the satisfaction of holing those par putts, finishing on a good score is the buzz I get out of it. Sitting here maybe -- I'll probably be in the top 20 going into the weekend here at a major championship with a good chance to do well, so that's kind of what I play for, and that's what I'm out there grinding my ass off out there on days like today, and that's the kind of buzz I get from it.
It's not very enjoyable out there because it's so hard, and like every hole is a disaster waiting to happen. So it's kind of very stressful and there's a lot of anxiety and a lot of nerves and a lot of tension out there, but you just have to get on with it and try and hit the best shots you can, and that's all I've been doing.