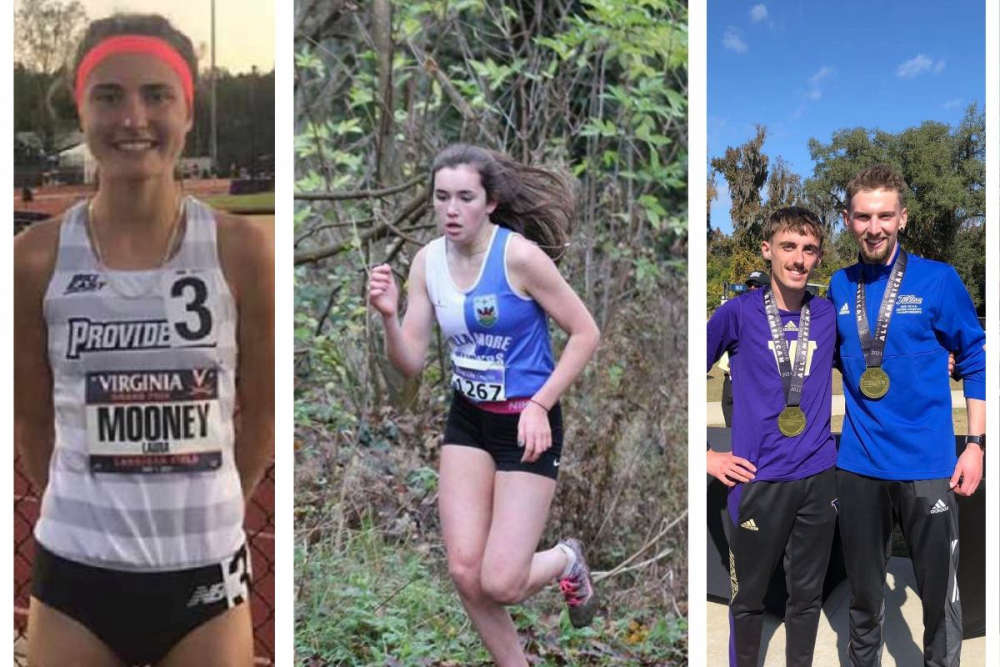 Athletics Ireland announced their confirmed line-up yesterday.
There'll be a lively representation from the midlands at the European Cross Country Championships, which are being held on Irish soil this year.
They take place on a course finishing in the Sport Ireland campus in Final, Co. Dublin on December 12th.
Athletics Ireland yesterday announced a 36-strong team for the event, including three local athletes.
One of six senior men chosen, is Cormac Dalton of Mullingar Harriers AC.
The 23-year-old previously competed in the U23 category in Lisbon two years ago, finishing in 49th place in a time of 26:05.
Dalton has achieved six, top-10 finishes so far in 2021 across 1,500m, 3,000m, 5,000m and 10,000m, highlighting a great versatility in his running style.
Two Tullamore Harriers have also been selected in the form of Danielle Donegan in the women's U23 category and USA based Laura Mooney in the U20 format.
Donegan currently races in the singlet of the UCD AC as she continues her studies at third level.
Much like Cormac Dalton, the Tullamore woman previously competed at the European Cross Country event in Portugal in 2019, finishing 81st in the U20 race in a time of 16:24.
It's been a solid 2021 for her so far, with a season best of 17:05:02 over 5,000m and 36:19:21 over 10,000m.
Laura Mooney's journey to Providence College in Rhode Island has been well documented and she's performed superbly since moving stateside.
The Cappincur woman is now the Irish U20 record holder over 5,000m and is holding her form throughout 2021.
The 19-year-old picked up a 6th place finish at the U20 European Championships over 5,000m earlier this year and has a further seven top-10 finishes including victory in the Irish National Championships over 5,000m at U20 level.
Mooney is sure to be one of team Ireland's leading lights and medal hopefuls despite her development into a stronger athlete over longer distances.
Athletics Ireland, National Endurance Co-ordinator, Matt Locket said:
"We must acknowledge the outstanding work from athletes to put themselves in contention for selection at these home championships. The depth in the Nationals Cross Country championships was fabulous to see, and is a testament to the work of coaches around the country. We have a great history when it comes to European cross country competition and we are in no doubt those who have been selected are primed to take on the best in Europe in just a few weeks' time."
There could yet be further local involvement when reserves are confirmed later in the week.
Here's the selection in full:
Senior Men
Men's Senior - Hiko Tonosa Haso - DSD AC - Feidhlim Kelly
Men's Senior - Paul O'Donnell - DSD AC - Donal Hennigan
Men's Senior - Emmet Jennings - DSD AC - Donal Hennigan
Men's Senior - Ryan Forsyth - Newcastle & District AC - Richard Rodgers
Men's Senior - Brian Fay - Raheny Shamrock AC - Andy Powell
Men's Senior - Cormac Dalton - Mullingar Harriers AC - Steve Gulley
Senior Women
Women's Senior - Michelle Finn - Leevale AC - Feidhlim Kelly
Women's Senior - Roisin Flanagan - Finn Valley AC - Damon Martin
Women's Senior - Aoibhe Richardson - Kilkenny City Harriers - Jon Green
Women's Senior - Aoife Cooke - Eagle AC - Alan Storey
Women's Senior - Fionnuala McCormack - Kilcoole AC - Alan McCormack
Women's Senior - Eilish Flanagan - Finn Valley AC - Damon Martin
U23 Men
Men's U23 - Darragh McElhinney - UCD AC - Emmet Dunleavy
Men's U23 - Keelan Kilrehill - Moy Valley AC - Emmet Dunleavy
Men's U23 - Thomas McStay - Galway City Harriers - Matt Lockett
Men's U23 - Micheal Power - West Waterford AC - Steve Gulley
Men's U23 - Donal Devane - Ennis Track Club - Joe Chawke
Men's U23 - Thomas Devaney - Castlebar AC
U23 Women
Women's U23 - Sarah Healy - UCD AC - Eoghan Marnell
Women's U23 - Aoife O'Cuill - St Coca's AC - Joe Ryan
Women's U23 - Danielle Donegan - UCD AC - Damian Lawlor
Women's U23 - Lauren Tinkler - Dublin City Harriers - Enda Fitzpatrick
Women's U23 - Ruth Heery - Waterford AC - Des Colbert
Women's U23 - Jodie McCann - Dublin City Harriers - Clark McCann
U20 Men
Men's U20 - Nick Griggs - Mid Ulster AC - Mark Kirk
Men's U20 - Dean Casey - Ennis Track Club - Pat Hogan
Men's U20 - Scott Fagan - Metro St Brigid's - Brian Tremble
Men's U20 - Sean Kay - Clonliffe Harriers - Stephen Bateson
Men's U20 - Cian McPhillips - UCD AC - Joe Ryan
Men's U20 - Abdel Laadjel - Donore Harriers AC - Ray Treacy
U20 Women
Women's U20 - Jane Buckley - Leevale AC - Chris Harrington
Women's U20 - Emma McEvoy - DSD AC - Donal Hennigan
Women's U20 - Rebecca Rossiter - Loughview AC - Andrew Hann
Women's U20 - Laura Mooney - Tullamore Harriers - Ray Treacy
Women's U20 - Aoife McGreevy - UCD AC - Mark Kirk
Women's U20 - Róise Roberts - North Belfast Harriers - Jim McGuinness
Mixed Relay
Mixed Relay - Andrew Coscoran - Star of the Sea AC - Feidhlim Kelly
Mixed Relay - Luke McCann - UCD AC - Clark McCann
Mixed Relay - Ciara Mageean - City of Lisburn AC - Steve Vernon
Mixed Relay - Siofra Cleirigh Buttner - Dundrum South Dublin - Mark Coogan