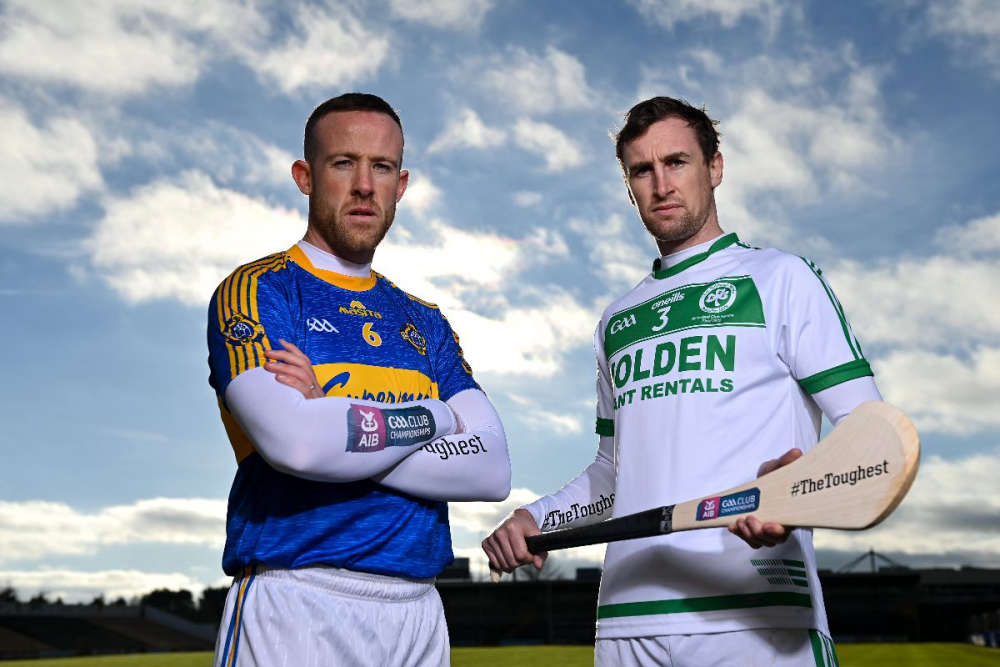 Willie Hyland has been speaking to the media this week.
Can Clough/Ballacolla end one of the great streaks in GAA this weekend?
Ballyhale Shamrocks come into the AIB Leinster Senior Club Hurling Final on the crest of a wave, albeit one that nearly broke on the rocks in O'Connor Park last weekend.
They're unbeaten in the province since 2012 and are the reigning and defending All-Ireland club hurling champions of the previous two years going for an unprecedented three-in-a-row. Sure what's the point in turning up?
Try telling that to any man, woman or child from the 300 strong membership of the club or the wider Laois area as they make the pilgrimage to Croke Park on Sunday afternoon.
This has been an amazing journey for the club who hadn't tasted success in Leinster up until last month and their victory over Raperees of Wexford.
In the aftermath you could almost see the weight being removed from the shoulders of some of the older members of the panel and that was only highlighted in the fashion with which they put Kilmacud Crokes to the sword last weekend.
Once again they will be majorly up against it against the Kilkenny champions but St. Rynagh's exposed last week that you can break down the aura surrounding them. There's no doubt the team has stars all over the field in the form of TJ Reid or Eoin Cody or the Shefflin's, but the old adage of 'any given day' could be ringing in the ears of this Clough/Ballacolla team come Sunday evening.
Veteran Clough/Ballacolla and former Laois star Willie Hyland is trying to keep those around him focused as the big day approaches:
All we're concentrating on is not Ballyhale or not Croke Park or not the ground. It's just trying to get that same 60-65 minutes that we brought against Kilmacud, that intensely.
And I suppose even looking back at the game, we made a lot of mistakes. We drove a lot of ball into the goalie's hands, had a few wides and made a couple of other poor decisions in other areas of the field so we just want to rectify those, maybe cut down on the errors, you're never going to fully rectify everything but... But if you can down on those and bring the same fight, the same heart you know that's what we're concentrating on and everything else is a sideshow.
And that's what we're preaching to the younger guys on the team that you know yeah, it's great that it's in Croke Park but forget about that and just concentrate on a good 60-minutes.
Hyland feels the team has been really coming together of late:
I think it's been very pleasing this year to see us combining. You know we have some very, very good hurlers with heart, want and desire, and you know you seen that in abundance on Saturday against Kilmacud Crokes.
It was one of those times you know it might have been the prettiest, or I might have been, you know, but I lost count of the number of rucks that was in the game.
There's nothing pretty about a ruck, you just have to get in and try and win it or even just get a touch on it before the opposition guy or whatever. So, it's been very pleasing for us to see kind of the combination of both this year.
On the impact of manager Declan Laffan on the team:
Declan is a very solid fella. He's pretty genuine, he's kind of a country fella, agricultural fella not too dissimilar to the people around our area.
So immediately we could relate to him, I suppose he lasted last seven or eight years in his own club Knockmore Castleieny in Tipperary, which was an achievement in itself because, you know, sometimes your biggest critics are in her own club and to last seven or eight years is an achievement in itself.
I think that his main strengths are his man management of the players, he gets to current group of players that we have, handling different characters and he's very good on the line as well.