It brings the total figure now raised to €65,500.
Westmeath GAA's movathon fundraiser has received a major donation of €20,000.
The Moore family made the gesture bringing the total raised so far to €65,500.
All money raised will be split between Westmeath GAA, Ladies football and Camogie in the county.
You can donate to their fundraiser here.
Full update from Westmeath GAA:
MooreGroup Contribution
As the Westmeath Lake County Movathon challenge enters its final week the initiative continues to build momentum with a spectacular final weekend of club activity on the menu for Easter. The venture received a massive boost during the week when the Moore Group Corporation New York donated €20,000 to the fund on behalf of the Moore families in New York, Mullingar and London in what was a massive vote of confidence in the future plans of the Westmeath GAA.
The Moore family have been members of the Mullingar Shamrocks GAA Club and The Downs GAA Club for many years and were proud to support and join the efforts of the Westmeath County Board and all Westmeath Gaels in their efforts to raise much needed funds to support the many county teams who will represent Westmeath GAA in the season ahead. John Moore, President of the Moore Corporation has been centrally involved in the Westmeath New York GAA Club for close to forty years and has provided employment to many Westmeath club and county players who visited New York over that time.
Gary Moore is the company Director of Construction and with his first cousin Darren, a successful New York Attorney, was a member of the Westmeath New York team managed by John Moore that contested the New York intermediate football final in 2020 losing narrowly to Brooklyn Shamrocks. County Panels' Brilliant Effort Our county hurling, football and Ladies football players showed unbelievable commitment to the cause over the weekend.
The senior hurling panel and management were first into action with the 24 hour Marathon Movathon starting at midnight on Friday night. Tommy Gallagher was first out and spare a thought for Alan Cox, Oísin Dowdall, Ciaran Nolan, Robbie Greville, Owen McCabe, Cormac Boyle, Ciaran Doyle, Alan Mangan, Shane Williams, Ciaran Williams, Tommy Doyle, Niall Mitchell and Aonghus Clarke who worked the overnight stints. Strength and conditioning coach Brendan Egan closed the deal at midnight on Saturday night. The Ladies Gaelic football county panel were also out on Saturday and successfully completed their 1000 Km Movathon Marathon challenge with Ciara Blundell and Karen Hegarty chipping in early with their 50 Km cycle. The county senior football panel comfortably completed a combined running and cycling 1000 Km challenge with many players running 25 Km in the process.
Fitness levels are obviously being maintained during the lockdown and hopefully this dedication will be rewarded when the playing season resumes. The combined efforts of the county players (all conducted within the 5 Km limit as per Covid-19 requirements) have raised over €10,000 for their weekend commitment to the cause of Westmeath GAA. Westmeath supporters are invited to show their support for these wonderful efforts by making a donation on the GoFundMe page that can be found at the Westmeath GAA Facebook page. As we know half of the finance raised through this initiative will be invested equally in the preparation of the four county teams. The remainder will help finance the essential refurbishment of TEG Cusack Park to make the venue fit for purpose for our players and patrons.
Camogie Panels Virtual Coaching Camp
Our county camogie players have organised a virtual camogie and hurling camp for both girls and boys aged between 6 and 14 for 6th (Tuesday), 7th (Wednesday) and 8th (Thursday) March from 10.00-10.30 am for the Under-8 and Under-10 groups and from 10.40-11.10 am for the Under-12 and Under-14 groups. The focus is on exercises, skill challenges and fun with a question and answer session also part of each session. Westmeath camogie players will deliver each session and the good news is that some guest coaches have also been lined up to take part. Even better news is that these sessions are really good value with the cost just €10 per family for the total package.
The county referees too have been busy participating and donating and have shown great support to the Lake County Movathon Challenge. Barry Kelly (Mullingar Shamrocks & St.Oliver Plunkett Alan Coyne (Castletown/Finea/Coole/Whitehall), Pat Fox (Rosemount), Damien Maher (Ballynacargy), Niall Ward (Garrycastle), Barry Nea (Turin & Killucan), Kieran Daly & his son Kian (Kilbeggan Shamrocks), Barry Pierce (St Marys Rochfortbridge), Gary Hurley (Moate All Whites) and Keith O'Brien (Moate All Whites) have all been putting in the kilometres for the good of Westmeath GAA,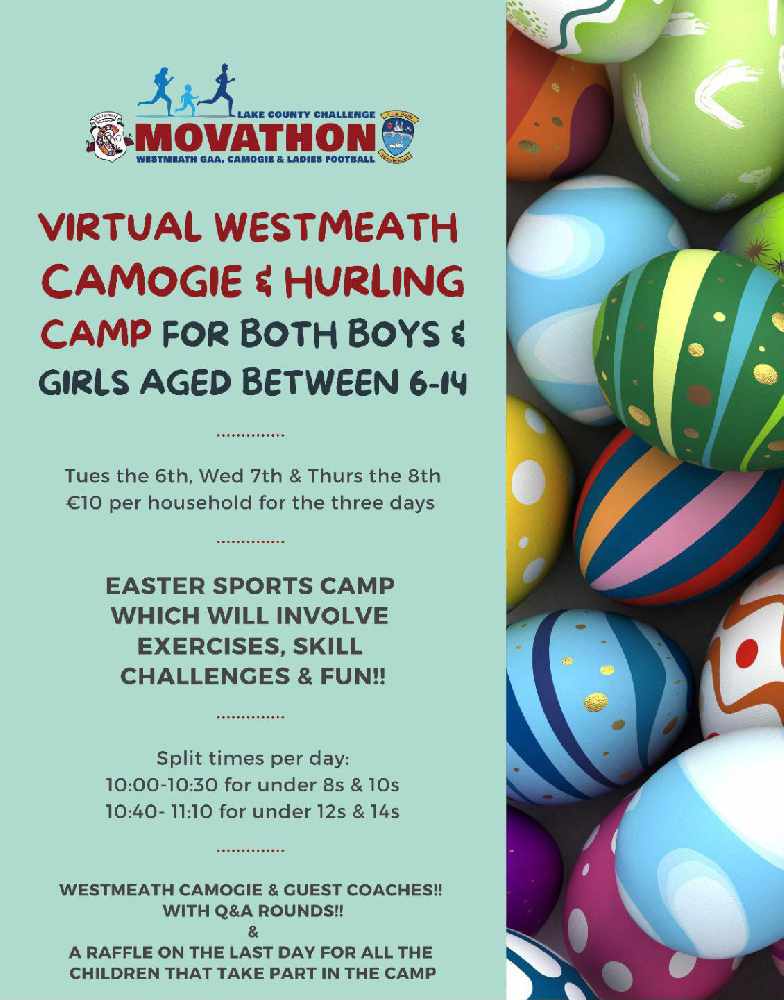 An Easter Weekend Extravaganza of Club activity planned Next weekend promises to be one of the great novel weekends of activity in the county as the clubs have rallied in style to the call for support made by Frank Mescall (County Committee Chairman). An impressive range of events are planned for next weekend. The Downs have organised a Malin to Mizen virtual cycle challenge; Mullingar Shamrocks have dedicated the
Good Friday to Easter Monday days to a Walk for Westmeath Weekend; Turin Hurling Club have an Easter Egg Hunt scheduled for Easter Sunday with an emphasis on family participation; Clonkill Hurling Club stage a virtual Cyclathon on Saturday; Good Friday in Rosemount will be a day of activity in the club's walking track, Castledaly have a similar day planned and Maryland and Tang have planned a joint effort over the weekend.
Loughnavalley's 10-Days of walking will conclude over the weekend and St Loman';s have also targeted a day of walking to take place. This is just a sample of what is planned. Other clubs have channelled their support to their individual county players who took part in the various challenges.
The county minor football manager Vinny Cox and his players rescheduled their Marathon for Movathon relay event which was to have taken place last weekend Eight teams have been assembled from the panel and each team will cover 42 Km between the members starting at 9.00 am with the fastest team to cover the distance declared the winner. The Coralstown-Kinnegad Club have a family relay event in an advanced stage of preparation. Matty and Noel Conaty have set out a 250,000 hurling pucks challenge for the county hurling clubs.
We must not forget the individual efforts. Frank Mescall has a 10 hour walking relay planned to take place on the Ballynacarrigy walking track. Padraig Óg Ó Sé is planning to walk 2004 steps in memory of the great year Westmeath had in 2004 when the county won the first Leinster title managed by Padraig's father, the great Páidí; the members of the 2004 title winning squad are at also at an advanced stage in planning a 2004-distant event for next week to commemorate the historic victory. Westmeath County GAA Committee vice-chairman
Donie Malone's ambitious &;Walk 4, Every 4 for takes place. Donie plans to walk 4 Km every 4 hours for 48 hours starting on Good Friday morning at 6.00 am and will finish at 6.00am on Easter Sunday using different locations within 5 Km of his home for the endurance challenging adventure. Donie has several sponsors lined up to support his dedication and will not refuse any additional offers of support!
Great Prizes on offer:
As was announced last week, the committee responsible for managing this project have reacted to the enthusiastic support for the Westmeath Lake County Movathon and have now made available some very attractive prizes for those who participate and donate. Each €5 donation will receive one ticket for the draw. Jack Cooney has offered a very special prize. Jack and his management team will conduct a full day coaching-training session for any club anywhere in Ireland for the winner. The individual drawn in the Luck Dip; will nominate the club of his or her choice. Other prizes include:
Three month membership (for two) in Wolfhound Fitness donated by Joe and Katie Nangle.
Pair of All-Ireland Hurling Final tickets, Pair of All-Ireland Football Final tickets, Pair of All-Ireland Ladies Football Final tickets, Pair of All-Ireland Camogie Final tickets, Signed Westmeath Camogie Jersey, Signed Westmeath Ladies Football Jersey, Signed Westmeath Hurling Jersey, Signed Westmeath Football Jersey
Annual Passes for Westmeath Club Championship games.
Tickets and Passes are for 2021 if attendances are permitted - if not, they will be for 2022.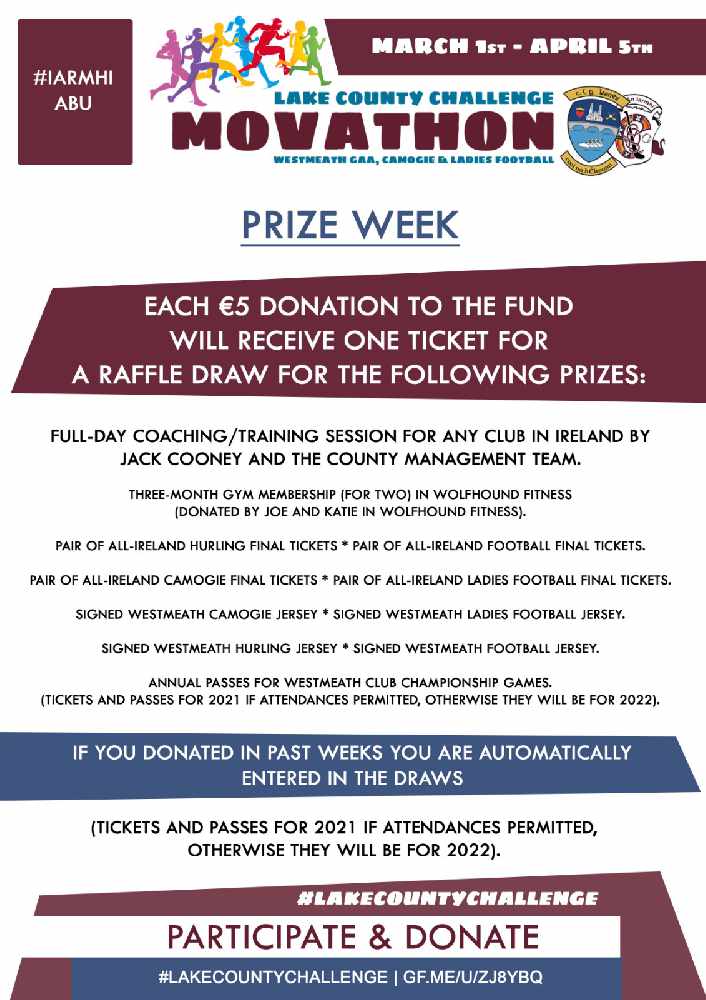 Dawn-to-Dusk Challenge
In addition clubs if they wish can participate in the Easter Weekend Dawn-to-Dusk Challenge. In simple terms clubs take part from Good Friday onwards and encourage their members to participate, donate and seek sponsorship. The challenge may take place on any or all of the four days over the Easter weekend. Club members participate by walking, running or cycling, record their distance and return it to their club's co-ordinator. The club co-ordinator records the distance for each activity covered by club members at midday on each day, and again at day's end. Distance will be shared on club's social media and a "leaderboard" will be uploaded on Westmeath GAA social media. The club which covers the greatest distance over the four days will win a set of 30 training jerseys for a team of their choice within the club.
"A grain of rice will tip the scales".
With one final combined effort from clubs and individuals a target of €100,000 is well within our reach. All the members of the Westmeath GAA community are to be commended for their efforts to date. This is the final call to all to participate and donate. All donations big and small are welcome. Remember what Páidí said: A grain of rice will tip the scales.