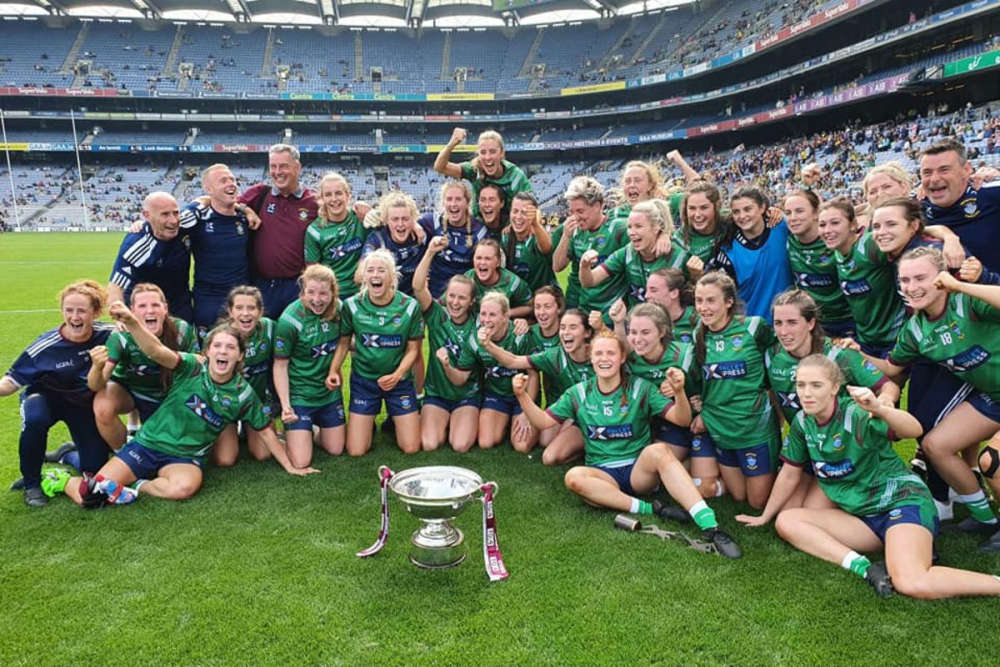 The winning Westmeath manager spoke to us after the victory in Croke Park.
Westmeath are back at senior level in Ladies Football for 2022.
They captured the All-Ireland Intermediate crown at Croke Park yesterday after a convincing 4-19 to 0-6 win over Wexford.
Goals coming from the boot of Sarah Dillon, Anna Jones, Leona Archibold and Lucy McCartan.
The victory comes ten years on from their last final success and means they will combine division one league status with top tier championship competition next season.
Speaking to Midlands103 Sport's Killian Whelan after receiving the trophy, manager Sean Finnegan was full of praise for his players:
'I said to the girls beforehand this is one of my dreams and it should be one of yours too and today we fulfilled it.
We peaked absolutely perfectly.
The team gave an immense performance today from the get go, we were up for it and we didn't relent, no matter how many scores we were ahead.
We brought on subs there who drove things on, girls who have given immense service to Westmeath Jo-Hanna Maher, Jennifer Rogers, Karen Hegarty; they're fantastic girls.
What they've given over the last 10-15 years they deserve their day out there. I know there's younger girls who will say ''we want to be in there'' but when they've done the miles that those girls have done, they'll have their day.
On the build-up to the big day:
I didn't sleep well thinking about the game last night but I am over-awed at the performance they've given. It was a complete performance and they deserve that.
It's in your wildest dreams to have a performance like that and from one to fifteen and the four or five girls who came on they were immense.
I thought it was a dangerous game because of that (win over Wexford in the group phase). First of all the expectations from the fans but in the team I didn't feel it but I was worried about it myself.
We worked so so hard at training the last few weeks to eliminate any complacency. I was worried about Wexford but one thing we vowed was that we were going to explode into this game early, not allow them to settle. We were here eight months ago, they weren't.
Westmeath had a superb start to the game, something that was well noted on the sideline:
There's a factor of the awe of the place and the shrine it is to gaelic football, so we wanted to lay the marker down that we were here for nothing but to win an All-Ireland.
I felt very early on we were making the right decisions in crucial areas.
When you have Sarah Dillon up front either scoring or making angles, Lucy McCartan, Ciara Blundell. These are serious footballers and the work they've been doing in training with Colm McDaid, it really came off today.
Sarah Dillon was awarded player of the game, Finnegan says the GAA world is her oyster:
I'm delighted for her. In December she was sitting in the stand not even togged out because she was injured.
I told her beforehand this is your stage, you're good enough to play on this stage and she showed that today. She is a wonderful footballer.
It was a difficult day at the office for Westmeath's opponents but the lake county boss doesn't think they're too far away:
I don't think Wexford are that much behind us in terms of the scoreboard.
I think they just got a little overawed and once we pushed on, we didn't stop even at half time there was no taking the foot off the gas, we were going to push on push on at all times to given them no oxygen and give them no option of settling into the game.
They're a good team they got here on merit but when the game came to the boil we were ready for it.
I'm going to enjoy this one. I'm on a high and who knows where it goes after this.'