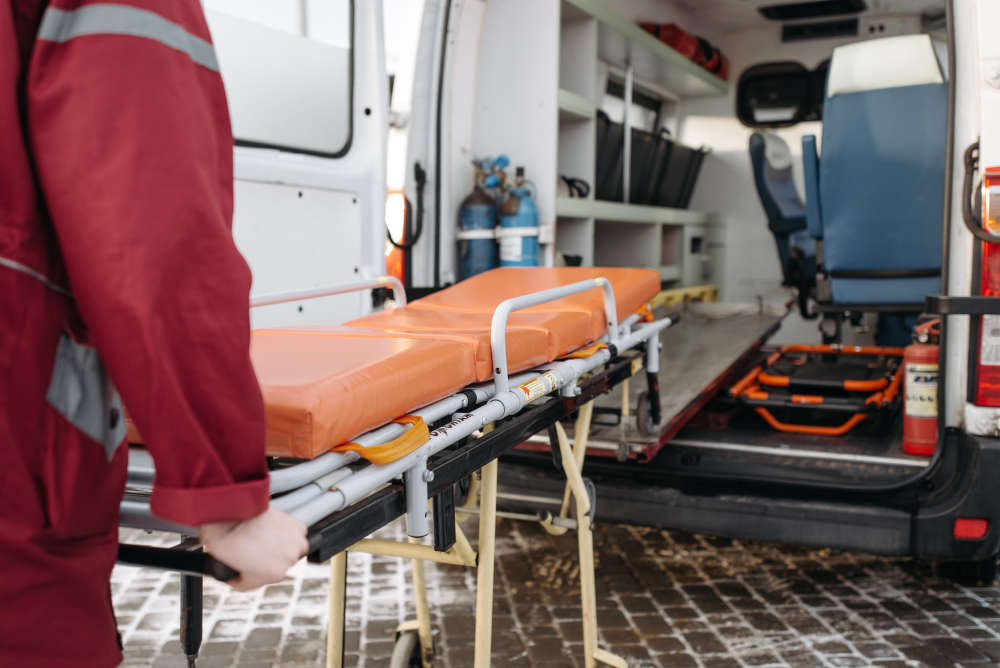 Investment in 'community first response groups' is being suggested.
Ambulance response times in the midlands for this year are nine minutes slower than the 19 minute maximum target set by the National Ambulance Service.
This year's figure is also three minutes slower than at the same period last year.
A representative from the National Ambulance Service union, NASRA, says the slower response times are due to understaffing and the 'nearest ambulance' policy.
Independent TD for Laois-Offaly, Carol Nolan says investment in community first response groups could help to improve the situation:
The figures, obtained by Sinn Féin, show a deepening crisis in the Ambulance Service and target response times being completely missed, according to the party's Laois-Offaly TD.
Brian Stanley is criticising the government's failure to train and retain enough paramedics to safely staff the Ambulance Service;
"Ambulance response times to life-threatening callouts in midlands region for this year was 28 minutes compared to 25 minutes for the same period last year and well above the 19-minute maximum target.
"The Ambulance Service has been run into the ground over the last ten years, and this is showing in average response times and patients' experience. 50% of life-threatening callouts should be responded to within 19 minutes, but across the State only 39% were in June with year. The average response time is up from last year and show a continuing deterioration."
He says the problem lies in staffing;
"The Ambulance Service needs about 2,000 more paramedics in the next five years, and about half of them are needed now. Yet, only 32 paramedics enrolled in training in 2020, while 83 left the Ambulance Service in 2021.''
"Our priority needs to be creating a sustainable domestic pipeline of trained paramedics to safely staff the ambulance service."
The National Ambulance Service have released a response to Deputy Stanley's criticism:
"There has been a 14% increase in demand since 2019 with more people calling 112/999 than ever before.
Not all 999 calls for ambulances are emergencies and response times targets which are set out in the HSE's National Service Plan apply to ECHO (Life threatening cardiac or respiratory arrest) or DELTA (life threatening illness or injury, other than cardiac arrest) calls only.
The 18.59 minute target was originally recommended in 2012 as part of a report by HIQA to the Minister for Health and the HSE under section 8(1)j of the Health Act 2007. The target applies to 50% of Delta calls and 80% of Echo calls which accounts for less than half of all 999 calls. The National Ambulance Service also uses Clinical KPIs to better measure patient outcomes rather than just time based targets which are not supported by any clinical evidence and have limited clinical relevance.
As demand can exceed available resources, 999 calls are clinically triaged and prioritised to ensure that those patients with life threatening injuries or conditions receive the fastest response possible. If a 999 call is not time critical, then during busy periods, these calls will wait longer for a response. Thankfully, it remains the case that the majority of 999 calls do not relate to life threatening emergencies. For those calls that are not life threatening or clinically serious, the HSE encourages callers to consider other options such as GPs, Minor Injury Units, Pharmacists or Self Care.
The National Ambulance Service is actively recruiting new staff and launched an advertising campaign for Qualified Paramedics, Student Paramedics and Intermediate Care Operatives in March 2022. This campaign was successful and NAS has been oversubscribed for the September 2022 intake of Student Paramedics into its NAS College campuses in Tallaght, Ballinasloe and Tullamore. NAS is confident it will fill three classes with a total of 96 Student Paramedics for the September intake. Some 80 places have already been filled and other applications are awaiting Garda and occupational health clearances.
A new phase of the advertising campaign is now underway on social media and we are in the process of recruiting for the January intake of student paramedics. We are also planning to commence classes of 30 Intermediate Care Operatives in October and November at the NAS College for training and a further batch of 30 in the first half of next year. We will also be shortly instigating the recruitment of Emergency Call Takers for our Emergency Call Centres in Tallaght and Ballyshannon, Co Donegal. We will be training at least 12 Call Takers at the end of the year to refresh the existing numbers at the centres.
The first phase of our advertising campaign, earlier this year, highlighted that people from all walks of life are joining the National Ambulance Service building careers and playing an important role in their local communities. Please note also that NAS has also made a submission through the 2023 Estimates process to recruit 192 student paramedics across our programmes starting in January and September 2023 as well as growing our educational capacity by opening a fourth campus in 2023 in Cork. The HSE is confident in the ability of NAS to deliver urgent and emergency care services in the future and deliver on its strategic plan to grow the range of services provided to the public."