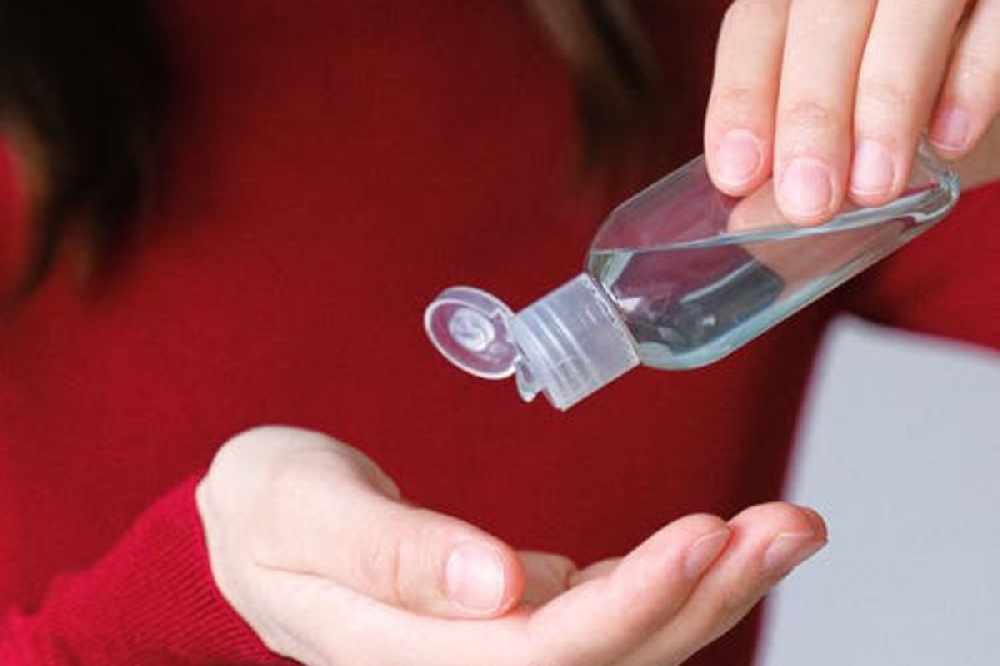 National News March 23rd 2021.
Latest figures:
The Health Protection Surveillance Centre has today been notified of 24 additional deaths related to COVID-19.
12 deaths occurred in March, 10 in February and 2 in January.
The median age of those who died was 82 years and the age range was 49 - 100 years.
There has been a total of 4,610* COVID-19 related deaths in Ireland.
As of midnight, Monday 22nd March, the HPSC has been notified of 371 confirmed cases of COVID-19. There is now a total of 231,484** confirmed cases of COVID-19 in Ireland.
Of the cases notified today:
183 are men / 187 are women

75% are under 45 years of age

The median age is 30 years old

151 in Dublin, 31 in Offaly, 27 in Donegal, 25 in Galway, 21 in Meath and the remaining 116 cases are spread across 16 other counties***.
51 of the cases reported are in the midlands - 31 in Offaly, 12 in Westmeath and eight in Laois.
As of 8am today, 357 COVID-19 patients are hospitalised, of which 76 are in ICU. 25 additional hospitalisations in the past 24 hours.
As of March 20th 2021, 675,946 doses of COVID-19 vaccine have been administered in Ireland:
492,106 people have received their first dose

183,840 people have received their second dose
The COVID-19 Dashboard provides up-to-date information on the key indicators of COVID-19 in the community including daily data on Ireland's COVID-19 Vaccination Programme.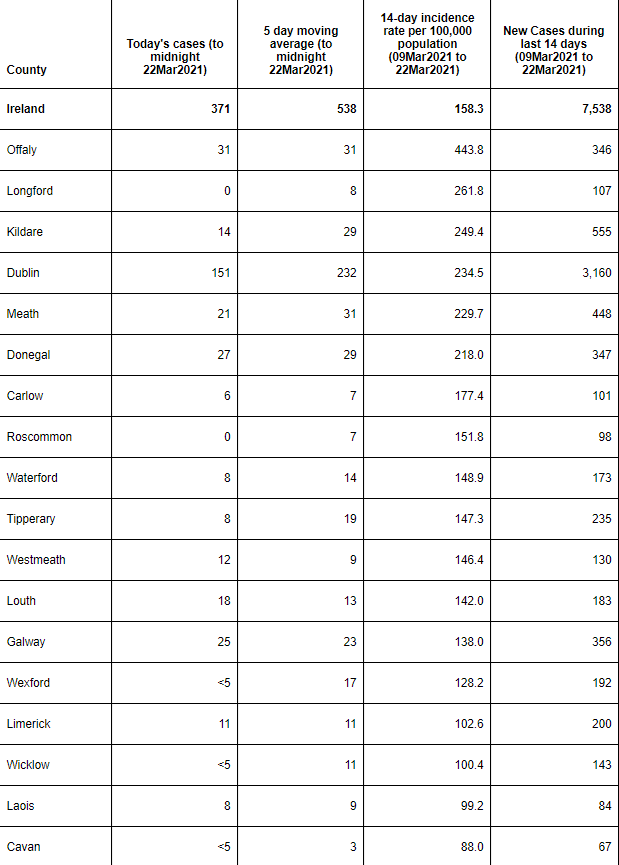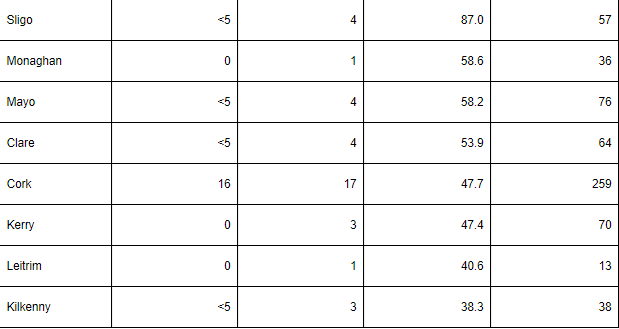 *Validation of data at the HPSC has resulted in the denotification of 2 deaths. The figure of 4,610 deaths reflects this.
**Validation of data at the HPSC has resulted in the denotification of 6 confirmed cases. The figure of 231,484 confirmed cases reflects this.
***County data should be considered provisional as the national Computerised Infectious Disease Reporting System (CIDR) is a dynamic system and case details are continually being validated and updated.
Economy:
Measures to support the economy during COVID-19 restrictions are the right thing to do for now, according to the Fiscal Advisory Council.
The body says business supports, the PUP payment and wage subsidy schemes can be supported due to low interest loans.
However, it warns tax increases could be necessary later in the government's term to pay for big spending projects in climate action and Slaintecare.
Hotel Quarantine:
A booking portal for hotel quarantine is now available online.
From 4am on Friday arrivals from 33 countries will have to pre-book into the system.
A 12-night stay will cost 1,875 euro with meals to be provided.
Taoiseach Micheál Martin says he expects more countries to be added to the list.
Health Minister Stephen Donnelly hopes the system will act as a deterrent to people planning to come to Ireland:
Retail:
Lidl is offering its staff weekly antigen testing from next month.
The supermarket says all 6,000 employees nationally will be able to get the Covid-19 check.
The company says it will help provide reassurance to staff and customers
Common Cold:
A new study suggests people currently infected with the common cold are - temporarily - immune from Covid-19.
Scientists found the response against the rhinovirus - which causes most colds - could prevent the disease from gaining a foothold in the respiratory tract.
But researchers say it's likely that immunity is short-lived.
Germany:
Germany has extended its lockdown - five days before it was due to end.
Restrictions which were planned to finish on Sunday will now last until the 18th of April, meaning Easter gatherings are banned.
The country's leader Angela Merkel says the British variant means they're essentially dealing with a new virus, which is more contagious.
Vaccine:
US health officials say results from an AstraZeneca trial may have relied on "outdated" or "incomplete" information.
Results of a study of 32,000 people in the US, Peru and Chile showed the injection is 79 percent effective, and had a 100 percent success rate at preventing severe cases of the disease.
The National Institute of Allergy and Infectious Diseases in the US say its "concerned" by the data, and is calling on the pharma compnay to review it's statistics.
Quarantine:
The new system of mandatory hotel quarantine will be active later today, after the Health Minister signed the regulations last night.
The first people arriving here from certain high-risk countries will be placed in hotels by the end of the week.
They will be forced to stay there for 14 days, or face a fine or jail-time.
But Deputy Paul Murphy, from People Before Profit, says it should be expanded to include every country in the world.
Nursing Homes:
The number of Covid-19 deaths in nursing homes has passed 2,000.
The Department of Health will tell an Oireachtas committee today the current figure is 2,009 - which is 44 per cent of all deaths here.
But it will say the number of open outbreaks in these settings has dropped by 62 per cent in the past month.
Dr Denis McCauley, from the Irish Medical Organisation, says the improvement is down to the vaccine rollout.
Restaurants:
Half of Irish restaurants face permanent closure due to the Covid-19 pandemic, according to a group representing the sector.
The Restaurants Association will be among the hospitality groups at today's Oireacht Tourism Committee, highlighting the need for more supports and a plan for reopening.
The Hotels Federation will also outline how revenue across its sector fell by 60 per cent last year.
Meanwhile the Licensed Vintners Association will tell the committee all pubs and other hospitality businesses should be allowed open at the same time.
Chief Executive, Donall O'Keeffe, says there must be a vaccination bonus in terms of reopening without restrictions: