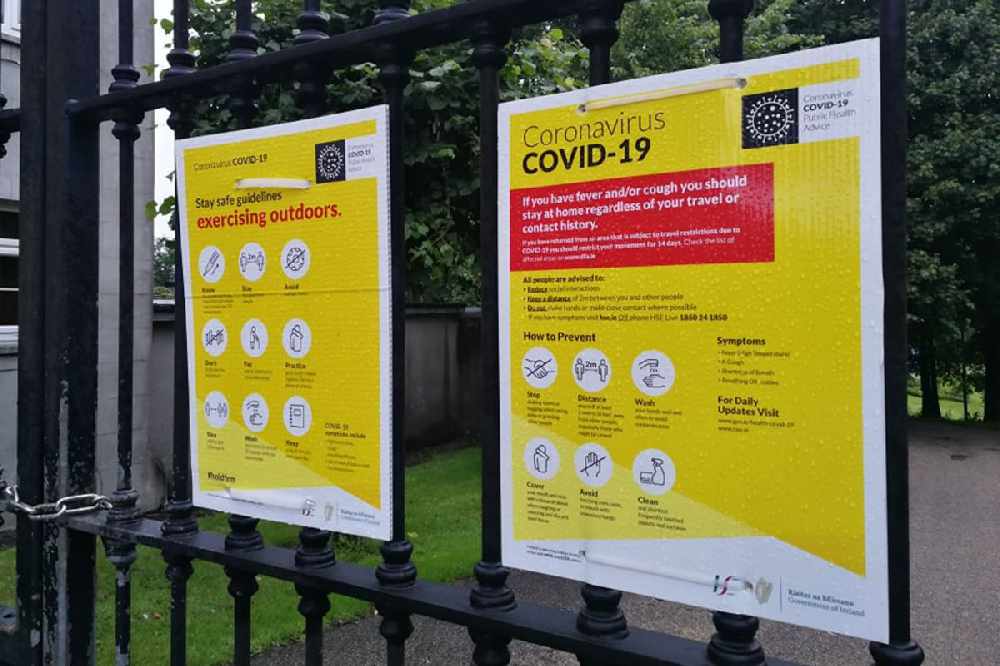 National news updates on Friday 27th November.
Latest figures:
The Health Protection Surveillance Centre has today been notified of 7 additional deaths related to COVID-19.
There has been a total of 2,043 COVID-19 related deaths in Ireland.
As of midnight Thursday 26th November, the HPSC has been notified of 206 confirmed cases of COVID-19. There is now a total of 71,699* confirmed cases of COVID-19 in Ireland.
Of the cases notified today;
101 are men / 105 are women

67% are under 45 years of age

The median age is 34 years old

64 in Dublin, 23 in Limerick, 20 in Donegal, 18 in Cork, 14 in Louth, 14 in Meath, and the remaining 53 cases in 18 counties.
As of 2pm today 248 COVID-19 patients are hospitalised, of which 35 are in ICU. 10 additional hospitalisations in the past 24 hours.
The COVID-19 Dashboard provides up-to-date information on the key indicators of COVID-19 in the community.
* Validation of data at the HPSC led to the denotification of 1 confirmed case. The figure of 71,699 confirmed cases reflects this.
Today's cases, 14-day incidence rate per 100,000 population and new cases in last 14 days (as of midnight 26 November 2020) (incidence rate based on Census 2016 county population)
County

Today's cases (to midnight 26NOV2020)

14-Day incidence rate per 100,000 population (13NOV2020 to 26NOV2020)

New Cases during last 14 days

(13NOV2020 to 26NOV2020)

Ireland

206

98.2

4,677

Donegal

20

216.1

344

Louth

14

199.4

257

Limerick

23

181.6

354

Kilkenny

<5

126

125

Waterford

6

117.9

137

Roscommon

<5

117.7

76

Dublin

64

110.6

1,490

Meath

14

100.5

196

Longford

<5

95.4

39

Tipperary

7

92.8

148

Monaghan

<5

84.7

52

Mayo

<5

83.5

109

Offaly

<5

79.5

62

Westmeath

<5

77.7

69

Cork

18

77.4

420

Wicklow

5

76.5

109

Carlow

<5

72

41

Cavan

0

70.9

54

Clare

<5

70.7

84

Kildare

<5

70.6

157

Sligo

<5

59.5

39

Laois

<5

57.9

49

Galway

5

51.2

132

Kerry

5

50.8

75

Wexford

0

32.7

49

Leitrim

<5

31.2

10
Post Level 5:
Cabinet Ministers have given the green light for restaurants and pubs that serve food to open next week.
While shops, gyms, hairdressers, barbers, museums and cinemas will also be allowed to open.
This will be a three stage re-opening.
Next Tuesday December first will see retail, gyms, hairdressers, barbers, museums and cinemas allowed to open.
Cabinet has approved then the re-opening of restaurants and gastropubs from next Friday with the meeting discussing changes to the rules around dining indoors.
Finally the third stage will be when people are allowed to travel outside their county and visit other people's homes - and that's likely to start on December 18th until a few days into January.
However, Christmas gatherings will come with guidelines.
The government will recommend not hugging or shaking hands with your guests.
Whoever is cooking Christmas dinner will also be told to wear a facemask while preparing and serving food.
People will also be told if they intend to have gatherings at Christmas to limit their contacts from now.
The cabinet meeting is ongoing with an announcement around 6pm this evening.
Norn Iron:
Northern Ireland's First Minister says there isn't enough co-operation on the island, as two more weeks of lockdown begins there.
Hairdressers and cafes are shut once again in the North after being allowed to trade for a week.
Arlene Foster says it's "regrettable" the Tánaiste suggested a ban on cross-border travel for Christmas.
Last weekend the four UK jurisdictions agreed to try and align their Christmas lockdown plans and allow travel between them.
Ms Foster said last night they're hoping to include the Republic in those plans too:
Hospitality:
Restaurants and gastro pubs are set to open in December despite NPHET advice.
Cabinet Ministers will meet this afternoon to finalise the approach to be taken over the coming weeks.
After an almost five hour meeting yesterday the coalition party leaders and a number of senior Ministers have decided to go against NPHET advice and open restaurants and gastro pubs next month.
The trade off though will be stricter rules on household gatherings around Christmas.
NPHET had recommended restaurants and pubs be take-away only - but they will be allowed to open sometime in the next two weeks.
Retail and other services like hairdressers, barbers and gyms will have the green light to open next week.
But pubs that only serve drink are likely to stay closed.
NPHET had recommended either re-opening hospitality or strict rules on household gatherings.
Instead the approach put to Ministers later will be a bit of both, but with fewer people able to visit a household in the week of Christmas than planned.
The instruction to stay within your county is also going to stay in place until the 18th of December at least - after which there will be a window when travel across the country for Christmas will be allowed

Level 5:
The Government is to make an announcement today on lifting level 5 restrictions.
Nphet wants restaurants and pubs to only offer takeaway in December but the Government's expected to go against the advice and open them.
It comes as 335 new cases have been confirmed along with 3 more deaths.
A public health expert says people shouldn't be allowed drink takeaway pints on the streets.
UCC Professor Gerry Killeen says the Government must ensure there are no house parties like what happened before in Cork: