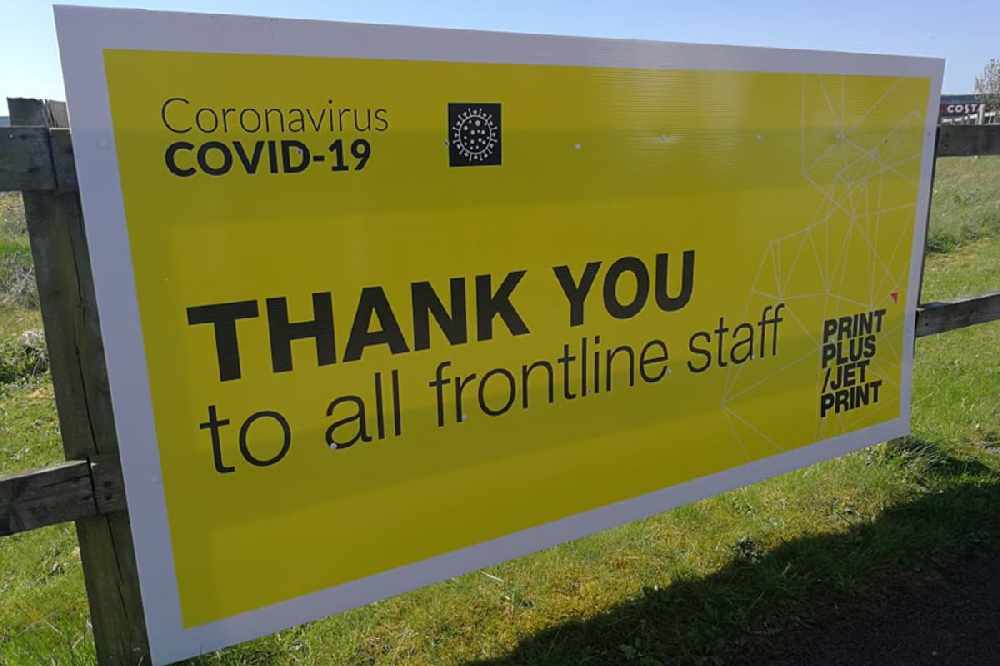 National news updates on Tuesday 11th August.
Latest figures:
There has been one new death reported to the Health Protection Surveillance Centre today.
There has now been a total of 1,773 COVID-19 related deaths in Ireland.
As of midnight Monday 10th August, the HPSC has been notified of 35 confirmed cases of COVID-19. There is now a total of 26,801* confirmed cases of COVID-19 in Ireland.
Of the cases notified today;
15 are men / 18 are women

71% are under 45 years of age

24 are confirmed to be associated with outbreaks or are close contacts of a confirmed case

5 cases have been identified as community transmission

6 in Carlow, 5 in Clare, and the remaining 24 of the cases are in Cork, Donegal, Dublin, Kildare, Laois, Limerick, Meath, Offaly, Tipperary, Wexford
The HSE is working to identify any contacts the patients may have had to provide them with information and advice to prevent further spread.
The COVID-19 Dashboard provides up-to-date information on the key indicators of COVID-19 in the community.
Dr Ronan Glynn, Acting Chief Medical Officer, Department of Health, said; "The number of confirmed cases notified to us daily is likely to rise and fall this week. It is important to look at the wider trends we see in this disease in Ireland for context, and not simply one day's figures in isolation. It will be next week before we see if measures introduced last weekend in Kildare, Laois and Offaly have had the desired effect in suppressing COVID-19 in these areas and minimising community transmission."
"We must remember that our focus as a society is on three national priorities - protecting public health and the most vulnerable, the resumption of non-COVID health services and the reopening of our schools. Every time you choose to avoid a crowd, keep 2m distance, wash your hands, wear a face covering and use the COVID Tracker App, you are making a vital contribution to this shared national effort."
*Validation of data at the HPSC led to the denotification of two confirmed cases. The figure of 28,801.
Meat Factories:
One of the meat factories which has had a large Covid 19 outbreak has delayed its planned re-opening by almost a week.
86 workers at O'Brien Fine Foods in Timahoe, County Kildare have so far tested positive.
It suspended normal operations last Wednesday and announced plans to test more employees.
The company's proposed date for resuming full operations has now been pushed back from August 18th to August 24th.
It says that'll only happen with HSE approval, workers will continue to be tested every two weeks and only those with a negative result can return to the factory.
Nurses:
Nurses are appealing to Dublin City Council to reverse its decision to resume clamping frontline workers' cars.
They have been able to park for free since March - when Covid-19 restrictions were introduced - if they display a valid ID.
But the council says the measure will come to an end on August 31st due to an increase in traffic.
Mary Rose Carroll from the INMO says staff are paying up to 175 euro a week for parking:
GPs:
Covid tests and GP assessments are free of charge, including out of hours consultations, according to the HSE.
The HSE's moved to clarify the situation after some people were charged for the service.
In a statement, the Health Service Executive says rapid access to coronavirus testing is a fundamental part of its strategy to monitor the spread of Covid 19 in Ireland.
It says an agreement with GP representatives was extended in June to include out of hours services, in order for the public to avail of free assessments and tests.
Direct provision:
A woman who caught covid-19 at a direct provision centre in Co. Kerry is calling on the government to make the asylum seeking process shorter.
Chawa Ndlovu was one of 20 residents at the former Skellig Star Hotel in Cahersiveen to contract the virus.
Since November, the Zimbabwe native has been moved through centre's in Dublin, Kerry and Cork.
Chawa feels she has lost her freedom under the direct provision system and is calling for it to be reformed urgently:
Poster:
A fake poster has been circulated in Dublin claiming people can get a one thousand euro reward for reporting house parties.
Gardaí say they are not behind the campaign and that it's a hoax.
The professionally made sign went up in Phibsborough in recent days.
Cónal Thomas from the Journal.ie says there have been a number of attempts to put out mis-information about Covid-19:
New Zealand:
Four cases of coronavirus have been found in New Zealand - more than 100 days after the country declared itself Covid-free.
New strict lockdown measures are now being put in place in Auckland as an investigation takes place.
Up to now it had been 102 days since the last locally-acquired case of Covid-19 in New Zealand.
However four new cases of community transmission have now been discovered.
New Zealand's director-general of Health Dr Ashley Bloomfield says they're all members of one family/
A temporary lockdown has been ordered for the South Auckland area from tomorrow until Friday.
All schools, most businesses and public facilities must close, and people are asked to stay home.
The four new cases bring New Zealands total since the outbreak to 1,223, with 22 deaths.
Spikes:
A leading expert says the country still isn't testing enough people for Covid 19 - despite a recent spike in cases.
Government ministers have been briefed by the Acting Chief Medical Officer on the increase in new infections.
The number of outbreaks at meat factories in the midlands was also discussed at the cabinet sub-committee on Covid.
Tomas Ryan, an immunology professor at Trinity College Dublin, says our testing capacity needs to be improved:
Meanwhile, a Public health expert says the spike in Covid 19 cases in Ireland over the last few weeks has been described as "disturbing".
57 further cases were confirmed yesterday, with health officials warning of "significant" numbers of new infections in the days ahead.
The cabinet sub-committee on Covid 19 is meeting this morning to discuss the issue.
Dr Gabriel Scally says the positive news is that we know where most of the cases are:
Fair City:
It's been confirmed Fair City will be back on our screens early next month.
RTÉ has announced the return of production on the soap after it was shut down during the pandemic.
The makers of the show say it will reflect life in Ireland with Covid-19.
Face masks:
Independent TD Michael Healy Rae says it shouldn't be the job of shopkeepers to enforce the wearing of face masks.
They're now mandatory in retail settings including shops, shopping centres, hairdressers and cinemas.
But the Kerry TD, who runs a petrol station and supermarket in Kilgarvan, says he won't be turning away customers who aren't wearing a mask:
Air traffic:
Air traffic levels in July dropped 70 per cent compared with the same period last year.
The Irish Aviation Authority says air traffic levels for quarter two are down by 82 per cent compared to the same period last year.
The IAA says July was another poor month for the aviation sector in Ireland.
It says this confirms the COVID-19 trend, with air traffic levels for quarter two down by 82 per cent on last year.
The IAA says however despite the decline there are some indications of an improvement, with July figures showing a 59 per cent increase on June.
It says the increase, while compared against an extremely low base, is primarily driven by the return of commercial passenger flights as lockdowns eased across Europe in July.
Alcohol:
Seizures of illicit homemade alcohol in Irish prisons almost tripled during Covid-19 lockdown.
Figures obtained by the Irish Times through freedom of information show 541 litres of the alcohol, known as 'hooch', was seized between January and July - averaging at 90 litres per month.
That compares to the 395 litres found during the whole of 2019, or 33 litres per month.
Mountjoy had the highest amount seized at 190 litres, followed by Limerick at 133 litres.
WHO:
The total number of cases of Covid-19 around the world has reached 20 million.
More than 10 million are in three countries - the United States, Brazil and India.
733,000 people around the world have died of the disease.
Many countries are experiencing spikes in cases - but Dr Mike Ryan, from the World Health Organisation, says it's not necessarily a second wave:
Business:
A number of business in the midlands may close permanently due to the local lockdown, according to a leading economist.
The new restrictions in Kildare, Laois and Offaly are continuing to have a big impact on the three counties.
All four of the meat plants where there are significant clusters of the virus have temporarily closed.
UCC economist Brian Turner expects them to reopen soon - but he says other businesses might not:
PUP:
18,500 people have had their pandemic unemployment payments stopped after investigations by the Department of Social Protection.
Over 4.3 million euro has been repaid by people who wrongly claimed money under the scheme.
The PUP was launched in March and is capped at 350 euro a week.
New figures, released under the Freedom of Information Act, show 88,200 people had their applications for the payment refused.
18,500 people, who were approved for the payment, subsequently had it withdrawn after investigations by the department.
So far, more than 5,300 people have made repayments to the department after receiving PUP payments they weren't entitled to.
A total of 4.37 million euro has been reclaimed from these people.
All cases of suspected PUP fraud are investigated by the department's special investigation unit, which includes 21 gardai.
NPHET:
The National Public Health Emergency Team is warning of "significant" numbers of Covid-19 cases being reported over the next week.
57 more cases have been confirmed, but no further deaths, while Ireland's incidence of cases per 100,000 people over the past two week is now higher than in the UK.
Thirty-one of last night's reported cases are associated with outbreaks or close contacts of confirmed cases, while another 8 are linked to community transmission.
Acting Chief Medical Officer Ronan Glynn says there are going to be ups and downs over the next 7 days: