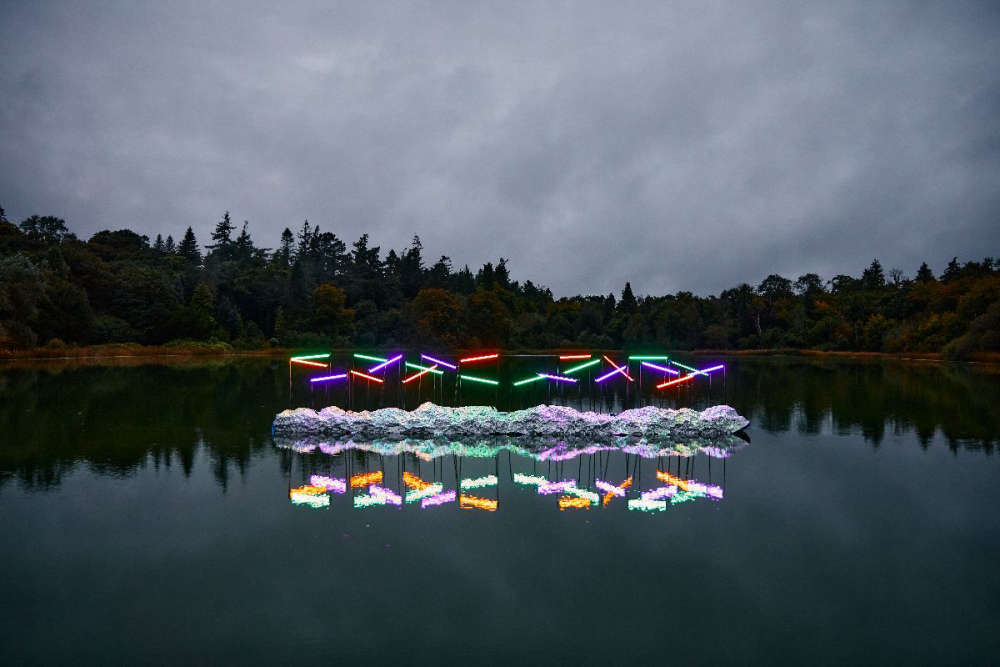 The festival returns to Westmeath this summer.
Body & Soul - which returns to Westmeath this summer - has today revealed some of the 'cultural highlights' to look forward to.
Among those being dropped into the festival mix are Blindboy Boatclub, Suzanne Ciani, Felispeaks, David O'Doherty, Optimo, Lisa O'Neill & Crash Ensemble, Bishi, John Francis Flynn and Byron Yeates, presented side by side with major international music talents: Róisín Murphy, Sampa The Great, Remi Wolf, Mogwai and Yves Tumor, for a summer solstice weekend like no other this June.
But as with all the best surprises, the festival will be keeping the mystery alive a little longer and is still holding a few trump cards close to its chest - watch this space for some last minute creative thunderbolts, to be thrown as the solstice approaches.
Read more about today's announcement from the festival organisers below...
CRITICALLY ACCLAIMED PODCASTS GO LIVE
For the first time at Body & Soul, special editions of some of Ireland and the UK's much loved cultural podcasts will be recorded with a live festival audience, including award-winning 'The Last Bohemians' by Kate Hutchinson, alongside The Blindboy Podcast presented by Blindboy Boatclub.
The Last Bohemians, who bring inspiring tales from pioneering and maverick female creatives, will be in conversation with Suzanne Ciani, the creator of Coca-Cola's pop-and-pour sound and five-time Grammy nominated composer, who has carved out a niche as one of the world's most successful electronic musicians. Ciani will also make her only live appearance in Ireland this summer, with a quadraphonic spatial sound performance.
Blindboy Boatclub's podcast, which sees a monthly global audience of over 1 million listeners, is hosted by David Chambers, one half of the Irish comedy hip-hop group The Rubberbandits, who will deliver 'hot takes' and social commentary, personal stories and absurdist riffs' alongside conversation with a very special guest (previous appearances include the likes of Spike Lee, Emma Dabiri and Cillian Murphy, so stay tuned).
SOME TIME TO CRACK UP
Keeping Body & Soul's comedy pedigree up to its usual outrageous standards, a host of much loved home-grown comedians will also be on hand to set the world to rights across the weekend, including Ireland's comic keyboard hero David O'Doherty, a regular guest on television shows such as QI, Have I Got News For You and Would I Lie To You?, alongside stand up and MC Shane Daniel Byrne and Dublin-based comedian and improviser Tony Cantwell. The live comedy programme for this year's festival will take place as part of the new live space in Ballinlough's walled gardens, presented by Bulmers, with more details to be announced soon.
ÉRIU: LIVE PERFORMANCES
Following the release of Body & Soul's film, Ériu, available to watch on RTÉ Player, the artists commissioned for the project will now also appear live at the festival: from a performance by opera singer Emma Nash, to audiovisual works by Aoife Dunne and New Jackson & the Lighting Sculptors showcased in the woods. There will also be full live performances from Lisa O'Neill and Crash Ensemble; John Francis Flynn; Overhead, the Albatross; AE Mak and Peter Broderick, and further appearances from Alltar featuring Súil Amháin; CUROD, Edwina Guckian & John Carty, alongside a pop-up live space presented by Felix Power.
HITTING ALL THE MUSICAL NOTES
Alongside extraordinary live sets and high octane performances from a host of world class music names and exciting new talent, this year's festival will also stretch and expand the boundaries of music through its wider programme of talks, installations and sonic experiences.
Saint Etienne's Bob Stanley takes to the stage for a gossip-fest history lesson in pop music before rock'n'roll - with his new book Let's Do It: The Birth of Pop, which charts early pop, from ragtime and blues, to country and crooning. After the conversation, Bob will play a DJ set inspired by the book.
Alternative music experiences continue with electronic rock-sitarist, singer, composer and producer BISHI, who will present her new audiovisual art installation, Reflektions (co-produced with Richard Norris), alongside a live set from her new album, Let My Country Awake, which focuses on dual identities, anti-racism and a call to find empathy in a divided world.
From the visionary minds of musician King Khan and artist Michael Eaton comes 'The Black Power Tarot', featuring tarot cards displaying prominent African American personalities as tarot archetypes, from Nina Simone and Tina Turner, via James Brown and Sun Ra. A large-scale installation of the images will be displayed at the festival, together with an appearance from King Khan, who will be available for tarot readings before DJing music inspired by the cards.
A unique album playback for world-renowned electronic music composer Jon Hopkins' Music for Psychedelic Therapy will also be presented: an immersive sonic experience, housed in a specially designed geodesic dome, will transport audiences into different temporal spaces, inspired by the album's journey across different geographical and cosmological spectrums.
A GARDEN OF (UN)EARTHLY DELIGHTS
Across the site, festival goers will be taken on an enlightening ride across the weekend, via a plethora of other performances and commissions. From contemporary Irish visual artist Maser's site specific artworks, to Felispeaks (aka Felicia Olusanya), the young Nigerian-Irish spoken word performance artist who is fast becoming one of the most exciting and in demand poets in Ireland, blurring the lines between music and poetry, cultural awakenings will also be discovered with Bibliotherapy - the art of prescribing fiction to cure life's ills - and the chance to experience Quiet Sun, an early morning, immersive and meditative performance work by Maïa Nunes.
24 HOUR ARTY PEOPLE
When the Solstice sun goes down, the tempo goes up at Body & Soul and this year brings a host of evocative experiences which will see festival-goers through to the small hours. Billy Mag Fhloinn's Pagan Rave, a ceremonial salute to the festival's Solstice roots, featuring over 20 performers bedecked in costumes and masks and culminating in a DJ set by Sally Cinnamon, will initiate festival-goers into Saturday night from the newly commissioned, 35ft tall Beacon Stage. The Beacon will also hand over its keys to a spectacular programme of party wizards, welcoming the musical playgrounds of Optimo, who will be marking their 25th anniversary; Radiant Love resident and co-founder Byron Yeates; and French electronic music DJ, producer and composer Chloé Thévenin, amongst other highlights. But there's no need to wait till nightfall, with The Beacon also presiding over the much-loved daytime Body & Soul 'Sing Along Social' and a residency from Mother, who will bring their unique brand of disco and drag to Sunday afternoon.
BULMERS: BEE INSPIRED WITH A €5,000 ART BURSARY
In partnership with Bulmers, Body & Soul is this year inviting artists and creatives to 'bee-inspired' and propose imaginative concepts for a new living artwork installation, in celebration of Ireland's wild bees, to be commissioned for this year's festival. The winning design will be awarded a bursary of €5,000 to fund the conception, development and installation of the work. The Bulmers Art Bursary installation will be a regenerative piece, using natural materials and plants that will be repositioned in the Ballinlough Estate after the festival has taken place and include a planted art installation to attract pollinators, provide a bee-friendly habitat and a protected environment that encourages biodiversity.
THE HENNESSY HIP HOP HOUSE
Hennessy meanwhile returns for 2022 with its highly anticipated line-up for their renowned Hip Hop House, securing its reputation amongst the Irish hip hop scene as tastemakers and champions of Irish music and culture. The stellar line-up of Irish and international hip hop acts, especially curated for the festival by District, will include Mango x MathMan, Malaki, Aby Coulibaly, Monjola and JyellowL, Nealo, Louise Chen, Tomike and many more besides.
Body & Soul 2022 returns to Ballinlough Castle Estate in Clonmellon, Co. Westmeath from 17-19th June.
The festival is strictly over 21s.
You can find out more at bodyandsoul.ie.