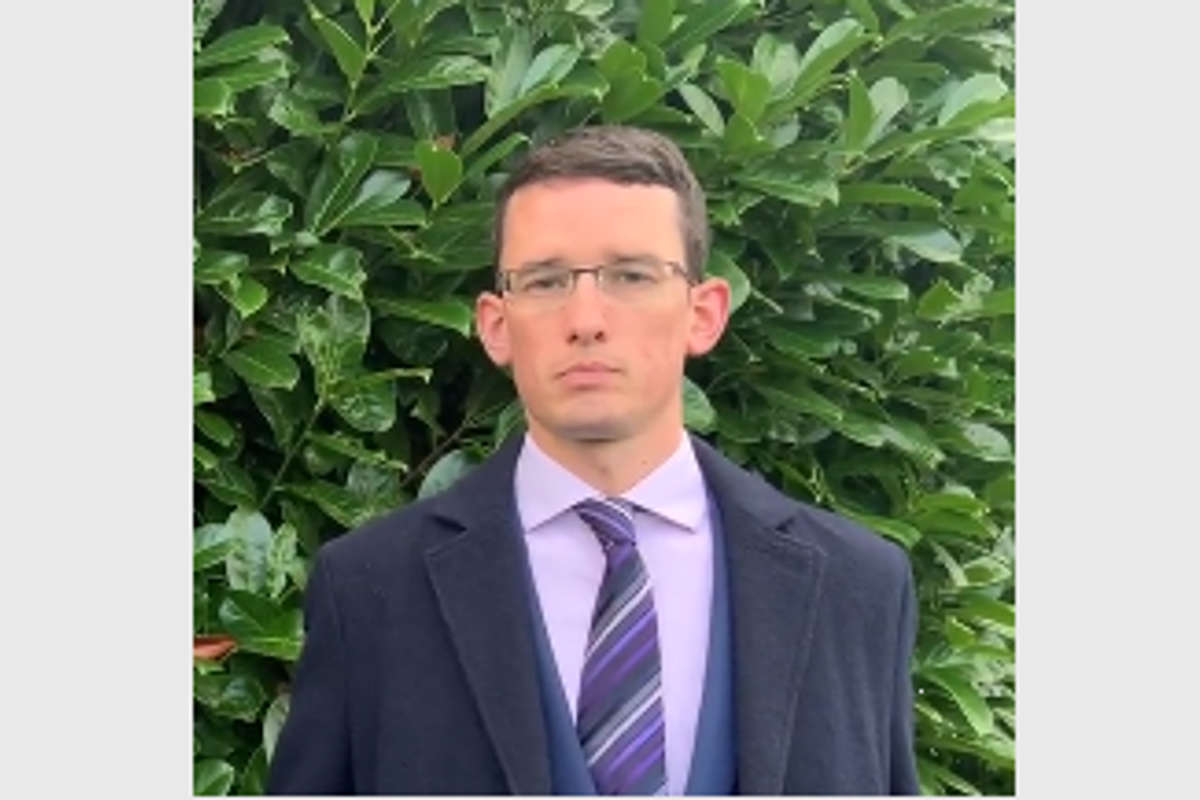 Photo credit: Twitter/@IsaacZBurke
The teacher remains in prison for contempt of court.
Teacher Enoch Burke has failed in a legal bid to stop a Westmeath school's disciplinary process against him.
Mr. Burke, an Evangelical Christian, was put on administrative leave by Wilson's Hospital on August 24th for refusing to refer to a transgender student by a new name and pronouns.
The then-principal, Niamh McShane, had issued the request to all teachers. The student in question was not in any of Mr. Burke's classes, but he claimed the request went against his religious beliefs.
A disciplinary process was launched by the school's Board of Management and Mr. Burke suspended, with pay, while the process is underway.
However, he continued to show up to the school, despite substitute teachers being assigned to his classes.
This led to the school seeking 'his attachment and committal', which saw him arrested and brought to the High Court last Monday week, 5th September.
He was offered the opportunity to purge his contempt of court but told the court he doesn't believe in transgenderism as it goes against the religious scripture he follows, and was jailed for contempt of court.
He's remained in Mountjoy Prison since.
Mr. Burke yesterday made his first challenge against the school's disciplinary process.
Representing himself in the High Court, he told the judge he believes the suspension is unconstitutional and violated his religious freedoms.
He also claimed there were procedural flaws, with the school acting contrary to a circular from the Department of Education in relation to disciplinary matters.
Having heard Mr. Burke's arguments and those from counsel for Wilson's board of management, the judge decided to refuse to grant the injunction.
She said the application was "procedurally misconceived", but because he was a lay litigant, she would give him the benefit of he doubt and would deal with the issue he had raised anyway.
She agreed that he is entitled to hold his religious beliefs, but stated that the school's decision to put him on administrative leave for failing to follow his employer's instruction did not amount to an attack on those religious beliefs.
She added that, contrary to what Mr. Burke claimed, Wilson's had acted within the Department of Education circular in question.
After refusing his injunction, the judge gave Mr. Burke one more chance to purge his contempt of court.
He declined, saying he had been the subject of a gross injustice by the school and the court and would return to jail as "a law abiding subject of the state, but a subject of god first".
The judge responded to this by reminding Mr. Burke that he was committed to prison for his breach of court order and not because of any violation of freedoms.
You can listen back to Shane Phelan, Legal Affairs Editor with the Irish Independent's, full interview on Midlands Today here: