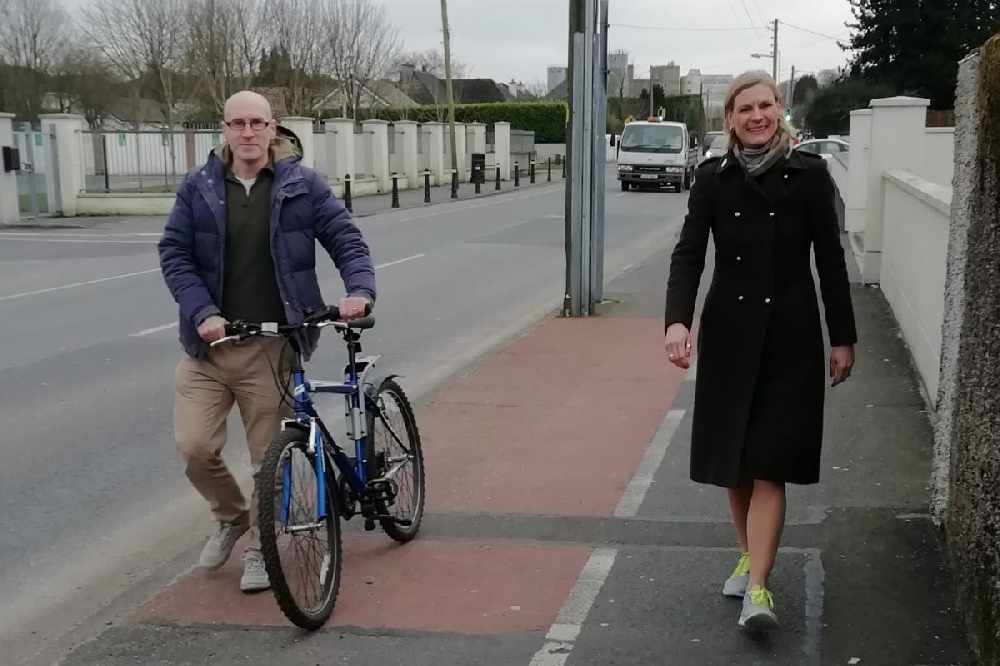 John Holland pictured with Junior Minister Pippa Hackett
A local rep feels implementing a 30 kilometre speed limit in the town centre is one way to start.
The Green Party is calling for better walking and cycling facilities in Portarlington.
Local rep John Holland says town planners need to move away from the car-centric approach, and create a good public realm in the town centre.
He says central government has allocated €50 million to local authorities for active travel, so there's no longer any excuse for improving infrastructure.
Mr. Holland feels implementing a 30 kilometre speed limit in the town centre is one way to start:
Here is a synopsis of the 13 specific proposals made to Laois County Council by John Holland:
Introduce 30km/h speed limit within the town (focussing especially on schools and main streets) – e.g. Station Road, Canal Road + R420 main road through Portarlington from Lea Road/Canal Road junction to outside town boundary on Offaly side
Priority pedestrian/raised zebra crossings at Maxol roundabout (start of Upper Main St.)
Priority pedestrian/raised zebra crossings on Upper Main St
Redesign of parking/footpaths on Upper Main St
Standard Cycle lane(s) on Upper Main Street from Maxol roundabout - to Library – along Link Road to Market Square and up Patrick St to Colaiste Iosagain
Continuation of dual cycle lane on Canal Road from Scoil Phadraig (Boys school) to the Odlum's roundabout
Bollards on existing cycle lanes on Station Road at Presentation Girls' school (pharmacy side + before and after bollarded sections on school side)
Cycle lanes on Station Road from Odlum's roundabout to train station
Standard Cycle lanes on Crowe Lane to Ballymorris Road roundabout and down to Sandy Lane national school
Footpath on right hand side of Station road from Portarlington train station to the turnoff for Corrig Wood.
Footpaths on Portlaoise Road R419 to Blackhall Bridge and up Canal Road to Ballymorris Road junction.
Footpath on Corrig Lodge road from Corrig Wood to last houses before Tirhogar Drive
Footpath on Lea Road R420 to the rugby club