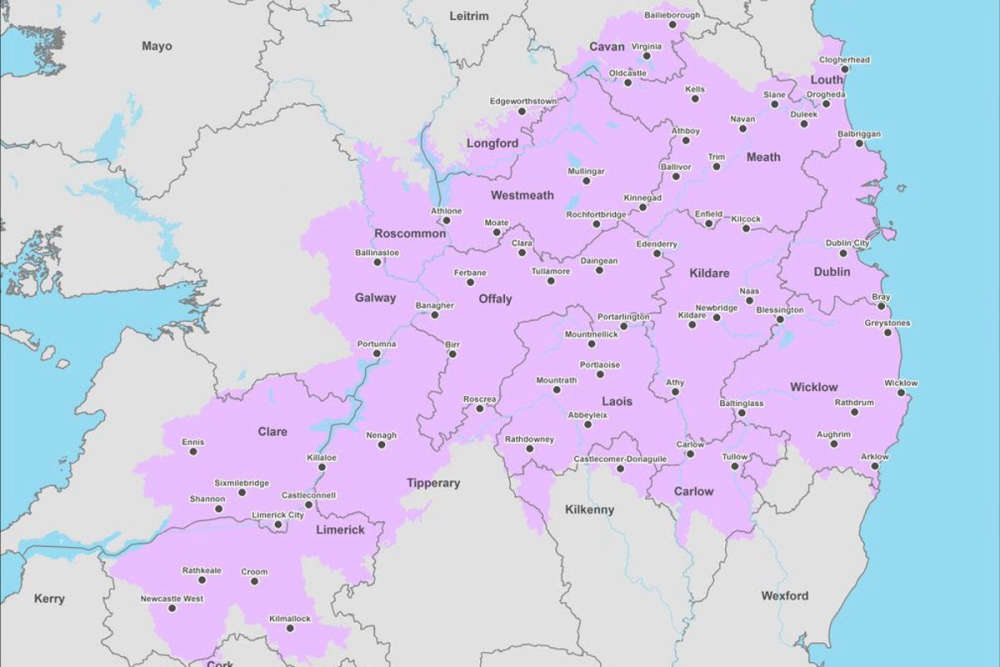 It includes a proposal to pump water from the River Shannon to the east coast.
A public consultation on improving the water supply for more than half the country begins today.
It will cover the Eastern and Midlands region and includes a proposal to pump water from the River Shannon to the east coast.
The plan includes 134 separate water supplies, catering for 2.5 million people, with the aim to support growth and reduce leaks.
Speaking as the public consultation on the draft plan was launched, Angela Ryan, Water Resource Strategy Specialist for Irish Water said;
"The development of the draft plan will allow Irish Water for the first time to review water supply needs collectively across the entire Eastern and Midlands Region covering a broad spectrum of risk including quality, quantity, reliability and sustainability.
"It will allow us to consider local options to resolve these needs and larger regional options that can address multiple supplies."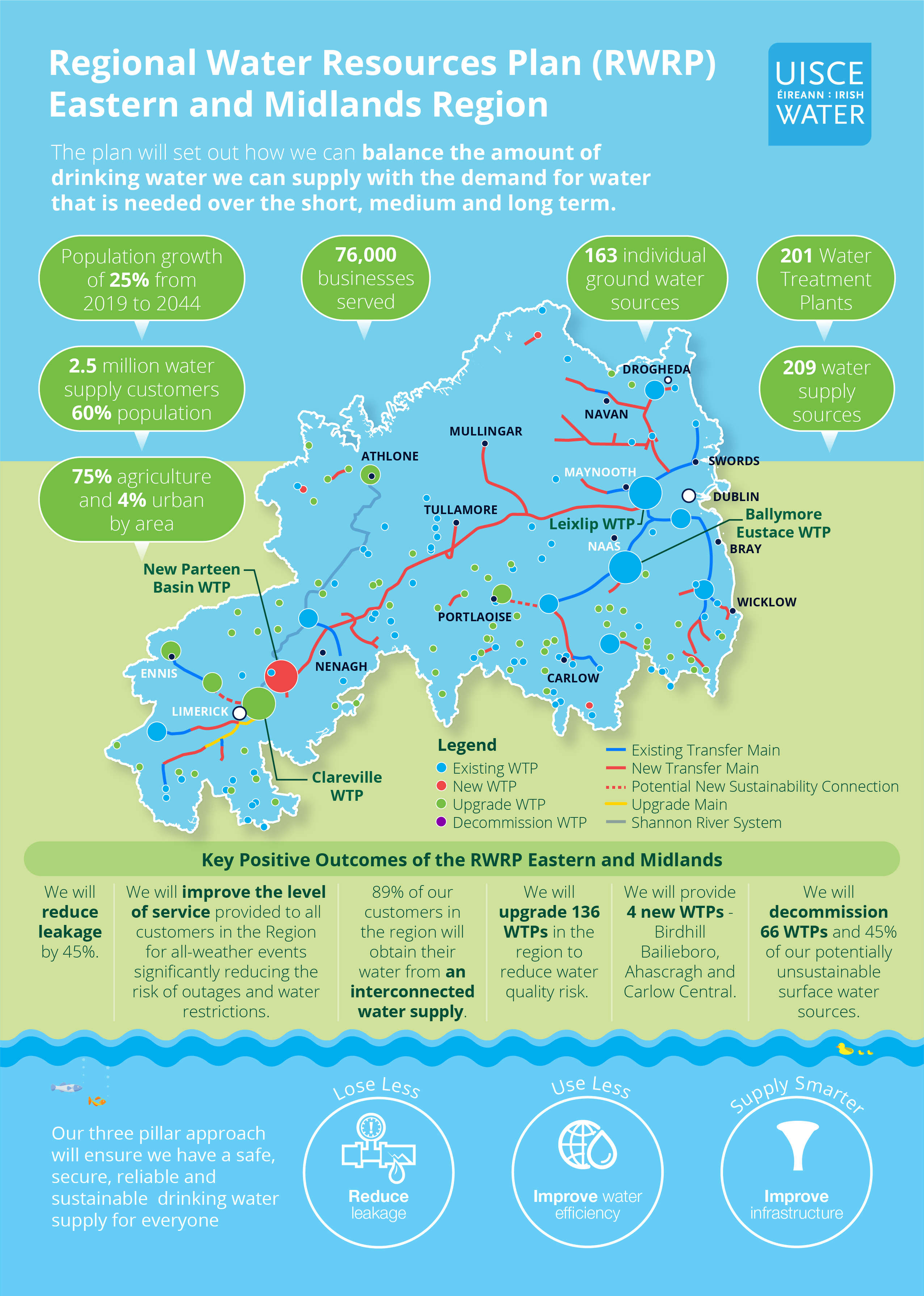 The preferred options from the draft plan include:
- Reducing the number of Water Resource Zones (WRZ) in the Eastern and Midlands Region from 134 to 93 and developing larger interconnected WRZs for the urban areas in the region. This will allow a move away from a fragmented supply, with large variations in levels of service, to an interconnected supply with better outcomes for all water users.
- Upgrades to 136 existing water treatment plants, in terms of quantity and quality performance.
-Development of four new water treatment plants (WTPs).
- Proposed decommissioning 66 WTPs.
- Interconnecting 50 supplies via 860 kilometres of trunk mains.
-Reducing leakage from the current level of 38% of regional demand to less than 22% of regional demand by 2033. This represents a 45% reduction in leakage from 2019 to 2034. This will be achieved through find and fix, pressure management, active leakage control and asset replacement.
Some of the outcomes and benefits of this regional preferred approach include improved performance across all water supplies in terms of quality, quantity which will result in less frequent interruptions to supply and fewer boil water.
"The draft Regional Plan will also offer key benefits in terms of transformation of our supplies, including the ability to cater for growth and economic development in a sustainable way, improved interconnectivity between our supplies to ensure balanced regional development, and new sustainable water sources that are adaptable to climate change such as the New Shannon Source which is coming from the largest catchment in Ireland." explained Angela.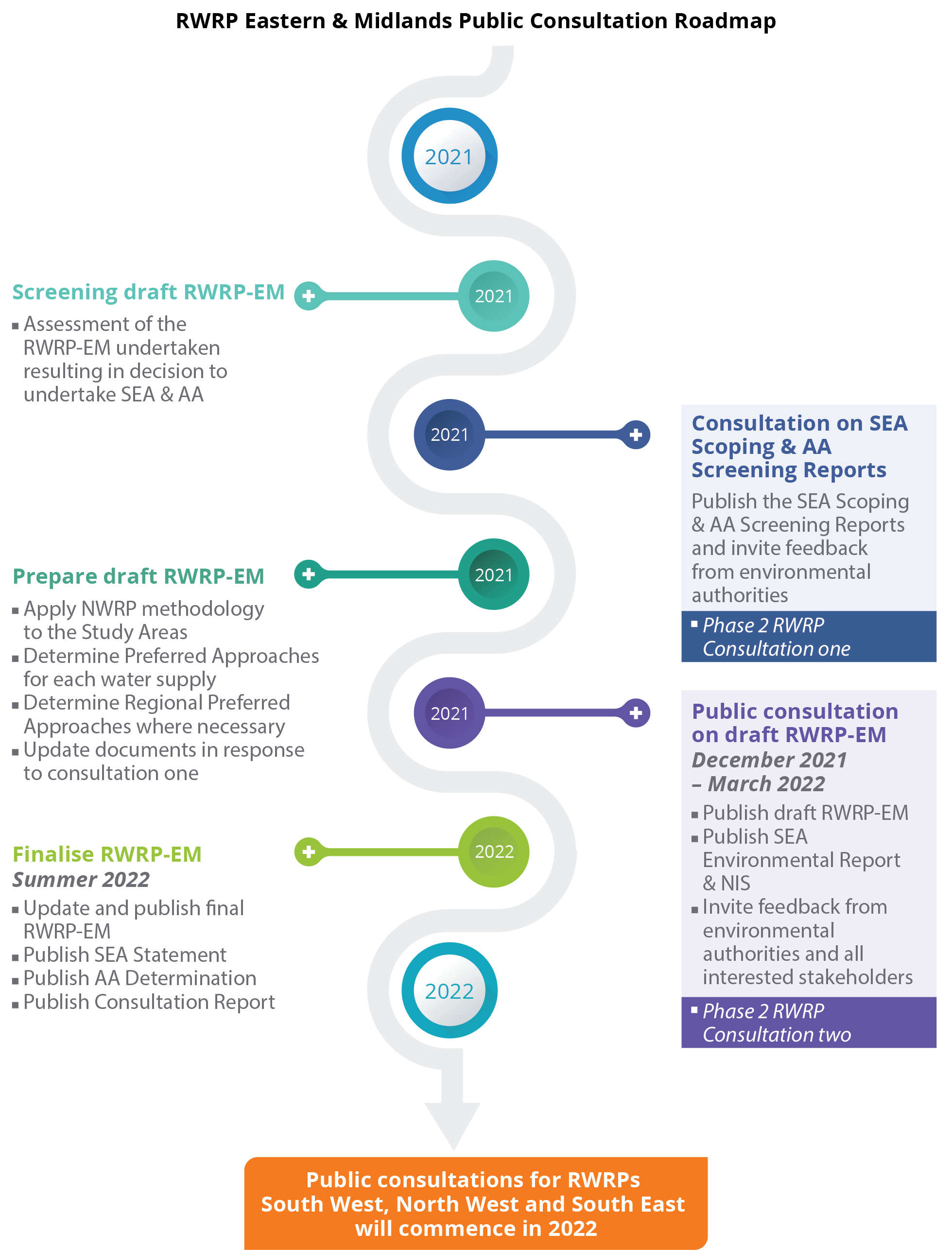 The relevant documents are available to view at water.ie/rwrp/easternmidlands.
A 13-week statutory public consultation will run from the 14 December 2021 to 14 March 2022.
Submissions can be made by post or email by 14 March 2022.
Email: nwrp@water.ie
Post: National Water Resources Plan, Irish Water, PO Box 13216, Glenageary, Co. Dublin.
Public webinars will be facilitated in January and February 2022.
These webinars will provide information on the draft Regional Water Resources Plan Eastern and Midlands and allow opportunities to pose questions to inform submissions.
If you would like to be part of an online public webinar on the draft Regional Water Resources Plan Eastern and Midlands and associated environmental reports, you can provide an expression of interest on water.ie/rwrp/easternmidlands.
Irish Water is also seeking feedback on how it will develop options to address any problems identified, before applying them to specific areas.
All submissions will be taken into consideration and responses to the issues raised will be summarised in a Consultation Report, which will be published on water.ie/nwrp.