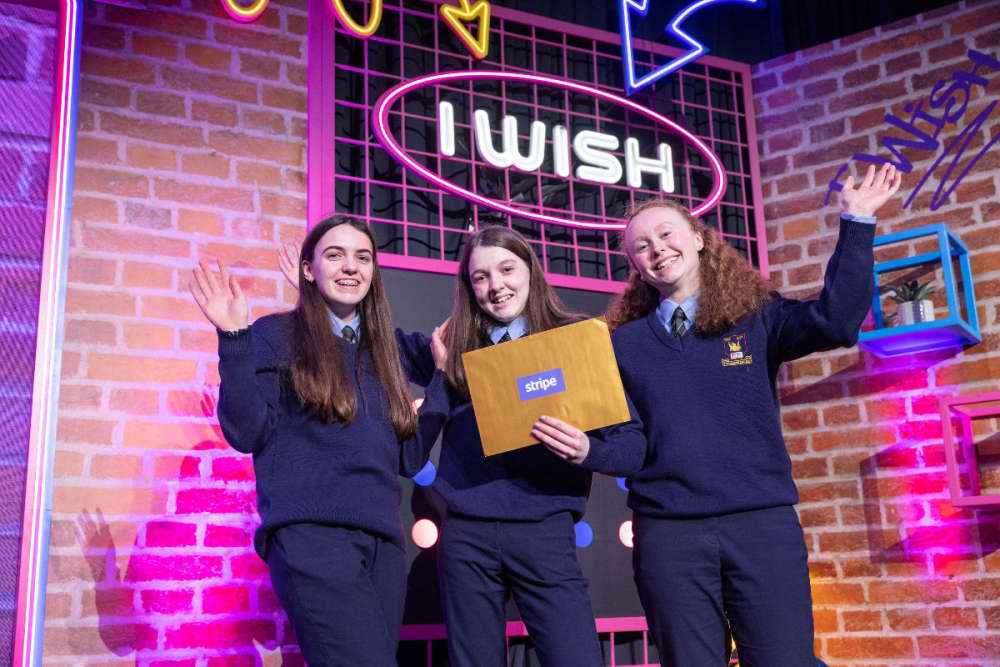 They have been awarded €5,000 to support the further development of their project idea, and their school.
A midlands secondary school was announced as the winning team in the first I Wish Stripe Entrepreneurship Programme.
Tullamore College, County Offaly took part in the programme which is designed to ignite creative thinking, give teenage girls the skills and confidence to develop their business ideas, and lay the groundwork for more female-founded businesses.
Five groups of female students worked with mentors from Stripe over a three-month period, building an initial idea into a business proposal that was presented to judges in a Dragon's Den style pitch.
The winning team receives €5,000 to support the further development of their idea, and their school.
A Students' Voices session featured Former President of Ireland Mary Robinson in an interview with Sarah Bryant, environmentalist and climate change activist.
During the interview, Mrs Robinson said:
"I want to say how pleased I am to be back with I Wish. I'm a great fan of girl power, in fact I've seen it in action in the young girl climate activists all over Ireland, some of them I've come to know quite well and they are all giving a lot to leadership, so I really feel today is an important opportunity for you to realise your power."
Caroline O'Driscoll, co-founder of I Wish commented:
"Today is about two things. It's about giving girls access to inspiring female role models in STEM and showing the girls what it's like to work in STEM, and we do that in our exhibition zone. We have some amazing exhibitions like 3D printing, cyber security, how to design an antigen test. It's such a fantastic opportunity for girls to learn more about this fast growing area."
John Collison, co-founder of Stripe, said:
"Studying maths and learning how to code opens up a whole world of opportunity. You could play a crucial role in solving generational challenges like climate change, responding to the next pandemic, expanding economic opportunity, and much more. Inspiring more young women to pursue careers in these fields—and better yet start their own businesses–is one of the most obvious ways to accelerate progress. Stripe's entrepreneurship programme with I Wish is a small part of this effort, and I'd encourage any female students who like solving problems to have a crack!"
Gillian Keating, co-founder of I Wish commented:
"The world needs more innovation, at I Wish we want to ensure that the next generation of women are fully empowered and enabled to deliver it. The girls have demonstrated that with the right support, young women with great ideas will deliver revolutionary technologies. I Wish is committed to giving teenage girls the best chance to succeed through STEM pathways, providing vital access to female role models and addressing issues of a lack of information or opportunity in order to create a level playing field. This is particularly important in the lead up to International Women's Day on March 8th."
I Wish partnered with Iarnród Éireann, Bus Éireann and Dublin Bus, this year, who offered free transport for female students travelling from Munster, to the annual I Wish STEM Showcase event 2023.
As part of the partnership, Iarnród Éireann put on dedicated I Wish STEM return trains to Dublin, for students departing from Cork, Mallow, Killarney, Tralee, Limerick and Thurles.
The Iarnród Éireann chartered trains for female students attending the annual I Wish STEM showcase 2023.