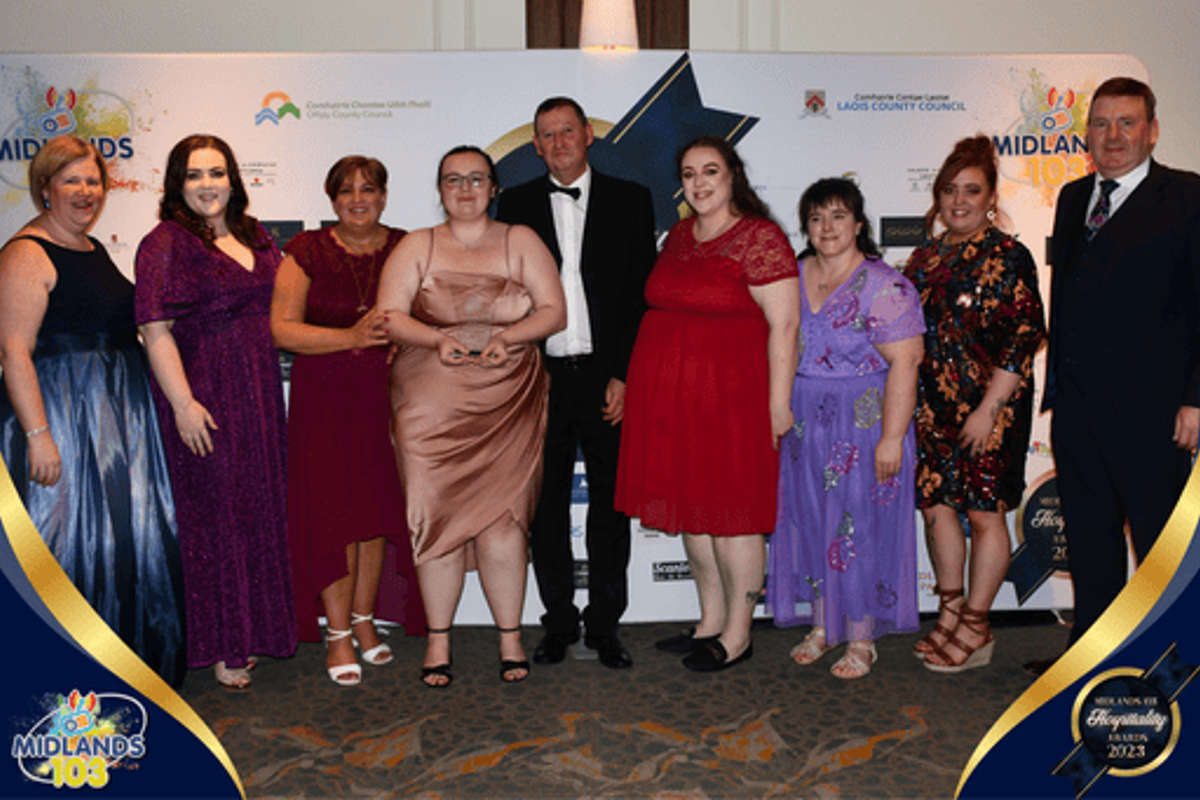 The independent judging panel selected 48 winners from across five categories.
Hundreds of people gathered to celebrate Midlands 103's Hospitality Awards in a lavish event in Mullingar on Monday night.
The celebrations at the Mullingar Park Hotel recognised those working in the hospitality sector in Laois, Offaly and Westmeath, with over 10,000 votes counted to create the shortlist.
First Dates barman and Laois' Neil McKenna, Elaina Fitzgerald Kane, Hotelier & President of the Irish Hotels Federation, Westmeath Bachelor 2023 Winner Ciaran Clarke and Mark Fitzpatrick, Restaurateur spent hours deciding on the winners.
Ms. Fitzgerald Kane says 'we can never celebrate the best of Irish hospitality enough. The midlands is blessed to have so many exceptional hospitality providers and that was very evident in the high standard of applications received'.
The independent judging panel selected 48 winners from across five categories.
The big winners on the night included The Midlands Park Hotel, Portlaoise, which was crowned Overall Hotel of the Year, with Hodson Bay Hotel in Athlone taking the title of Wedding Venue of the Year, while Bar 62 in the County Arms Hotel in Birr scooped the award for Best Hotel Bar.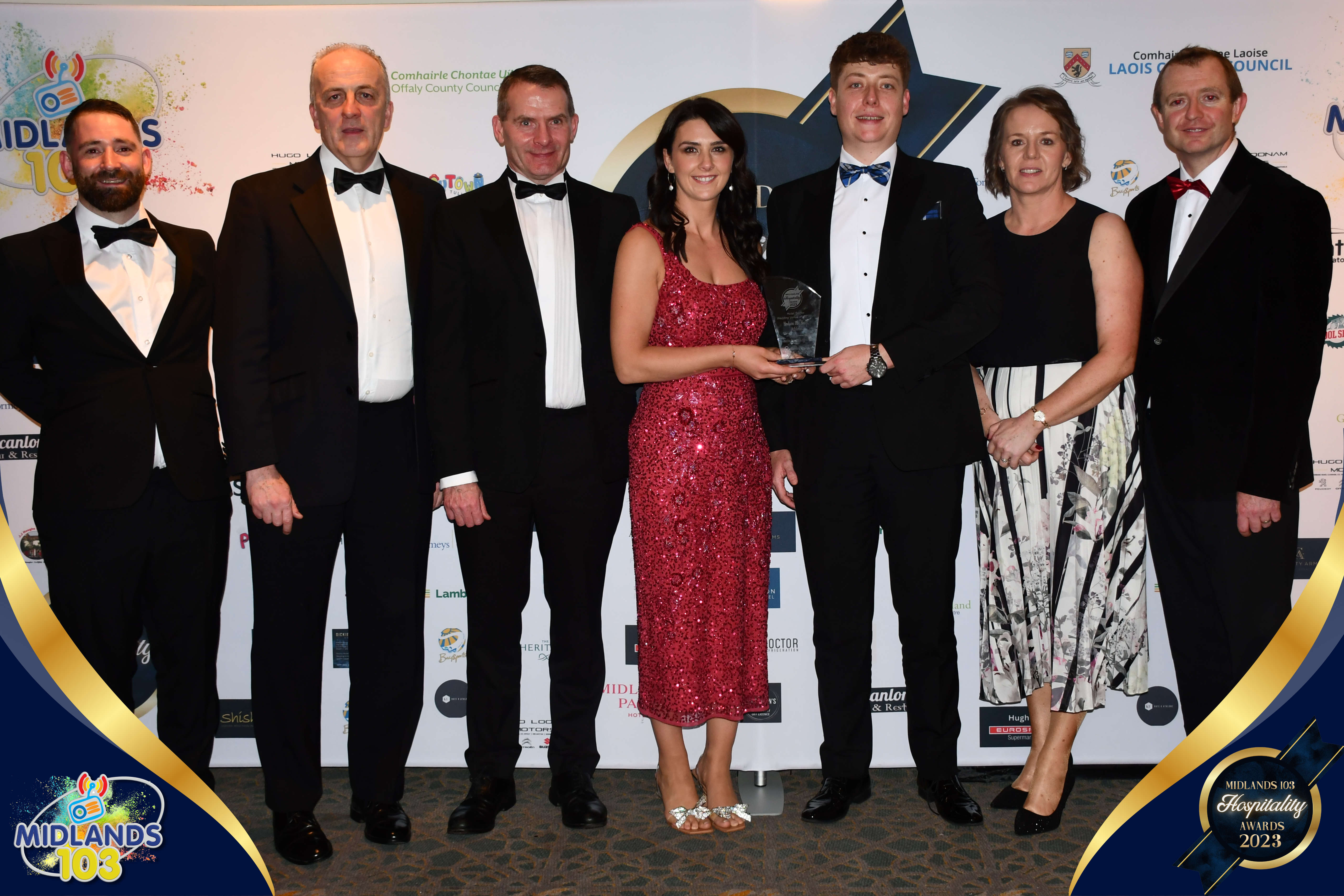 Bramley in Abbeyleix took home two awards for Overall Restaurant of the Year and Best Fine Dining Restaurant, with Browne's The Venue Tullamore taking the title of Best Dining Experience and Best Hotel Restaurant going to Wineport Lodge in Glasson.
Laois is home to the Chef of the Year with Aine McEvoy, Midlands Park Hotel, Portlaoise getting the nod.
She says she's overwhelmed to win:
Overall Tourism Attraction of the Year went to Playtown Tullamore and Birr Castle Demesne took home the award for Best Family Attraction.
Best Festival / Event went to Forest Fest 2023, which was held in Emo last July.
The staff in O'Gorman's Bar & Restaurant, Portlaoise had plenty to celebrate after picking up the award for Overall Pub of the Year, while Alan Conroy, Peadar's Bar, Moate is the best Bar Manager in the region.
Shane Lowry's Old Warehouse in Tullamore was named Best Bar for Sport and Best New Establishmen.
Nicky O'Callaghan is the owner of Sip in Ballymore, he picked up Barista of the Year:
Kinnitty's John Clendennen, who is the President of the Vinters Federation of Ireland, was acknowledged for his Special Contribution to the Industry.
He says he's honoured to be recognised individually:
Supermac's founder Pat McDonagh received the Albert Award for his lifetime achievements in the industry.
The winners of the Midlands 103 €10,000 Marketing Campaign went to Wineport Lodge in Glasson.
The annual event is presented by Midlands 103 in conjunction with Laois and Offaly County Councils and various commercial partners. Managing Director Will Faulkner says "it was wonderful to see so many gathered to celebrate the dedicated people who work in the hospitality sector. It has been a tough couple of years for the industry but the awards highlights those who go above and beyond to serve their clientele. Well done to all 48 winners and thank you to everyone who nominated and voted for the winners. I must also thank the judges, as I know we gave them a very difficult task."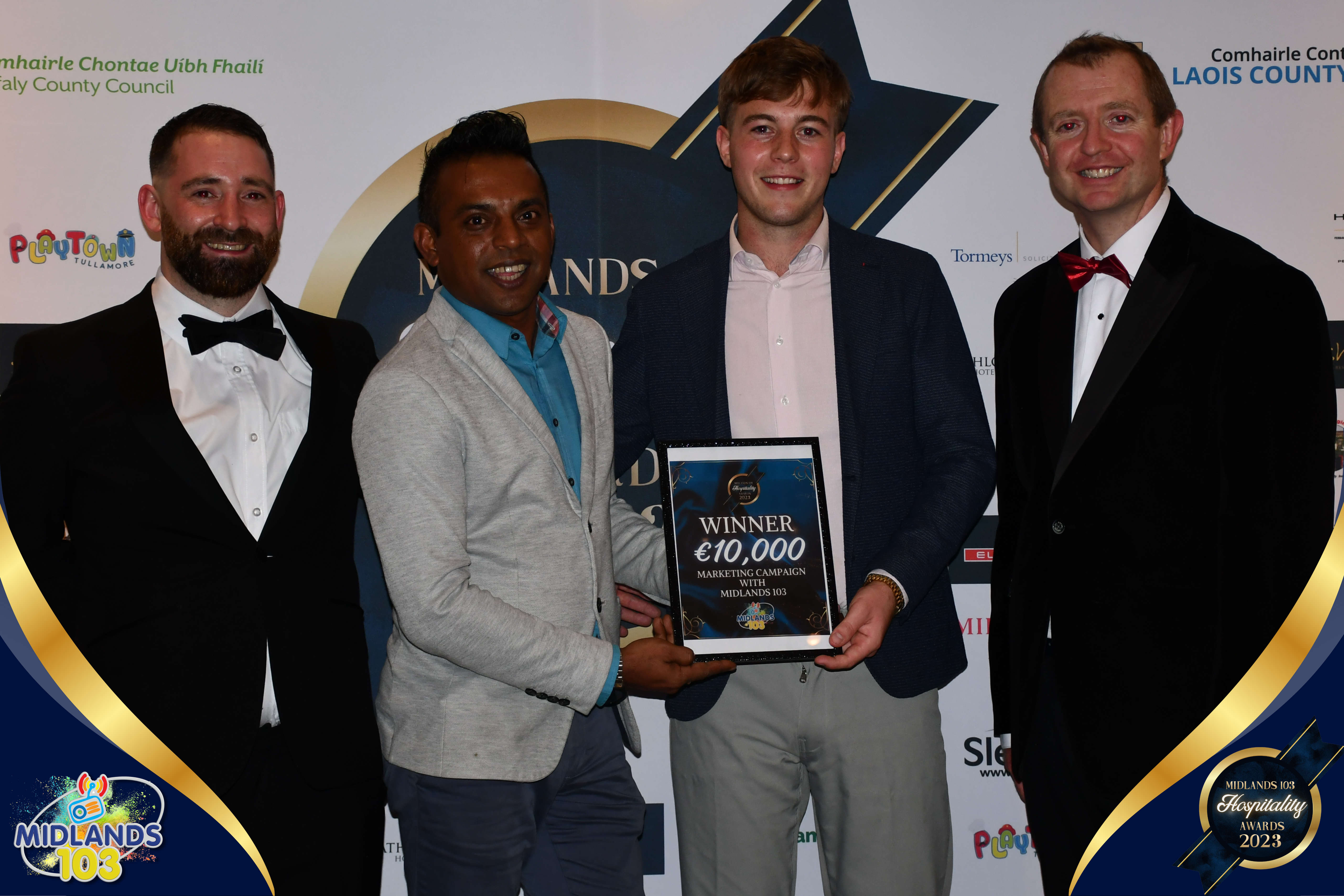 Here's the full list of winners:
Hotel Sector sponsored by Gertie Browne's Athlone
Overall Hotel of the Year sponsored by Gertie Browne's Athlone & Playtown, Tullamore
Midlands Park Hotel, Portlaoise
Best Customer Service (Hotel) sponsored by Gertie Browne's Athlone
Talbot Hotel, Carlow
Wedding Venue of the year sponsored by Gertie Browne's Athlone
Hodson Bay Hotel, Athlone
Best Family Hotel sponsored by Gertie Browne's Athlone & Mollie Moo's Pet Farm
Athlone Springs Hotel
Best Value Hotel sponsored by Gertie Browne's Athlone
Shamrock Lodge Hotel, Athlone
Wedding Coordinator of the year sponsored by Gertie Browne's Athlone
Michelle Kavanagh, Tullamore Court Hotel
Best Destination Hotel sponsored by Gertie Browne's Athlone
The Heritage, Killenard
Best Hotel Manager sponsored by Gertie Browne's Athlone
Barry Kennedy, The County Arms Hotel, Birr
Receptionist of the year sponsored by Gertie Browne's Athlone
Sarah Alexander, Central Hotel, Tullamore
Best Hotel Bar sponsored by Gertie Browne's Athlone
Bar 62, The County Arms Hotel, Birr
Best Business Hotel sponsored by Gertie Browne's Athlone
Hodson Bay Hotel, Athlone
Best Sustainable Hotel sponsored by Gertie Browne's Athlone & Athlone Springs Hotel
Tullamore Court Hotel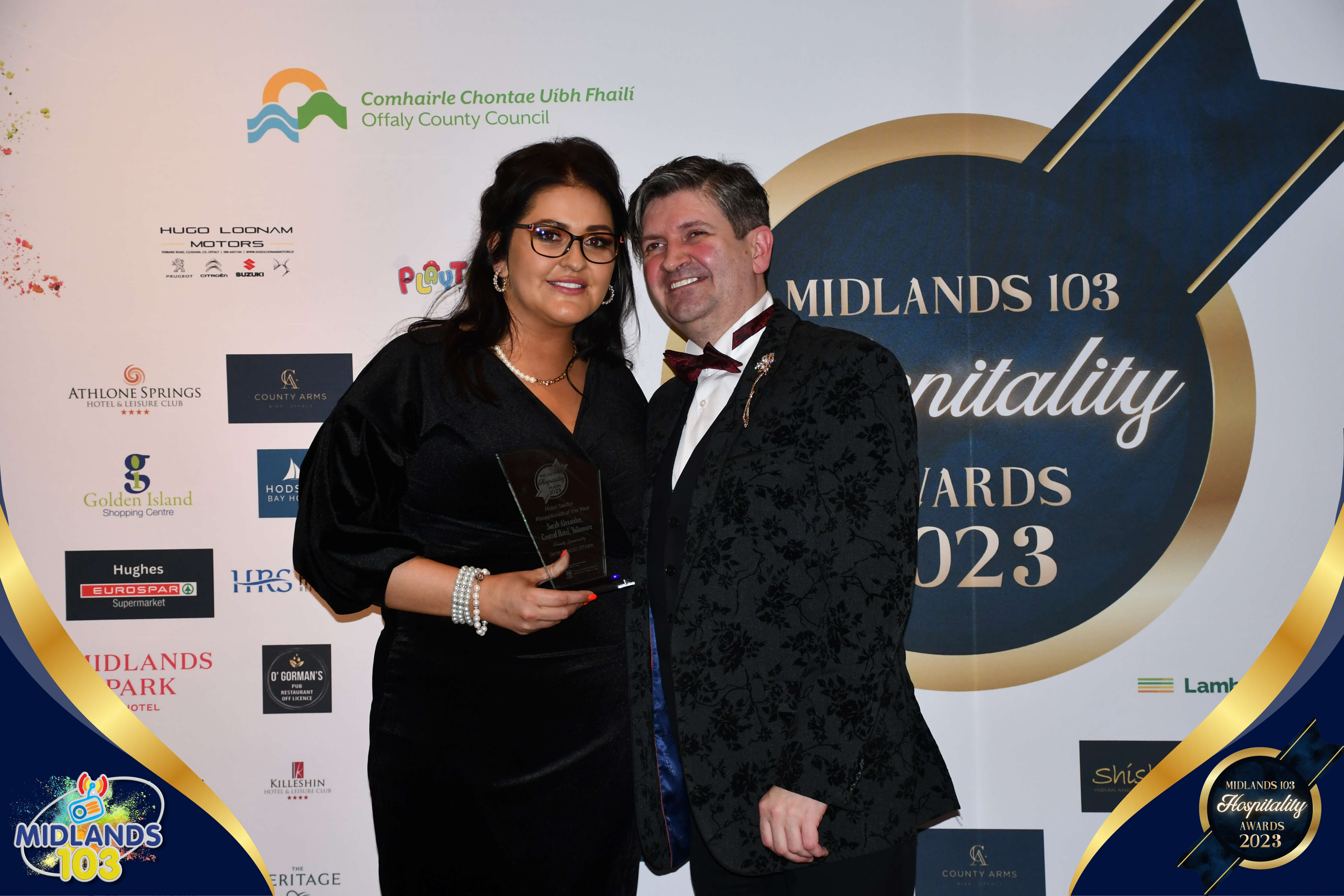 Restaurant Sector
Overall Restaurant of the year sponsored by Lambe Oil, Tullamore
Bramley, Abbeyleix
Best Value Restaurant
O'Dea's Bar & Restaurant, Portarlington
Best Fine Dining Restaurant
Bramley, Abbeyleix
Best Restaurant Customer Service
Kafe U, Athlone
Best Café
Meet & Fit, Tullamore
Best Barista
Sip Coffee Shop, Ballymore
Best Dining Experience
Browne's The Venue, Tullamore
Best New Establishment sponsored by CL Plant & Tool Hire
Old Warehouse, Tullamore
Best Restaurant Manager
John Doyle, Dead Centre Brewing, Athlone
Best Hotel Restaurant sponsored by Hoctor Refrigeration, Tullamore
Wineport Lodge, Glasson
Best Casual Dining
Dead Centre Brewing, Athlone
Chef of the Year
Aine McEvoy, Midlands Park Hotel, Portlaoise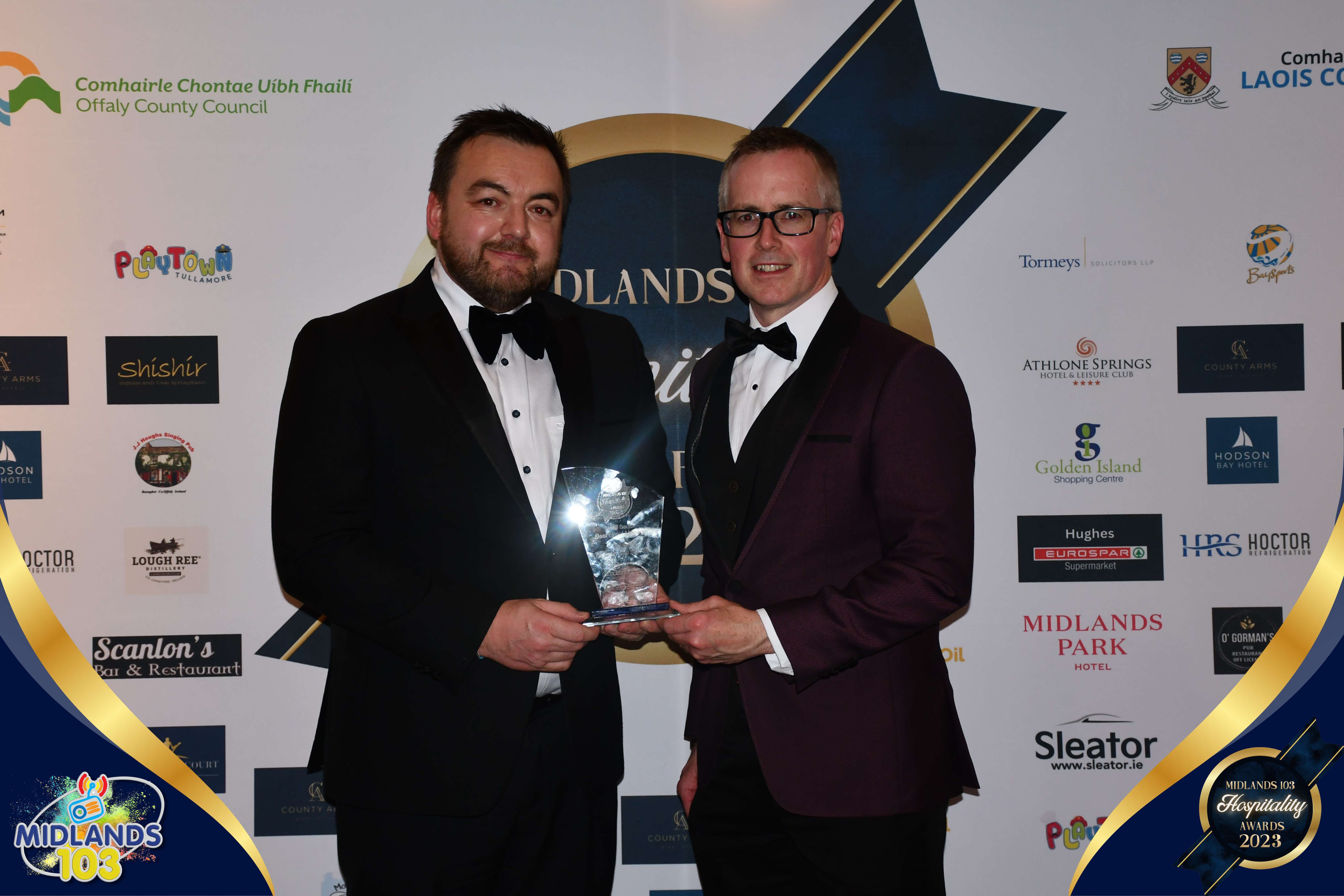 Tourism Sector sponsored by Baysports, Athlone
Overall – Tourism Attraction of the year sponsored by Baysports, Athlone & Tullamore Court Hotel
Playtown, Tullamore
Best Leisure Centre sponsored by Baysports, Athlone
Laois Leisure Centre
Best Family Attraction sponsored by Baysports, Athlone & Scanlon's Bar & Restaurant, Kinnegad
Birr Castle Demesne
Best Festival / Event sponsored by Baysports, Athlone & Golden Island Shopping Centre, Athlone
Forest Fest 2023, Emo
Best Heritage & Cultural Experience sponsored by Baysports, Athlone
& The County Arms Hotel, Birr
Dún Na Sí Amenity & Heritage Park, Moate
Best Caravan / Camping / Glamping Experience sponsored by Baysports, Athlone
Glamping Under The Stars, Portlaoise
Bar & Pub Sector sponsored by The Killeshin Hotel, Portlaoise
Overall Pub of the year sponsored by The Killeshin Hotel, Portlaoise
O'Gorman's Bar & Restaurant, Portlaoise
Bar Food of the year sponsored by The Killeshin Hotel, Portlaoise
Scanlon's Bar & Restaurant, Kinnegad
Bar Manager of the year sponsored by The Killeshin Hotel, Portlaoise
Alan Conroy, Peadar's Bar, Moate
Country Bar of the year sponsored by The Killeshin Hotel, Portlaoise
The Fisherman's Thatched Inn, Ballybrittas
Music Venue of the year sponsored by The Killeshin Hotel, Portlaoise
The Phoenix Bar & Venue, Tullamore
Staff Personality of the year sponsored by The Killeshin Hotel, Portlaoise
Peter Dixon, The County Arms Hotel, Birr
Tourist Bar of the year sponsored by The Killeshin Hotel, Portlaoise
The Lough Ree Inn, Westmeath
Best Bar for Sport sponsored by The Killeshin Hotel, Portlaoise
Old Warehouse, Tullamore
Best Traditional Bar sponsored by The Killeshin Hotel, Portlaoise
O'Deas Bar and Restaurant, Portarlington
Best Beer Garden sponsored by The Killeshin Hotel, Portlaoise
Browne's The Venue, Tullamore
Best Local Drinks Producer (New) sponsored by The Killeshin Hotel, Portlaoise & Midlands Park Hotel, Portlaoise
Ballykilcavan Brewery, Stradbally
Judges Awards sponsored by O'Gorman's Bar & Restaurant
Rising Star (Hotel) sponsored by O'Gorman's Bar & Restaurant Portlaoise
Vanessa Langford, Midlands Park Hotel, Portlaoise
Rising Star (Pub/Bar) sponsored by O'Gorman's Bar & Restaurant, Portlaoise & The Heritage Hotel, Killenard
Pamela Smith, O'Gorman's Bar & Restaurant, Portlaoise
Rising Star (Restaurant) sponsored by Sleator.ie & O'Gorman's Bar & Restaurant
Darren Whelan, Kelly's Steakhouse, Midlands Park Hotel, Portlaoise
Special Merit Award (Bar) sponsored by Hodson Bay Hotel, Athlone & O'Gorman's Bar & Restaurant, Portlaoise
Peter Scully, Gertie Browne's Bar & Bistro, Athlone
Special Contribution to the Industry sponsored by Shishir, Tullamore & O'Gorman's Bar & Restaurant, Portlaoise
John Clendennen – Giltraps, Kinnitty
Outstanding Service sponsored by Kafe U, Athlone & O'Gorman's Bar & Restaurant
Asad Khondkar, Shishir, Tullamore
Albert Award sponsored by Tormeys Solicitors, Athlone
Pat McDonagh, Supermac's