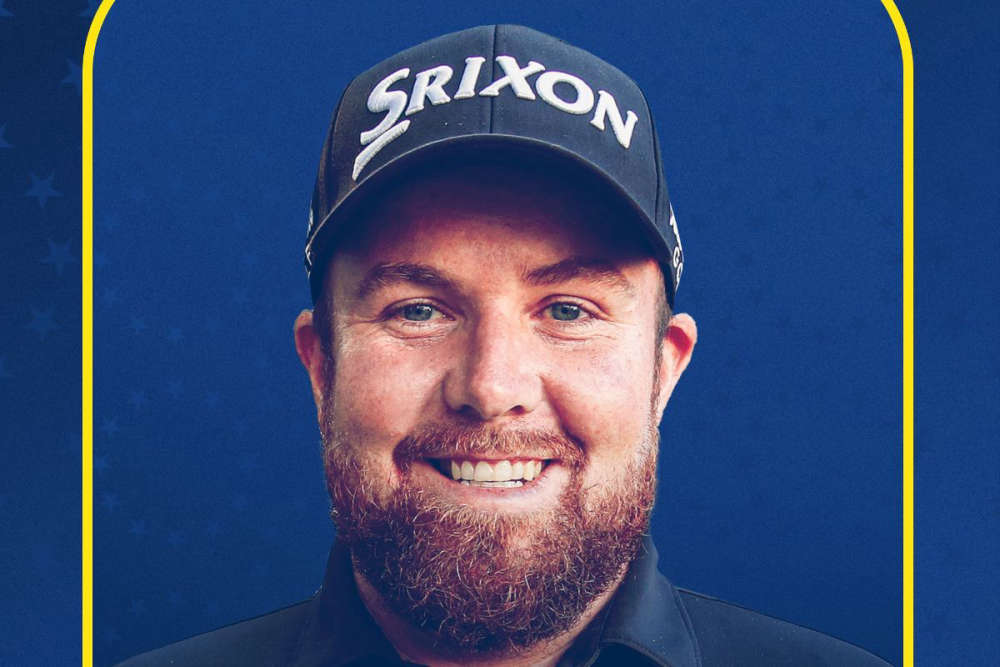 The 2019 Open champion was in top form after his latest practice round.
Shane Lowry is confident that the conditions at Whistling Straits in Wisconsin are going to play to his strengths.
It's rumoured that the Clara man could be partnered with Jon Rahm for tomorrow's opening foursomes by captain Padraig Harrington.
The opening ceremony takes place tonight at 10pm Irish time.
Speaking ahead of it, Lowry told reporters that he doesn't regret the opportunity not coming sooner in his career:
Yeah, I suppose I haven't really thought about it like that. Look, I'm just happy to be here.
I think it shows how hard it is to make a Ryder Cup team.
I've had a pretty decent career so far and it's all led us to this now and I'm happy to be here this week and I'm happy to be playing for Europe and so excited to get out there competing and hopefully winning points at the weekend.
On the kind of activities that players have been getting up to behind the scenes:
Not much, to be honest. We've been just chilling. We've got a great setup back in the hotel. We've got a great team room. There's a great buzz every evening, good atmosphere, and everyone just kind of sitting around hanging out.
Yeah, not much, not a whole lot, to be honest, just sitting around chatting. We've obviously had a few team meetings, a few little things we've had to do with the captains and the vice captains, but I'm obviously not going to say too much about those.
Yeah, it's just been great fun. We've obviously only been here a couple of days, but I'm loving it. Like I'm really enjoying myself and trying to soak it in as much as I can.
On what playing in the Ryder Cup means so much to him:
Just because I've never done it before, and it's something as a European player -- look, you obviously want to win majors and you want to compete at the highest level and golf for the most part is an individual sport, but as a European player, as an Irish player growing up, you've watched Ryder Cups, obviously Christy Junior, Philip Walton, Eamonn Darcy, Rory, G-Mac, Paddy, Paul, Darren, all the great Irish players that have played the game.
For me it was something that I really wanted to do and I felt like I had to do, do you know what I mean, if I want to be up there with those guys when you're talking about really good or great Irish golfers.
It's something that I felt like I let slip in 2016 and I should have made that team. I didn't play great towards the end of that campaign.
When I got my chance this year, I felt like I really wanted to take it. Obviously I needed a pick at the end of the day and I'm very grateful that Paddy has put his trust in me. But yeah, it's just something as an Irish player growing up, playing a Ryder Cup is just right up there with everything.
Obviously now that I'm here, there's only one goal for the rest of the week, and that's to win. That would obviously be the icing on the cake.
When asked if his upbringing in golf in Ireland will have helped him for the conditions he is facing this week:
Yeah, I do think I'm pretty happy with the conditions here to be honest.
I'm pretty happy with the golf course and that cold wind. It feels very much like a summer's day in Ireland when you're out there. It's quite difficult to play in these conditions because you need to get your head around hitting a 6-iron 150 yards as opposed to normally most guys hit their 6-iron over 200 yards.
It's just little things like I feel might help me this week are conditions and stuff like that, but yeah, how do you cope with it? Sometimes it's hard to practice around here.
You just kind of need to know how to do it, and I feel like I know how to do it. Very excited to get out there and compete and hopefully win some points.