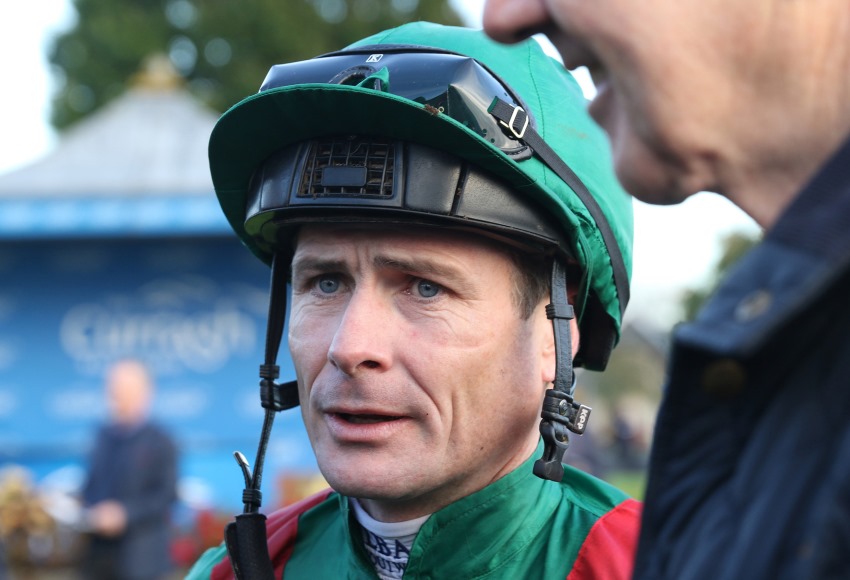 A 5f Group 3 Sprint for two-year-old's will go to post at 7.45.
A race will be run at Dundalk tonight honouring the late Rhode jockey Pat Smullen, who passed away last month.
14 go to post for the group three sprint for two-year-olds over the minimum five furlong trip.
Irish Champion trainer Aidan O'Brien saddles two and two UK based trainers Philip Makin and Robert Cowell have also sent raiders for the €30,000 prize.
CEO of Dundalk Racecourse Jim Martin says it'll be special to pay tribute to Pat:
The runners and riders declared for the race in full are as follows:
| No | Draw | Horse | Owner | Trainer | Rider | Wgt |
| --- | --- | --- | --- | --- | --- | --- |
| 1 | 10 | Alfredo Arcano(100) | Laurence O'Kane | David Marnane | Oisin Orr(H, T)* | 9,13 |
| 2 | 11 | Big Gossey(88) | Allegro Syndicate | Charles O'Brien | Michael Hussey | 9,13 |
| 3 | 8 | Rocket Action (GB)(102) | Robert Ng | Robert Cowell (in GB) | Shane Foley(T)* | 9,13 |
| 4 | 9 | Urban Beat(104) | Fitzwilliam Racing | J.P. Murtagh | Ben Coen(V) | 9,13 |
| 5 | 4 | Allez Sophia(80) | Trevor C. Stewart | P. Twomey | Billy Lee* | 9,10 |
| 6 | 6 | American Lady(85) | Mark Gittins | J.A.Stack | Gary Halpin* | 9,10 |
| 7 | 3 | Back To Brussels(100) | Phoenix Thoroughbred Limited | J.A.Stack | Mark Enright* | 9,10 |
| 8 | 1 | Lady Maura(77) | Mrs M. Gittins | J.A.Stack | Conor Maxwell* | 9,10 |
| 9 | 5 | My Laureate(102) | J.R. Scott | G.M.Lyons | Colin Keane* | 9,10 |
| 10 | 2 | Rapid Reaction(96) | J.F.Grogan | J.F.Grogan | Andrew Slattery | 9,10 |
| 11 | 13 | You'resobeautiful(94) | Mrs Paul Shanahan | J.A.Stack | Chris Hayes(B)* | 9,10 |
| 12 | 12 | Giorgio Vasari(97) | Derrick Smith | A.P.O'Brien | Gavin Ryan(B)* | 8,09?+2 |
| 13 | 7 | Muker(99) | SYPS (UK) Ltd | Phillip Makin (in GB) | Declan McDonogh* | 8,09 |
| 14 | 14 | Lady Princess(98) | John Quigley | Denis Gerard Hogan | J.M. Sheridan* | 8,06 |