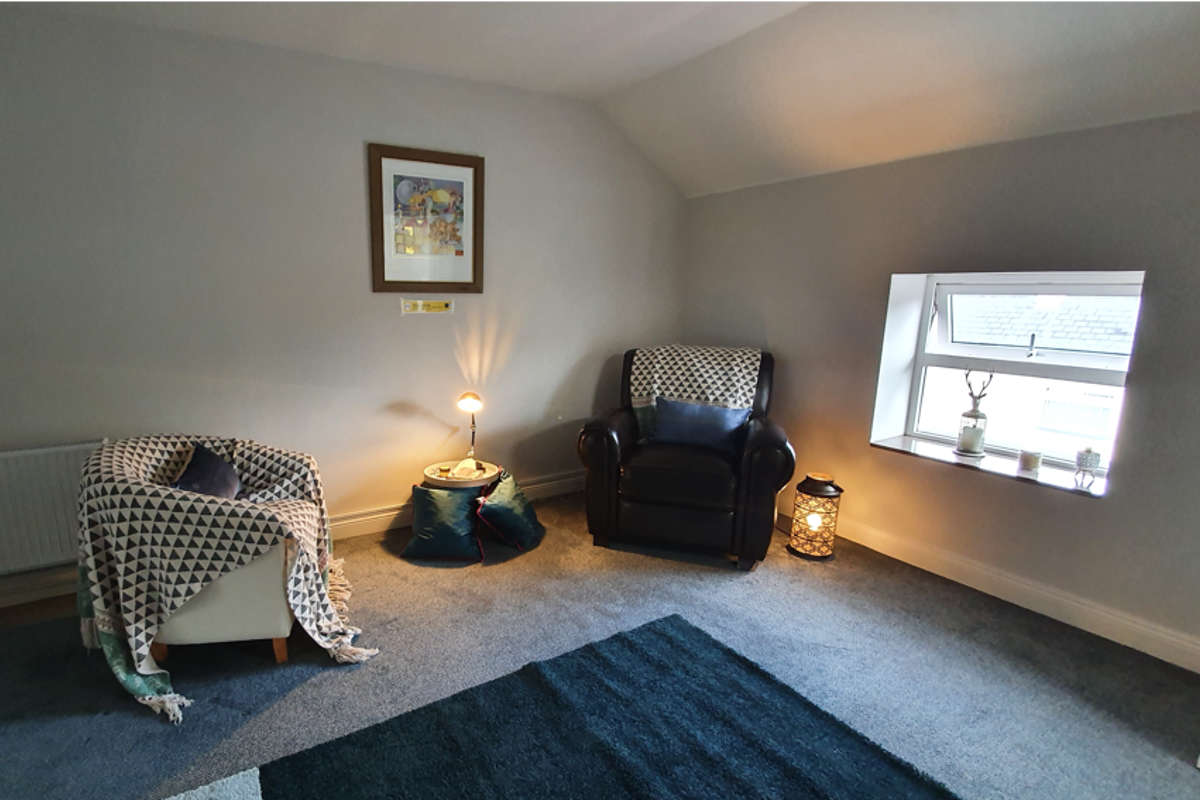 A meeting room at Laois Domestic Abuse Service
Laois is to get its first dedicated accommodation for victims.
12 new domestic violence refuge places are to be created in the midlands.
It's part of the government's new national strategy to provide more supports for victims.
Portlaoise - which up to now has had NO refuge space - will get eight units, while four new spaces will be created in Westmeath.
The four existing units at Esker House in Athlone will also be refurbished.
Engagement to secure accommodation in Offaly, which also has no refuge, is also set to begin.
Manager of Esker House, Deirdre Berry is welcoming the long-overdue strategy - but says a lot more work needs to be done:
A new public consultation on the government's national strategy on domestic, sexual and gender-based violence has also been opened today.
It'll run for three weeks ahead of the publication of the final strategy in April.
The overall goal of the new strategy, which has been designed with those working in the sector and on the frontline, is make a zero tolerance to domestic, sexual and gender based violence in Irish society a reality.
It will be structured around four pillars:
· Prevention
· Protection
· Prosecution
· Policy Co-ordination.
When published in April, the strategy will be accompanied by a detailed action plan setting out how specific actions under these aims will be achieved, who is responsible for them, and the timeframe for delivery.
The public consultation opening today is in the form of an online survey, which will ask people's views on domestic, sexual, gender based violence and what they would like to see in the new strategy.
For example, it will ask what people think the emphasis of the strategy should be, how we can improve supports for victims, how we can better educate our young people and how we can change attitudes across society.
It will also ask whether our laws are strong enough to provide justice for victims, among many other questions.
The consultation is available through the Department of Justice website here.
Launching the consultation, Justice Minister Helen McEntee re-iterated her commitment to tackling violence;
"I will shortly publish a new strategy, with input from across government, to support victims, strengthen our laws and bring about the change in attitudes needed to deal with this awful violence and abuse.
"The overall goal of the new strategy is clear - zero tolerance in our society of domestic sexual and gender based violence.
"We want to hear from you and I am now launching a public consultation on the new plan.
"The consultation opens today and runs for three weeks. Please, have your say."
Would you be able to recognise the signs of #CoerciveControl pic.twitter.com/EJbHugI61C

— ODVSS - Offaly Domestic Violence Support Service (@odvss) February 17, 2022
While refuge space in the midlands is limited, help is always available if you need it...
Esker House Women's Refuge
090 64 74 122
info@eskerhouse.ie
eskerhouse.ie
Westmeath Support Service Against Domestic Abuse
044 933 3868
info@wssada.ie
wssada.ie
Laois Domestic Abuse Service
057 8671100
mary@laoisdomesticviolenceabuseservice.ie
laoisdomesticabuseservice.ie
Offaly Domestic Violence Support Service
057 935 1886
supportworker@odvss.ie
odvss.ie
Safe Ireland
090 6479078
info@safeireland.ie
safeireland.ie
Women's Aid
1800 341 900
helpline@womensaid.ie
womensaid.ie
Men's Development Network
1800 816 588
men@mensnetwork.ie
mensnetwork.ie
Men's Aid
01 554 3811
hello@mensaid.ie
mensaid.ie
Move Ireland (Men Overcoming Violence)
065 684 8689
move@moveireland.ie
moveireland.ie