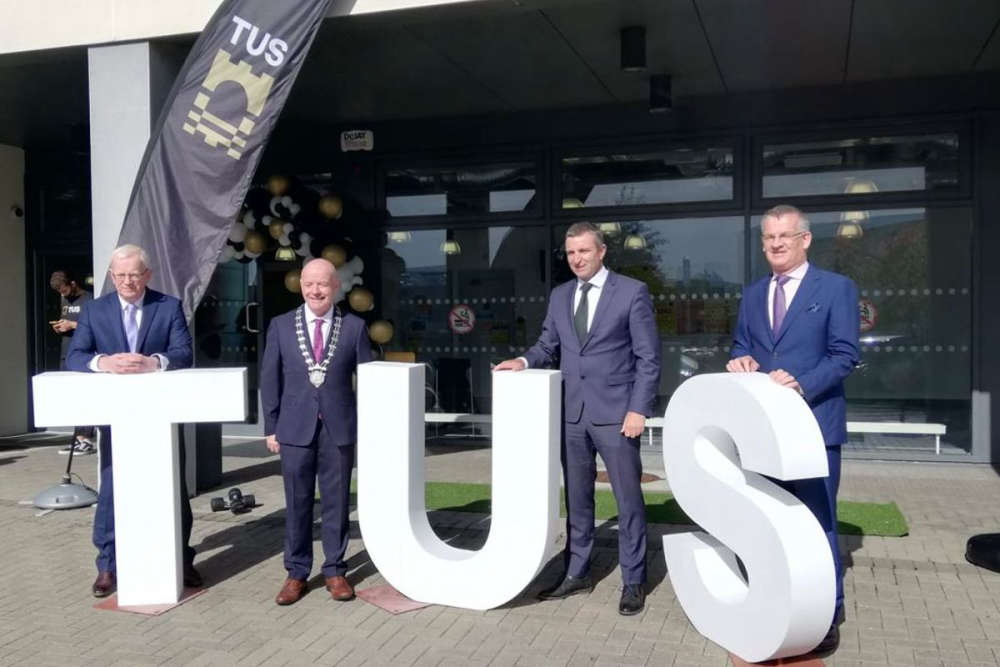 President Vincent Cunnane, TUS, Frankie Keena Cathaoirleach of Westmeath County Council, Niall Collins Minister of State for Skills and Further Education and Paddy Dunican
The Athlone and Limerick IT merger was officially launched this afternoon.
Ireland's latest technological university is being officially opened in Athlone today.
The Technological University of the Shannon: Midlands Midwest is the result of a merger between Athlone and Limerick ITs.
Over 14,000 students will be attending its six campuses, along with 2,000 staff.
It's also expected to generate €4.2 million each year to the local economy.
The TU's inaugural president, Vincent Cunnane, says there a huge benefits to the project:
He also believes it will allow students to attend specialised courses without needed to move regions:
It's the third technological university to be set up in Ireland and will be officially launched at an opening ceremony at the Athlone campus today.
Junior Minister for Further Education, Niall Collins says it'll be of great benefit to the people of the region:
For final year toxicology student Zara Thompson, a university accredited grade presents new opportunities:


Student Union President Aine Daly says the next step must be in providing purpose built student accommodation for the new campus towns:




TUS, which is also the Irish for "beginning", hopes to bring more jobs, activity and people to the midlands and midwest.

🎬 #Celebrating50Years | A Short Film

To celebrate 50 years of AIT, we have created a short film that captures but a tiny piece of the magic of our institute. We hope it gives you a sense of pride in who we are, where we have come from and excitement for #TheNextChapter.

— Athlone IT (@AthloneIT) September 28, 2021