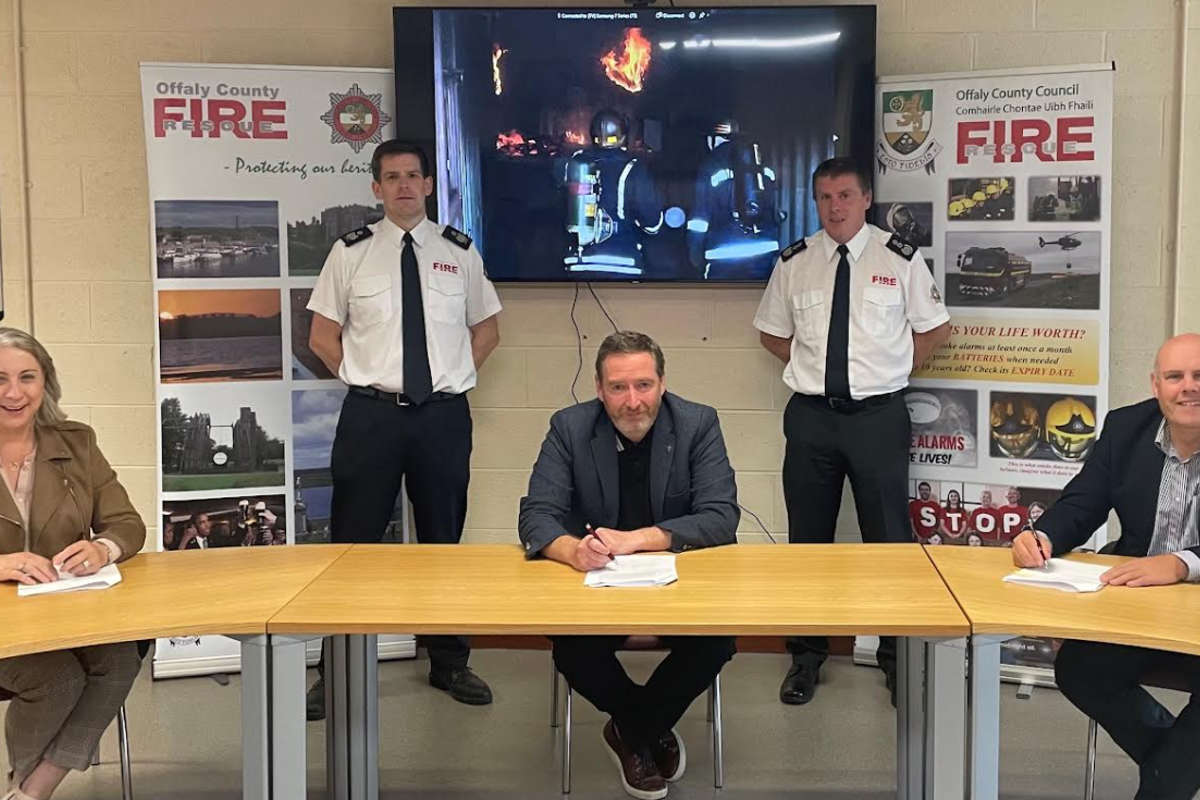 Front (L-R): Sharon Kennedy (Offaly CoCo Director of Service), Cllr. Tony McCormack, Brendan Heaney (Tobin Consulting) Rear (L-R): Clive Duke (Snr.Assistant Chief Fire Officer), Eoin O'Ceilleachair (Chief Fire Officer)
They've secured €900,000 in funding for the project.
Offaly is to become home to a new regional fire service training and development centre.
The facility will be constructed beside Offaly Fire and Rescue Services' existing Central Station at Kilcruttin in Tullamore.
Offaly County Council Fire and Rescue Service has signed contracts with Tobin Consulting Engineers for Design Consultancy Services to deliver the new centre.
It will include an expanded drill yard, a drill tower and training support block, along with provisions for confined space training and vehicle storage and will complement the existing Breathing Apparatus Training Centre.
Offaly County Council Fire and Rescue Service has secured the €900,000 in funding from the Fire Service Capital Programme 2021-2025.
Tobin's will lead the Design Team which also includes; Kenny Lyons Associates Architects and Coffey Consulting Engineering.
The facility will allow for an extended range of courses to be delivered, including national QQI courses in Firefighter Skills, Breathing Apparatus, Pump Operations, Transportation and Hazardous Materials.
The centre will be also utilised for the delivery of Officer Development courses as part of the Central Training Programme delivered nationally by the
National Directorate for Fire and Emergency Management.
Senior Assistant Chief Fire Officer Clive Dukes says the centre will attract teams from across the country: