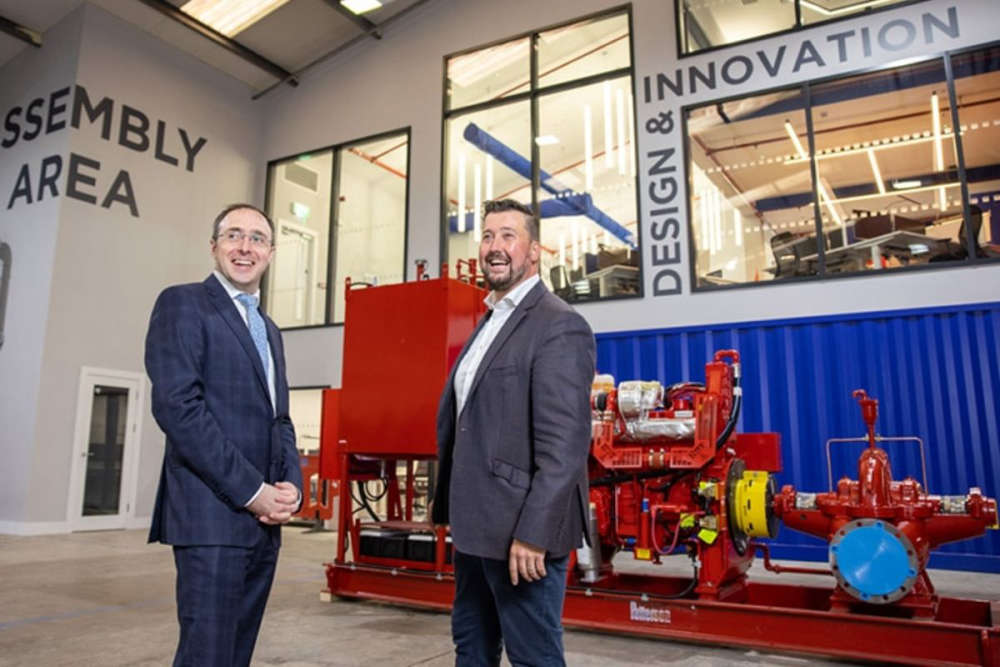 Minister Troy pictured with Ted Wright
The fire protection company has purchased a Swedish company.
50 new jobs are on the way in Westmeath, with the expansion of fire protection company Writech.
Founded in 1981, the local firm is one of the largest and fast-growing companies within the sector in the UK and Ireland.
has opened a new €2 million design and innovation centre at its headquarters in Mullingar, officially unveiled by Junior Enterprise Minister and local TD Robert Troy this week.
Writech says an initial 50 jobs are being created as a result, with the prospect of more in the coming months and years.
114 people are already employed at its Mullingar base, with a total workforce of about 300 across the UK and now Sweden.
Swedish acquisition
The company has also announced its acquisition of leading Swedish business.
Founded in Sweden over 70 years ago and employing over 30 people, Ce Sprinkler is a privately owned fire-protection company offering a wide range of services to all sectors from consultation, design, prefabrication, assembly and maintenance from its base in Nyköping.
New design hub
The newly designed innovation centre and manufacturing base uses state of the art 3D BIM technology that is pre-fabricated to clients' specific requirements with products and systems designed, engineered, manufactured and assembled on site, which alleviates many of the supply chain pressures that are being experienced across this and other sectors.
Adjoining Writech's existing building, the facility stretches over 16,000 square feet, extending over three levels and represents a significant milestone in the progress of Writech.
This follows the company's recent acquisition of leading UK provider of automatic fire suppression systems, Compco – which added £50 million to Writech's revenues and adds over 200 people to the group.
The company says its accelerated growth trajectory has been made possible by the significant support and partnership of Waterland Private Equity Ireland who invested in the group last year.
"Important Milestone"
Welcoming the developments, Junior Minister and Longford-Westmeath Fianna Fáil TD, Robert Troy said;
"Writech is an innovative, ambitious company that is competing and winning in international markets and its investment in its new Design and Innovation centre here in Mullingar will further drive its international growth.
"And crucially, this expansion and growth overseas will create 50 new high-quality jobs in Mullingar.
"I am delighted to see a company with such strong roots in Westmeath continue to go from strength to strength and who I am sure will continue to do so into the future.
"Both myself and this Government are committed to balanced regional employment and supporting great companies like Writech is an essential part of our regional jobs strategy."
Ted Wright, CEO of Writech, added;
"We are delighted to open this state of the art Design and Innovation Centre and the significant new jobs that this will create.
"As a company, we have always looked at being the leader in fire protection systems and developing new, cutting-edge future proofed services and solutions, while working with clients to ensure we develop and tailor products they require.
"Today is the culmination of a vision we had many years ago to build a world class operation here in Mullingar that will lead and change the industry across Ireland, Europe and beyond."