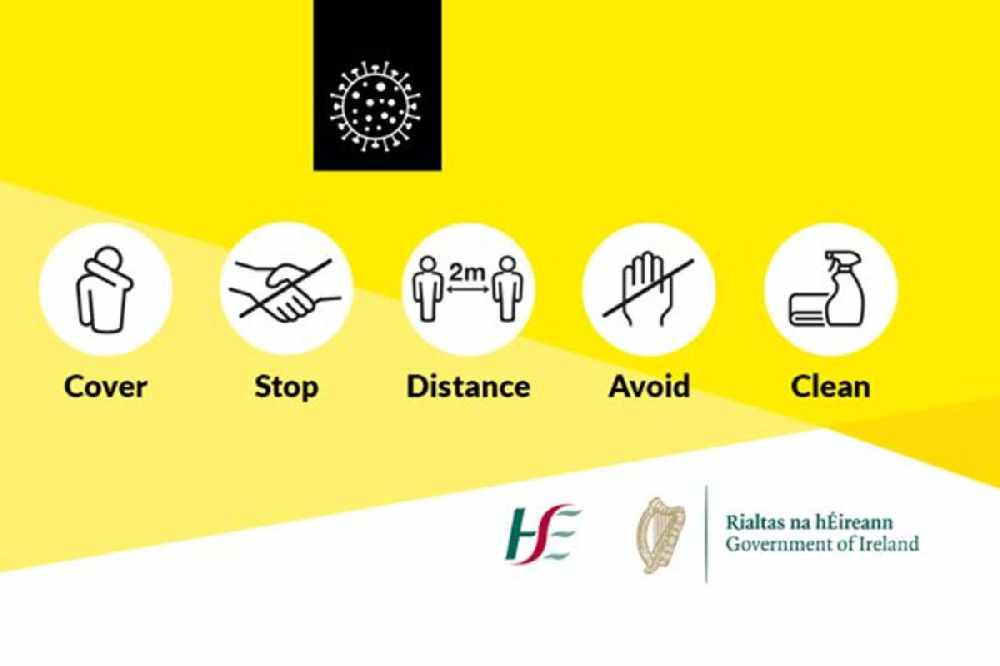 12 deaths have been confirmed by the Health Department.
Latest figures:
The Health Protection Surveillance Centre has today been informed that a total of 12 people with COVID-19 have died.
There have now been a total 1,458 COVID-19 related deaths in Ireland.
As of 11am Sunday 10 May the HPSC has been notified of 236 new confirmed cases of COVID-19. There is now a total of 22,996 confirmed cases of COVID-19 in Ireland.
641 people in Westmeath have tested positive for the illness.
Offaly also only had one new case bringing the total to 350 and Laois had no increase and stays at 247.
The HSE is working to identify any contacts the patients may have had to provide them with information and advice to prevent further spread.
Today's data from the HPSC, as of midnight, Friday 8 May (22,671 cases), reveals:
· 57% are female and 43% are male
· the median age of confirmed cases is 49 years
· 2,986 cases (13%) have been hospitalised
· Of those hospitalised, 383 cases have been admitted to ICU
· 6,771 cases are associated with healthcare workers
· Dublin has the highest number of cases at 11,068 (49% of all cases) followed by Kildare with 1,324 cases (6%) and then Cork with 1,207 cases (5%)
· Of those for whom transmission status is known: community transmission accounts for 61%, close contact accounts for 36%, travel abroad accounts for 3%
Prisons:
There are five confirmed cases of Covid-19 in Irish prisons.

However the Irish Prison Service says all relate to staff members and non to prisoners.

A spokesman says those who showed symptoms immediately went into self-isolation, and were tested in line with public health advice.
PPE:
The HSE is spending one billion euro on personal protective equipment this year.

The demand for masks alone within the health service is now 1.2 million each day.

It says a deal has been made with South Korea for the delivery of 120 million masks over the next couple of weeks.

The HSE's also recommencing non-Covid related care, with cancer services among those that'll be prioritised.
UK:
There have been 5 more deaths in Northern Ireland.

Another 178 people with Covid-19 have died in England, while Scotland's seen a rise of 10 since yesterday.

Wales has registered another 12 deaths.

The figures are lower than previous days, but typical for a weekend when there can be a lag in registering deaths.
Contract tracing:
A GP's warning more comprehensive contact tracing's needed before restrictions are eased.

The first phase in reversing the lockdown's due to begin on May 18th.

However there's a worry the current system of sourcing close contacts to a confirmed case is still too slow and disjointed.

Dr. Illona Duffy says questions have to be asked as to why that's the case:
Northern Ireland:
As Boris Johnson gets set to announce measures to end Britain's lockdown, a roadmap for recovery in Northern Ireland isn't expected until next week.

Both the first and deputy first minister's recently said the current restrictions will also remain in place for a further three weeks.

First Minister Arelene Foster says the decisions are based on advice from their own medical experts:
Tesla:
Tesla boss Elon Musk has threatened to pull the firm's car factory out of California after local officials stopped it from reopening as part of lockdown measures.

He's tweeted "Frankly, this is the final straw" - adding that the headquarters and future projects will move to Texas or Nevada "immediately".

Tesla is suing the local county's health department, claiming it's overstepping federal and state restrictions.
Leaving Cert:
The ASTI is joining the TUI in engaging with the calculated grades system for students, which will replace this year's Leaving Cert.

It's after lengthy talks of the Association of Secondary Teachers of Ireland late last night.

The ASTI says it wants students to progress to the next stage of their lives, so it's advising its members to engage with the Calculated Grades for the Leaving Certificate process.

It's after the Government decided to call off this year's written exams and replace them with calculated grades.

The ASTI says it has a long-standing policy of teachers not assessing their students for the purpose of State Certification.

However, it says in the context of the current global pandemic it recognises that this year it is necessary to engage with this new process.

The union says it has a number of major concerns with the process, which it's calling on the Minister for Education and Skills to address as a matter of urgency.

These include the Minister's rescinding of his previous decision to award students 100 per cent for orals and certain practical examinations which were to have taken place earlier this year.
Hairdressers:
The Irish Hairdressers Federation says it's confident its specific guidelines for the industry will align very well with the Government's protocols.

It's welcoming the announcement by the state on its return to work plan for businesses.

Irish Hairdressers Federation spokesperson Lisa Eccles says they need the wage subsidy scheme extended:
Local figures:
Over 26,800 people have now tested positive for covid-19 on the island of Ireland.
1,236 of those cases are in the midlands region.
Over half of people with the illness in the region are in Westmeath.
640 people in the Lake county have tested positive for the illness.
Offaly has 349 cases and there are 247 in Laois.
18 more covid-19 patients are known to have died in the Republic, and four in the North.

Ireland's National Public Health Emergency Team announced yesterday 219 more people had tested positive for coronavirus inthe Republic.

There have now been 22,760 confirmed cases south of the border, and 1,446 people are known to have died.

Earlier in the day, their counterparts at the Northern Ireland department of health also released updated figures.

There were four further deaths and 56 new confirmed cases.

It brings the death tolll there to 430 and the total number infected to four thousand and seventy eight.

The biggest concentration of cases on the island is in Dublin, where there were ten thousand nine hundred and forty-eight people known to be infected in the most recent data available.