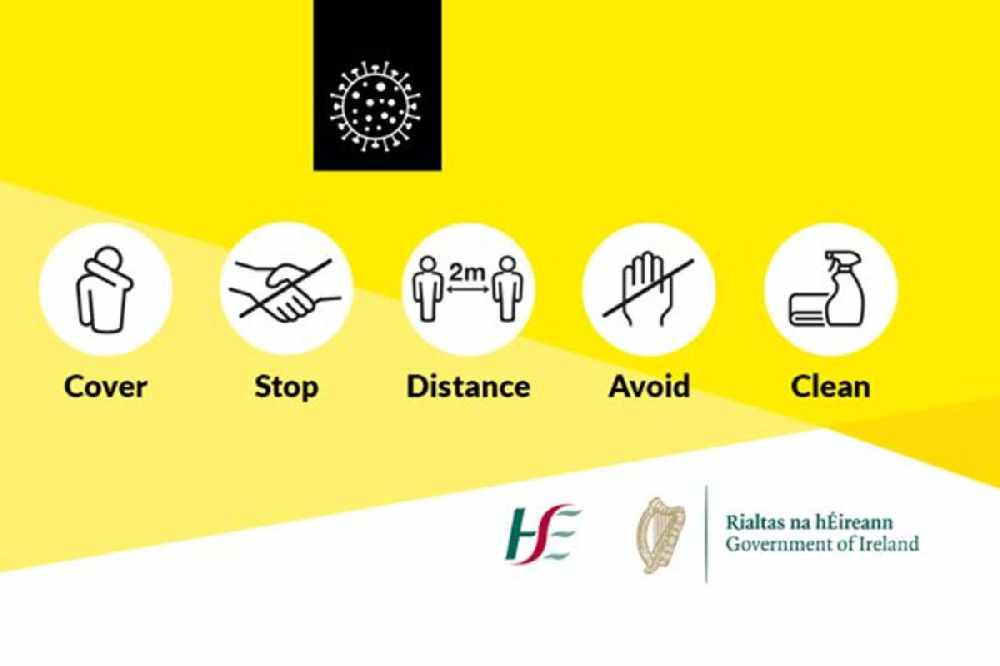 News updates for Saturday 13th February 2021.
Latest figures:
The Health Protection Surveillance Centre has today been notified of 66 additional deaths related to COVID-19.
41 of these deaths occurred in February, 8 occurred in January, 7 in December and 9 occurred in November or earlier.*
The median age of those who died was 84 years and the age range was 39 - 98 years.
There has been a total of 3,931 COVID-19 related deaths in Ireland.
As of midnight, Friday 12th February, the HPSC has been notified of 1,078 confirmed cases of COVID-19. There is now a total of 208,796** confirmed cases of COVID-19 in Ireland.
Of the cases notified today:
523 are men / 549 are women
70% are under 45 years of age
The median age is 32 years old
433 in Dublin, 139 in Galway, 52 in Limerick, 49 in Limerick, 43 in Mayo and the remaining 362 cases are spread across all other counties.***
As of 8am today, 898 COVID-19 patients are hospitalised, of which 171 are in ICU. 44 additional hospitalisations in the past 24 hours.
As of February 10, 256,681 doses of COVID-19 vaccine have been administered in Ireland:
166,863 people have received their first dose
89,818 people have received their second dose
Dr Ronan Glynn, Deputy Chief Medical Officer, Department of Health, said: "If you have any symptoms suggestive of COVID-19, such as cough, fever, shortness of breath or a change in your sense of smell or taste, self-isolate (stay in your room) immediately and phone your GP without delay. If you are in any doubt about any symptoms you have, you should always contact your GP."
"Your test and GP assessment will be free of charge. This includes GP out of hours services, contact details for which are on the HSE website www.hse.ie. If you don't have a GP, any GP can arrange a test for you."
| | | | | |
| --- | --- | --- | --- | --- |
| County | Today's cases*** | 5-Day Moving Average of New Cases | 14-day incidence rate per 100,000 population | New Cases during last 14 days |
| | | | | |
| --- | --- | --- | --- | --- |
| Westmeath | 24 | 16 | 242.2 | 215 |
"The best way to protect ourselves and our vulnerable loved ones from serious illness as a result of COVID-19 infection is to continue taking the actions we know can effectively supress this virus. Keep physical distance from others, wash hands regularly, avoid crowds and wear face coverings that are fitted correctly."
Vaccine:
A new clinical trial will look at how effective the Oxford-AstraZeneca vaccine is in children.

Researchers want to assess whether the jab produces a strong immune response in children aged between six and 17.

The vaccine's one of three that have been approved for use in adults in Ireland.
ICU:
The current number of Covid patients in hospital and ICU could be halved in three weeks' time, according to the Tánaiste.

Leo Varadkar says the country is 'back on track' in the battle against the virus, after case numbers soared last month.

921 new cases and 23 additional deaths were confirmed yesterday.

There are 894 patients in public hospitals with the virus, down from over 2,000 less than a month ago, and there are 169 in ICU.

The Tánaiste says those numbers should continue to drop sharply in the coming weeks:
Leaving Cert:
The Taoiseach says Leaving Cert students need clarity over their exams next week, as discussions continue over the weekend.

A row between the ASTI and the Department of Education in recent days saw the Union pull out of the talks altogether.

However senior members met with Minister for Education Norma Foley yesterday, which the ASTI described as 'constructive.'

Taoiseach Micheal Martin says the students themselves must be the priority:
Meanwhile. Labour says the best solution possible can't be reached unless all of the stakeholders have a say.

Education Spokesperson Aodhan O'Riordan says it's good news that the ASTI met with the Minister yesterday:
Fines:
Three quarters of fines for breaches of covid-19 regulations have been issued to people between the ages of 18 and 35.

5,784 fines that have been processed so far, while around 770 are currently being checked by Gardai.

Gardai have revealed that around 46 per cent of fines have been handed out on weekend days.

So far, almost 500 fines of 150 euro have been issued to people attending house parties.
Construction:
The reopening of construction and the phases reopening of schools remains the top priority for the government after March 5th.
However the Higher Education Minister says some other measures may need to be looked to help the public's mental health.
Minister Simon Harris says some small changes could have a positive impact:
Washington:
The Taoiseach will not be meeting US President Joe Biden in the White House on St Patrick's Day.

It's been confirmed that Micheal Martin won't fly to Washington for the annual tradition due to the covid-19 situation in both countries.

A spokesperson for the Taoiseach says a virtual meeting may be held instead, and Irish and US officials are working on arrangements.

Taoiseach Micheal Martin says the details will be ironed out soon:
Local figures:
There are 921 new cases of Covid-19 in the Republic and 23 additional deaths.

414 of the cases are in Dublin, with 87 in Cork, 51 in Kildare, 48 in Limerick, 47 in Meath and the remaining cases are spread across all other counties.
60 of the new cases were in the Midlands, 23 in Offaly, 22 in Westmeath and 15 in Laois.
There are 959 people in hospital with the virus, which includes 173 in intensive care.

The 14-day incidence rate has fallen to 293 per 100,000 people.

The deputy chief medical officer, Ronan Glynn, says the country has made big progress but the rate of transmission remains extremely high.