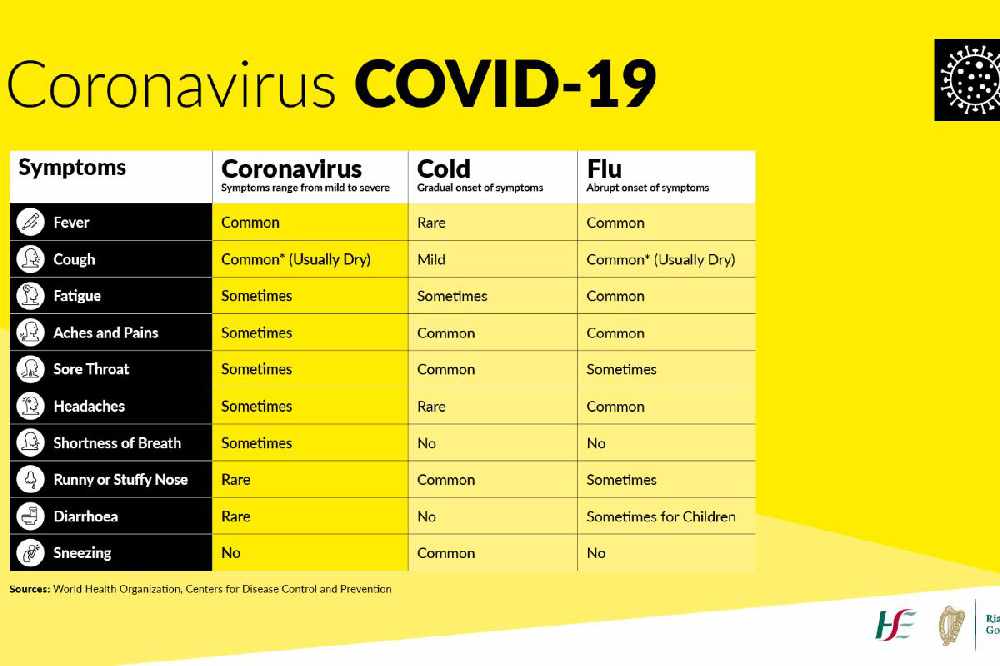 There has been 39 new cases in Ireland.
Taoiseach:
The Taoiseach has admitted there will be different approaches to tackling the coronavirus on both sides of the border in the weeks ahead.

Schools, colleges and creches have already shut in the Republic, but they're still open in the North.

Northern Ireland's First Minister Arlene Foster says the schools will close for at least 4 months when the decision is made.

The deputy first minister Michelle O'Neill thinks it should happen now.

Leo Varadkar says both governments share the same goal:
New cases:
A second person has died from the Coronavirus.
There has been 39 new cases in Ireland which include 29 men and 10 women.
21 of them are in the East of the country with 13 in the south, three in the north-west and two in the west.
Some of the new cases are healthcare staff.
129 people have now been confirmed to have covid-19 in the Republic, bringing the total on the island to 163.

The HSE's National Public Health Emergency Team confirmed the news at a press conference in Dublin in the last hour.

Dr Ronan Glynn, deputy chief medical officer, is asking people not to call 999 if they have ordinary cold or flu symptoms:
People Urged Not To Turn Up To Midlands COVID-19 Mobile Testing Unit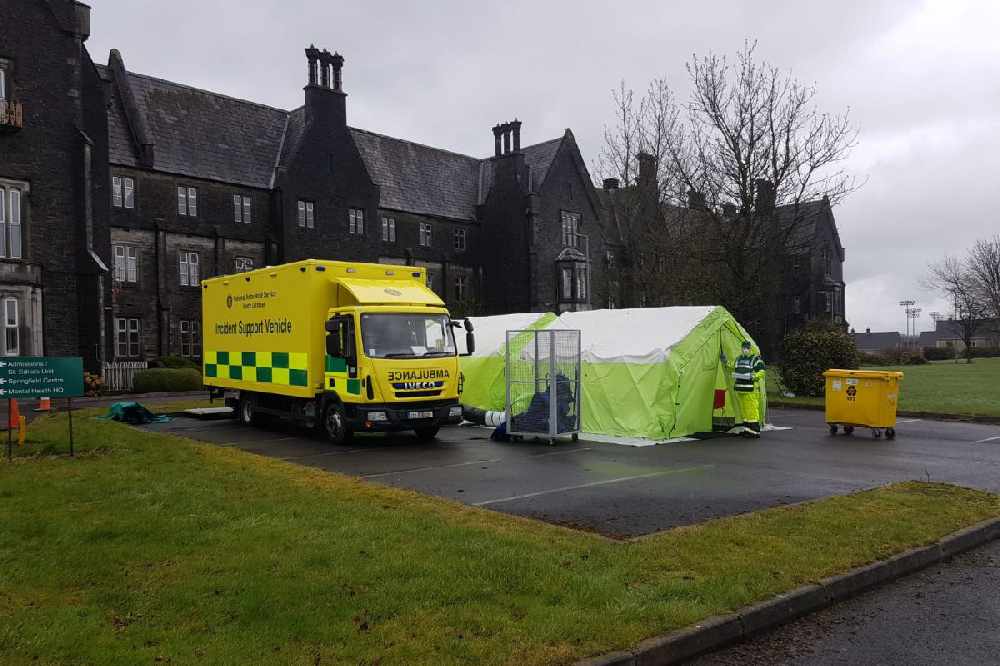 UK:
The number of people who've died in the UK after being diagnosed with coronavirus has risen to 21.

10 more cases were confirmed in England earlier.

All of the patients were at least in their 60s and described as being 'at risk'.

More than 11-hundred people have tested positive in the UK, out of nearly 38-thousand who've been checked.
Renters:
Tenants who are experiencing difficulties paying their rent as a result of Covid-19 are being urged to speak to their landlords as soon as possible.

The Housing Minister says the Government is very conscious of the additional pressures facing both landlords and tenants in relation to the crisis.

Eoghan Murphy says the Department of Housing is working with other Government departments preparing guidance on supports available for landlords and tenants.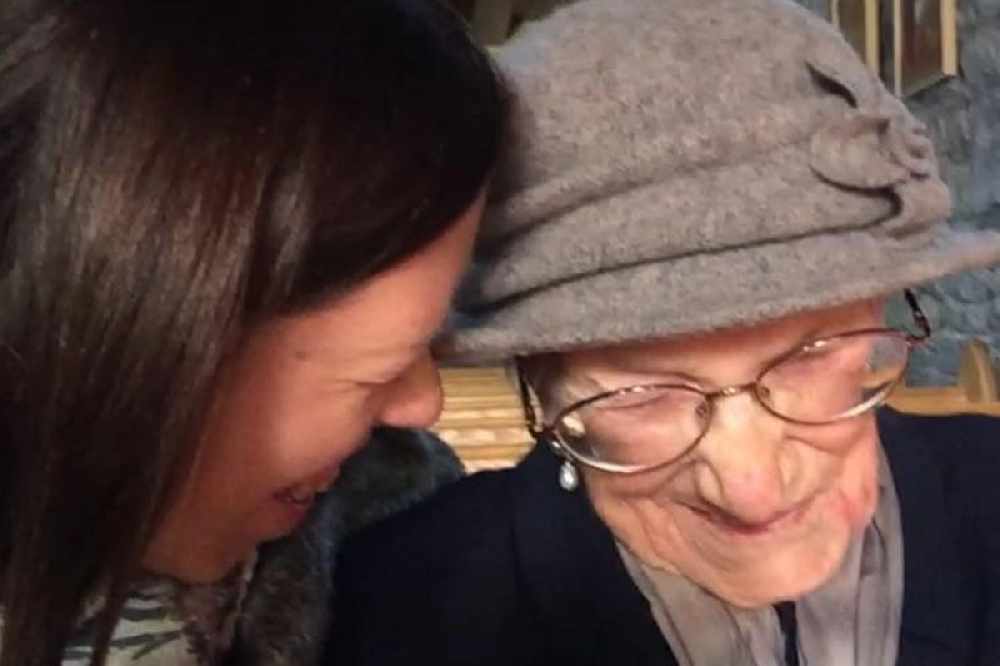 HSE:
The HSE is asking the public to only call 112 or 999 for medical emergencies.

It says GP Out of Hours Services, HSE Live and those emergency numbers have been receiving a very high number of calls today from people wanting to be tested for Covid-19.

It says people who have normal cold and flu like symptoms, or who believe they may have been in contact with the coronavirus should self-isolate and ring their GP on Monday.

Chief Clinical Officer of the HSE, Dr. Colm Henry says the GP will decide then whether or not you need a test:
Travel:
Ireland and the UK are to be added to America's European travel ban over the Coronavirus pandemic.

The US President, Donald Trump has extended the travel restrictions to include both countries.

Meanwhile, the Tanaiste says Irish citizens should exercise a high degree of caution when making travel plans particularly in Europe.

In a statement, Simon Coveney says a growing number of countries are also imposing restrictions on entry and exit.

His department is now advising against non-essential travel to the Czech Republic, Cyprus, Denmark, Malta, Poland, and Slovakia.

It'll also be providing additional guidance on Spain, which remains at non-essential travel, while Italy remains at no travel.

The Department's consular advice line will be open through the weekend and Irish embassies and consulates will be using social media to keep citizens informed.
Taoiseach:
The Taoiseach says he's concerned that some people are getting complacent over tackling the coronavirus outbreak.

There are now 119 cases on the island, including 90 in the Republic.

Government ministers and the chief medical officer have been meeting their Northern Irish counterparts in Armagh this afternoon.

Different approaches to stopping the spread of the virus are being taken on both sides of the border.

Leo Varadkar says people need to heed the advice of public health officials:
The North:
Schools, colleges and creches in the Republic have been closed, but they're staying open in the North.

First Minister of Northern Ireland Arlene Foster says schools will close at the right time.

Deputy First Minister, Michelle O'Neill, thinks that is now:
UK:
It's been confirmed that 10 more people - who tested positive for coronavirus - have died in the UK.

The chief medical officer says all of the patients in England were in what's being referred to as 'at risk' groups.

It brings the total number of deaths in the UK to 21.
Ferry:
Brittany Ferry is suspending it's Rosslare to Bilbao service to passengers.

The last service will leave Spain on Sunday at midday, until at least April 9th.

The group will operate only freight traffic during that period.
Taoiseach:
The Taoiseach says Ireland's response to the Coronavirus has been complicated by having a border on the island.

Government ministers and the chief medical officer are meeting their Northern Irish counterparts in Armagh this afternoon.

119 people have now tested positive on the island.

All schools, colleges and creches have been closed in the Republic, but they remain open in the North where a different approach is being taken.

Speaking on his way into the North-South Ministerial Council, Leo Varadkar says that's made our response to the pandemic more difficult:
Pubs:
Pubs are doing headcounts to make sure they don't have more than 100 people.

Indoor gatherings of that size are banned due to the outbreak of Covid-19.

They say business is still good - however there has been a dip in numbers coming every night.

Dave Forty is a barman in the Swan on Aungier Street in Dublin - he says they have got very little contact from the HSE:
Tourism:
Covid 19 is having a "catastrophic" affect on the tourism sector here.

The outbreak has come at a time that was already difficult for the industry, but now revenue has all but stopped.

Failte Ireland has established a Business Supports Taskforce to help the hospitality sector through the crisis.

It includes support for business sustainability, employment; and initiatives to kick-start demand again after the outbreak.

CEO Paul Kelly says businesses need to be ready to bounce back:
Students:
A leading infectious disease specialist says it's "extremely unhelpful" for students to be having house parties in the middle of the Coronavirus outbreak.

With schools and colleges closed, thousands of young people have been seen packing into pubs and going to parties instead.

Professor Mary Horgan, a consultant in Infectious Diseases at Cork University Hospital, says it's not helping to tackle the spread of Covid 19:
Testing:
The HSE says it's planning to test a lot more people for Coronavirus as the number of cases in Ireland rises.

20 new cases in the Republic were confirmed last night, including two of community transmission and four healthcare workers.

It brings the total to 90.

Anne O'Connor, chief operations officer with the HSE, says anyone with symptoms can now be tested - and don't need to have travelled from an affected area: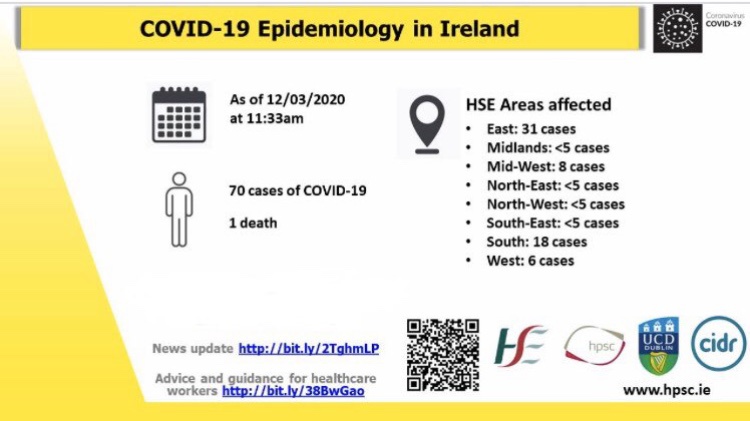 Shops:
SuperValu says all 223 stores around the country are open again this morning - but some will operate with restrictions on the quantity of specific items that customers can purchase.

Management says it took a tremendous effort from a combined team of retailers, staff in stores, drivers, warehouse staff - and suppliers - to get stock back on shelves in time for the weekend.

It says any sales-restrictions are in the interest of the wider community.
Animals:
Not only should people be concerned about keeping their children occupied, but animals especially dogs can misbehave if they are bored.

Gillian Bird from the DSPCA has this advice for pet-owners if they are not able to bring their pets for walks:
Vaccine:
A team of scientists in the UK say a coronavirus vaccine is on the verge of being developed.

Researchers have told Britain's Daily Express that they've successfully trialled the vaccine in mice and are hopeful it could be tested on people by June.
Spain:
Spain is in a state of emergency for two weeks from today, because of the coronavirus.

That could mean the military's brought in, as well as other special measures.

The country reported more than one-thousand new cases in one day.

Paul Hodkinson is an English teacher in Madrid - where people are being advised not to leave their homes.
Social Media:
The Chief Medical Officer is dismissing rumours circulating on social media and says there are no plans to restrict people's movements in the coming days:
Ninety people are being treated for Covid-19 in the Republic of Ireland.
Twenty new cases were identified yesterday, including two health care workers - bringing the total number of infections on the island to 119.
There are two community transmission cases - bringing the number to seven of those who health experts don't know where they contracted the illness.
Tony Holohan says people should restrict their social movements:
Travel:
The Department of Foreign Affairs is advising people to exercise "high degree of caution" in going to any EU member state.
In a tweet last night, Minister Simon Coveney says there are rapidly changing conditions and they will continue to update advice. However he added that his advice for extreme caution does NOT include the UK
It comes as countries begin to enforce ever stricter limits on who they let into their country.
From today, Donald Trump's plan to exclude people from 26 mainland nations in Europe comes into effect.
Currently Ireland and the UK are not on the list of countries included.

But yesterday the US president said that in light of escalation in the number of reported cases, his coronavirus Europe travel ban could be extended to include the UK.
Elsewhere, European countries are stepping up their responses.
Denmark is closing its borders from today
Poland says anyone entering the country apart from Polish citizens will be put under a 14-day quarantine.
The J1 Visa programme has been temporarily suspended for 60 days after President Trump declared the Covid-19 pandemic a national emergency.

The US Bureau of Education and Cultural Affairs says the decision will be reviewed after the initial period, with a further 30 day suspension possible.

USIT, which oversees the process in Ireland, expects to know more early next week after it talks to US authorities.

Last year 3-thousand people took part in the J1 programme.
Northern Ireland:
Members of the Government and their Northern Executive counterparts will meet today to discuss measures taken to combat the spread of the coronavirus on the island of Ireland.
Taoiseach Leo Varadkar along with Tanaiste Simon Coveney and other government members will attend the North South Council meeting in Armagh.
The two jurisdictions' respective chief medical officers will also be in attendance.
Elderly:
People are being encouraged to call an elderly neighbour to check they are okay.
Older people are one of the most at-risk groups due to Covid-19 and many groups are encouraging people to make contact.
Deborah Costello is from Friends of the Elderly, she says the smallest act can make a huge difference:
UK:
In the UK, plans to ban mass gatherings are expected to be announced next week - to stop the spead of the coronavirus..
It's also understood that proposals are being worked on for "much more widespread working from home" - similar to Ireland.
The current advice is that big events can still go ahead - but that all those with symptoms should stay at home for 7 days.
The UK's Health minister Nicola Blackwood has defended that approach: