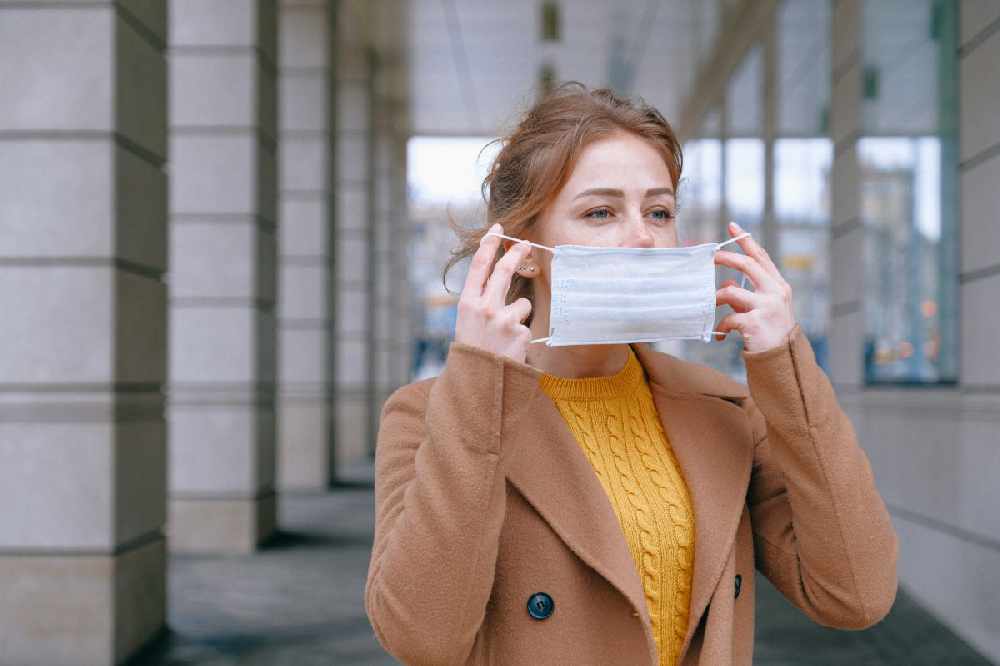 Latest news updates for March 21st 2020.
18.55 - Breaking News:
There are now 14 confirmed cases in Westmeath and 7 in Offaly.
Laois has less than five people diagnosed with COVID-19.
The Health Protection Surveillance Centre has been informed of 102 new confirmed cases of COVID-19 in Ireland.
There are now 785 confirmed cases of COVID-19 in Ireland.
The HSE is now working to identify any contacts the patients may have had to provide them with information and advice to prevent further spread.
Today's data from HPSC, as of midnight, Thursday 19 March (584 cases), reveals;
· Of the 584 cases notified, 55% are male and 44% are female, with 29 clusters involving 157 cases.
· The median age of confirmed cases is 44 years
· 30% of cases have been hospitalised
· 13 cases admitted to ICU - representing 2% of all cases hospitalised
· 147 cases - 25% of cases are associated with healthcare workers
· Dublin has the highest number of cases at 55%, followed by Cork 15%
Of those for whom transmission status is known, community transmission accounts for 42%, close contact accounts for 23%, travel abroad accounts for 35%.
The Health (Preservation and Protection and other Emergency Measures in the Public Interest) Act 2020 was signed into law by the President of Ireland on Friday, 20 March. This Act empowers the Minister for Health to prohibit and restrict the holding of certain events, and to close certain premises, for example public houses.
Dr. Tony Holohan, Chief Medical Officer, Department of Health, said; "The Department is aware that pubs in some areas of the country are continuing to open, in contravention of existing public health advice.
"If any such premises become known to us, the Minister will be advised to use his regulatory powers to enforce the temporary closure of premises in order to prevent the spread of Covid-19.
"We are also asking An Garda Siochana to assist in encouraging the public to abide by the public health advice on social distancing by encouraging any groups congregating in public to disperse."
Dr Ronan Glynn, Deputy Chief Medical Officer, Department of Health, said; "We must continue in our efforts to limit the spread of Covid-19 together, as a society, to protect our healthcare workers and our most vulnerable."
County

Carlow

<=5

0%

Cavan

<=5

0%

Clare

7

1%

Cork

88

15%

Donegal

<=5

1%

Dublin

320

55%

Galway

21

4%

Kerry

8

1%

Kildare

18

3%

Kilkenny

11

2%

Laois

<=5

1%

Letrim

<=5

0%

Limerick

15

3%

Longford

<=5

1%

Louth

9

2%

Mayo

<=5

0%

Meath

10

2%

Offaly

7

1%

Roscommon

<=5

0%

Sligo

<=5

1%

Tipperary

<=5

1%

Waterford

8

1%

Westmeath

14

2%

Wexford

<=5

0%

Wicklow

17

3%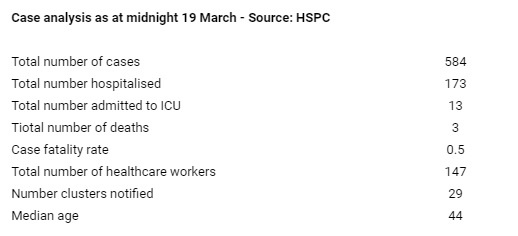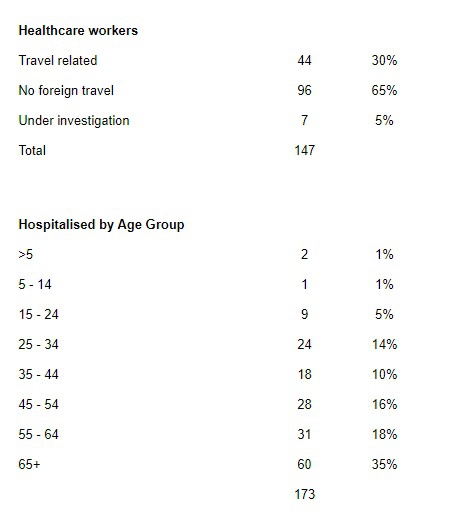 18.05 - Beds:
The Health Minister says the country has a lot of empty hospital beds ready for the potential surge in Covid-19 cases.

The Republic of Ireland has 683 positive tests of coronavirus - with over 80 being healthcare workers.

Monaghan remains the only county with no diagnosis of the illness, while the majority of cases are in Dublin.

Simon Harris says the health service is preparing for a lot of people to get sick:
17.52 - Aldi:
Aldi has started rolling out new social distancing measures across its 142 stores nationwide.

The new steps include posters in-store and clear markings on the floor for queuing.

The supermarket chain will also very shortly start installing protective screens at every till to safeguard its colleagues and customers alike.

Aldi's also implemented its new priority shopping hours for the elderly and those most vulnerable between 11am and 1pm each day.
17.43 - Italy:
The number of people who've died in Italy after they contracted coronavirus has risen again sharply.

793 people passed away in the last 24 hours - taking the total number of Covid-19 related deaths there to 4-thousand-8-hundred-and-25.

There were also over 6-and-a-half-thousand new cases in the country.
16.47 - Peru:

The Department of Foreign Affairs says its embassy in Santiago is assisting a significant number of Irish citizens in Peru.

It says these people are based in different locations around the country which makes repatriation efforts even more challenging.

The Department says it's working with its EU and UK partners to find the best solutions to get our Irish citizens home.

16.17 - Australia:

Bondi Beach in Australia has been closed by Sydney police, after large crowds gathered there yesterday, despite rules on mass gatherings.

Steve Pearce is from the Surf Live Saving Group - and says the scenes of thousands of people fly in the face of official advice:

15.23 - Tesco:

Tesco's giving its employees a ten percent bonus for their efforts during the Covid-19 outbreak.

Staff will have a bonus backdated to March 9th until the 1st of May.

Tesco says it will then review the situation.

15.16 - North:

Health officials in Northern Ireland say 22 more patients have been diagnosed with Covid-19.

108 people have now tested positive for the virus there, while one person has died.

15.02- Exports:

The Irish Exporters Association is calling on the Taoiseach to start tackling the economic recovery now.

It says businesses will want to get back to work as soon as possible and there needs to be a plan in place.

The group has written to Leo Varadkar to set up a cabinet sub-committee on the issue.

IEA CEO Simon McKeever says everyday life's reliant on goods coming in and out of the country:

14.48 - Meeting:

The Health Minister is meeting medical leaders this afternoon to discuss Ireland's response to Covid 19.

There have been 683 confirmed cases in the Repubic so far, with 126 people testing positive yesterday.

Simon Harris says political and medical leaders must be united to tackle the spread of the virus.

He's also urging people to practice social distancing if they're out this weekend:

14.26 - North:

Police in the North say they've received reports of anti-social behaviour and end of school parties, despite social distancing advice.

Officers in Carrickfergus, Co. Antrim had to disperse a group of 300 teenagers last night who'd met up for a party.

The PSNI say the coronavirus pandemic is not a movie, and that the situation will only get more serious every day.

13.54 - Whatsapp:

The World Health Organisation has launched an official WhatsApp service to deal with queries of Covid-19.

Users of the app can avail of the service by following a link on the WHO Twitter account.

It will give people accurate information on a range of issues such as travel advice, latest figures and mythbusters.


13.36 - Economy:

The Deparment of Finance says it's considering options whereby employers can 'top up' the incomes of employees who've been temporarily laid off due to coronavirus.

Hundreds of thousands of workers have so far been let go in sectors like retail and hospitality, as businesses shut indefinitely.

The government's confirmed it will allow employers to pay more than the 203 euro a week support being made available.

Fianna Fail's finance spokesperson Micheal McGrath says the measure doesn't go far enough:

13.15 - Aer Lingus:

Aer Lingus has increased it's capacity on Spanish routes by 20 per cent in an effort to bring as many Irish citizens home as possible before the deadline of midnight tonight.

The number of Covid 19 deaths in the country has risen by over 300 in the last 24 hours to 1,326.

The HSE says anyone who has come into Ireland in recent days should restrict their movements for two weeks.

Meanwhile, in Italy, doctors say hospitals are on the brink of collapse because of a surge in patients.

Neurosurgeon Emanuela Catenacci has this warning for anyone ignoring official advice:

12.58 - Moneylenders:

People are being warned to be aware of moneylenders who are taking advantage of the impact of the coronavirus.

St Vincent de Paul says there have been leaflets dropped to homes across the country recently from services offering money.

The society estimates there are over 300 thousand customers of moneylenders in Ireland.

Head of Social Justice at SVP, Dr Tricia Kielty, says a lot of people are going to be in vulnerable situations in the coming weeks:

12.30 - Young people:

The head of a youth information service says people of all ages are not sticking to social distancing rules, not just young people.

The CEO of SpunOut.ie says it's wrong to target an entire generation for not obeying HSE advice.

Ian Power says most young people are staying away from their friends as everyone adjusts to the concept of social distancing:

12.00 - Health Minister:

The Health Minister's encouraging us to stay in in touch with friends and relatives this weekend - but keep our physical distance.

Another 126 people tested positive for coronavirus in the Republic yesterday, bringing the total to 683.

As of Wednesday, half of the cases are in Dublin - while Monaghan is the only county that is yet to have a diagnosis of Covid-19.

In a message on social media, Health Minister Simon Harris urged people to keep their distance:
11.45 - UK:
Hotels in central London will offer beds to rough sleepers to help protect them against coronavirus.

More than 300 rooms will be available to vulnerable people known to homelessness charities.

London Mayor Sadiq Khan says the shelter will provide "vital protection" for people who can use the space to self-isolate.
11.25 - Food:
Just Eat has introduced new supports to help the restaurants hit by the Covid-19 crisis.

It includes reduced commission for outlets already signed up to the service and the scrapping of fees for new businesses.

The changes will operate for the next 30 days.

10.50 - Nursing Home:
Operators of a Cork nursing home are encouraging young people to become penpals with residents.

St Luke's Nursing Home in Mahon announced the scheme earlier this week and received 200 letters and 100 emails from school children on the first day.

A spokesperson for the nursing home, which has 128 residents, told the Irish Examiner she hoped many would write back to the children and build friendships.
09.30 - UK:
The British Prime Minister's told people "not be tempted to go out" as he ordered the closure of bars, pubs and restaurants across the UK.

The measure follows the closures of schools yesterday and is aimed at slowing the spread of the coronavirus.

In the north, 86 cases of Covid-19 have been confirmed, with one death.

Deputy First Minister Michelle O'Neill's urging people not to be tempted to socialise this weekend:
Morning. Let's be kind to each other this weekend - let's look out for each. Keep our physical distance but still be there for each other. Just some rambling thoughts from me this Saturday morning. In this together! #coronavirus #Covid19 pic.twitter.com/9EmuP2N6F3

— Simon Harris TD (@SimonHarrisTD) March 21, 2020
08.03 - Exports:

The Irish Exporters Association want the Government to start planning for the economy's recovery now.

They say a cabinet sub-committee needs to be set up to be able to act when the threat of Covid-19 has passed in the next couple of months.

Simon McKeever is CEO of the organisation - he says the recovery plan needs to work in tandem with the fight against the illness:

08.29 - Newspapers:

One of the country's biggest local and regional newspaper groups announced last night it will lay off some staff temporarily due to the Covid-19 pandemic.

Celtic Media says it will continue to publish five weekly papers, but the decision has come due to falling revenues.

The company employs 90 people.
07.01 - Local figures:
There has been a 3% increase in the number of confirmed cases of Coronavirus in Westmeath.
According to figures from the Department of Health, there are now 12 patients with the illness in the Lake County - up from 7 on Thursday.
There are less than five cases in both Laois and Offaly.
Nationally there are 683 people with Covid-19 in the Republic of Ireland.

126 cases were confirmed yesterday - an 18 percent rise on the previous total.

Half of the people with coronavirus are in Dublin, while Monaghan is the only county not to have registered a confirmed case.

The state's Chief Medical Officer, Dr Tony Holohan - he says they will be looking at the trend over the next couple of days to see how social distancing measures are working:
06.45 - Childline:
Childline says vulnerable children still need access to its service- particularly when life is on hold.

The helpline has recorded a 20% increase in the number of children contacting the service since the coronavirus crisis began.

Some children are scared about Covid 19, others are feeling a burden of guilt because children are said to be "vectors", and others- who are already living in abusive homes- are concernned about haveing to stay at home 24/7.

Childline relies on donations for 90% of its funding.

Director of services Caroline O'Sullivan says if fundraising stops for a couple of months the charity will face a serious challenge:
06.02 - Social distancing:

The Health Minister is appealing to families to use this weekend to focus on social distancing practices.

Simon Harris says people are making huge changes in their lives, but we all need to do more:

Deputy Chief Medical Officer Dr. Ronan Glynn is warning against complacency with yesterday's figures: