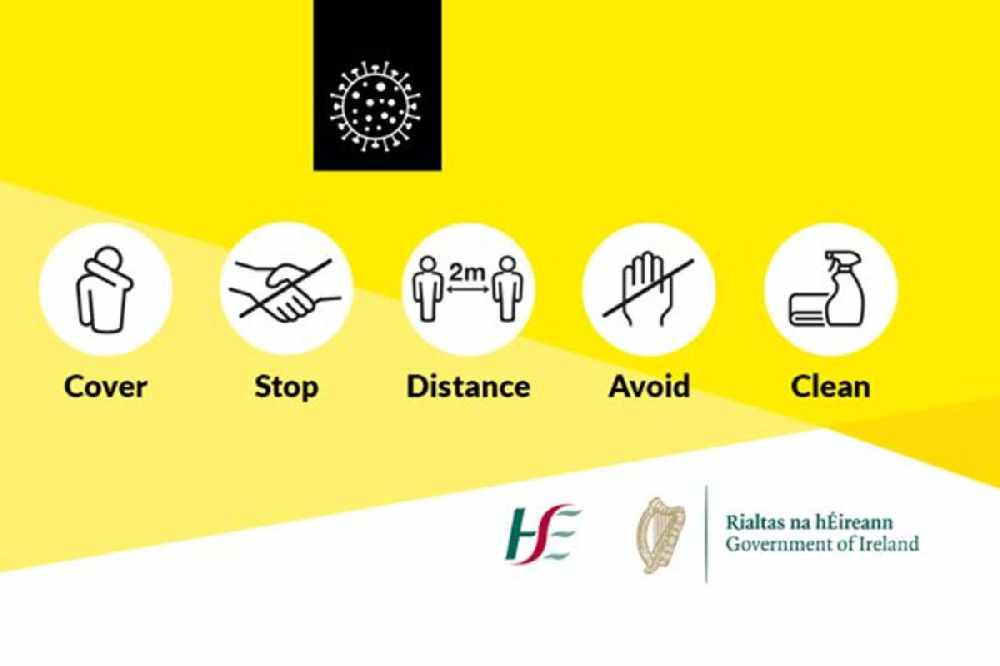 174 new cases confirmed.
Latest figures:
The Health Protection Surveillance Centre has today been informed that 1 patient diagnosed with COVID-19 in Ireland has died.
There has now been a total of 1,772 COVID-19 related deaths in Ireland*.
As of midnight Friday 7th August, the HPSC has been notified of 174 confirmed cases of COVID-19. There is now a total of 26,644 confirmed cases of COVID-19 in Ireland.
Of the cases notified today;
124 are men / 48 are women
69% are under 45 years of age
112 are confirmed to be associated with outbreaks or are close contacts of a confirmed case
5 cases have been identified as community transmission
110 cases are located in Kildare, 27 in Dublin, 7 in Cork, 7 in Offaly, 6 in Meath and 17 are spread across thirteen other counties (Carlow, Cavan, Clare, Donegal, Galway, Kilkenny, Laois, Limerick, Mayo, Roscommon, Tipperary, Wexford and Wicklow).
The HSE is working to identify any contacts the patients may have had to provide them with information and advice to prevent further spread.
The COVID-19 Dashboard provides up-to-date information on the key indicators of COVID-19 in the community.
Dr Ronan Glynn, Acting Chief Medical Officer, Department of Health, said; "While today's numbers of confirmed cases are high, they are not unexpected. As I said last night, we are expecting significant numbers of cases to be reported over the coming days.
"Throughout this week, we have been testing all workers in facilities where outbreaks of COVID-19 have been identified as well as close contacts of those people who have received COVID positive results. Tonight's figures are a reflection of these measures with 118 of these cases linked to the counties of Kildare, Laois and Offaly.
"Our priority now and our reason for recommending the proactive measures announced last night, is to avoid these cases and clusters leading to widespread community transmission of the disease.
"50 of tonight's cases are located outside of these three counties and around the rest of the country. I once again ask everyone regardless of where you live in the country to take every precaution possible to help us control the spread of this disease and protect our most vulnerable. This means continuing to wash our hands, keeping 2 metres apart from one another, avoiding crowds, wearing face coverings where appropriate, covering our coughs and sneezes and downloading the COVID Tracker app."
Professor Philip Nolan, Chair of the NPHET Irish Epidemiological Modelling Advisory Group, said; "As outlined by the Acting Chief Medical Officer at the press conference last night, the 14-day incidence per 100,000 population in Kildare, Laois and Offaly is worryingly high. While the national incidence stands at 16.3 per 100,000, in Kildare it stands at 130.3, in Laois it is 69.7 and in Offaly it is 89.8.
"Should these cases result in widespread transmission, it could undo a lot of the good work that we have done as a country so far to control the spread of this virus. The measures introduced by NPHET last night represent a proactive and proportionate response to the current situation in these counties"
Statistics measured at midnight on Thursday 6 August by the Department of Health show there are 550 confirmed cases in Offaly, 326 in Laois, and 682 in Westmeath.
Schools:
Face coverings will be mandatory for secondary school staff and students when they return.

The Department of Education has updated it's public health guidelines ahead of the re-opening next month.

It says the masks must be worn where a 2 metre distance between people cannot be maintained.
Primary school staff are also advised to wear face coverings where the correct distance can't be kept.

INTO Chief Executive John Boyle says this does not apply to children though:
Health Officials Warn Restrictions Could Be Extended To Other Counties https://t.co/63OQK2JB3g

— Midlands103 (@Midlands103) August 8, 2020
US:
The United States now accounts for a quarter of all COVID-19 cases in the world.

4.9 million cases have been confirmed across the country, with 10,000 deaths recorded in the last nine days bringing the total number of fatalities to more than 160,000.

On a per capita basis, the US ranks 10th in the world for both cases and deaths.

Public health experts says some peopl are still resisting wearing face masks and maintaining social distancing.
Broadband:
The government has been warned that the roll-out of the National Broadband Plan has been hit by the COVID-19 pandemic.

It is hoped that the 3 billion euro plan to roll-ourt fibre broadband to 540,000 premises across the country will be completed within the next four years.

According to today's Irish Independent, issues raised by Department of Communications officials include recruitment and accomodation difficulties for contractors caused by the emergency.
UK:
From today, people in England and Scotland will have to wear face coverings more often indoors.

That includes in museums, libraries and places of worship.

Coverings will also become compulsory in some public enclosed spaces in Northern Ireland from Monday.
Mobile Testing Units Used To Diagnose Cases In Laois, Offaly And Kildare https://t.co/cb4dNUsPqj

— Midlands103 (@Midlands103) August 8, 2020
Schools:
Second level students and staff will have to wear face coverings when schools return.

The Minister for Education updated the guidance under the roadmap to re-opening last night.

Norma Foley also announced that over 100 million euro in funding has gone to schools to pay for works that'll assist in social distancing.

ASTI Vice President Ann Piggott explains why her union were campaigning for the use of face coverings at second level:
Local figures:
The Health Protection Surveillance Centre was informed yesterday that 4 patients diagnosed with COVID-19 in Ireland have died.
There has now been a total of 1,772 COVID-19 related deaths in Ireland.
There has been a further 98 confirmed cases of COVID-19. There is now a total of 26,470 cases of in Ireland.
Of the cases notified yesterday, 35 cases are located in Kildare and 26 in Offaly, 5 in Laois and Westmeath is one of 21 counties that has seen an increase.