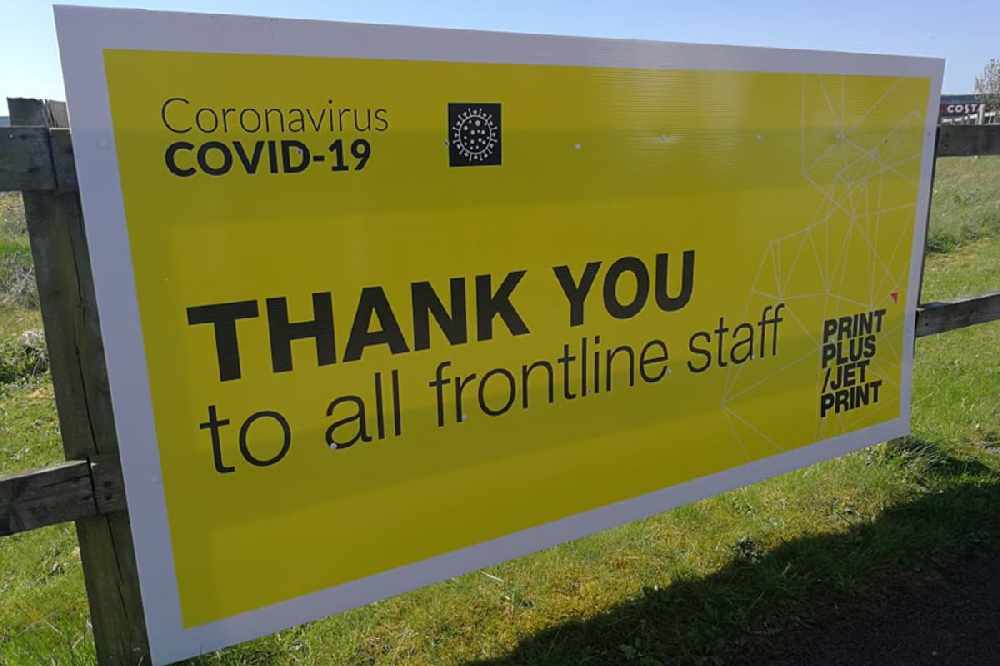 National news updates on Friday 16th April.
Figures:
The Health Protection Surveillance Centre has today been notified of 11 additional deaths related to COVID-19.
Of the deaths reported today, 3 occurred in April, 1 occurred in March, 2 in February and 5 occurred in January or earlier.
The median age of those who died was 88 years and the age range was 77-94 years.
There has been a total of 4,831 COVID-19 related deaths in Ireland.
As of midnight, Thursday 15th April, the HPSC has been notified of 420 confirmed cases of COVID-19.
There has now been a total of 242,819* confirmed cases of COVID-19 in Ireland.
Of the cases notified today: 218 are men / 197 are women 74% are under 45 years of age
The median age is 32 years old 147 in Dublin, 41 in Meath, 33 in Donegal, 26 in Galway, 18 in Limerick and the remaining 155 cases are spread across all other counties**
As of 8am today, 190 COVID-19 patients are hospitalised, of which 53 are in ICU.
12 additional hospitalisations in the past 24 hours.
As of April 14th, 2021, 1,121,003 doses of COVID-19 vaccine have been administered in Ireland:
789,526 people have received their first dose
331,477 people have received their second dose
The COVID-19 Dashboard provides up-to-date information on the key indicators of COVID-19 in the community including daily data on Ireland's COVID-19 Vaccination Programme.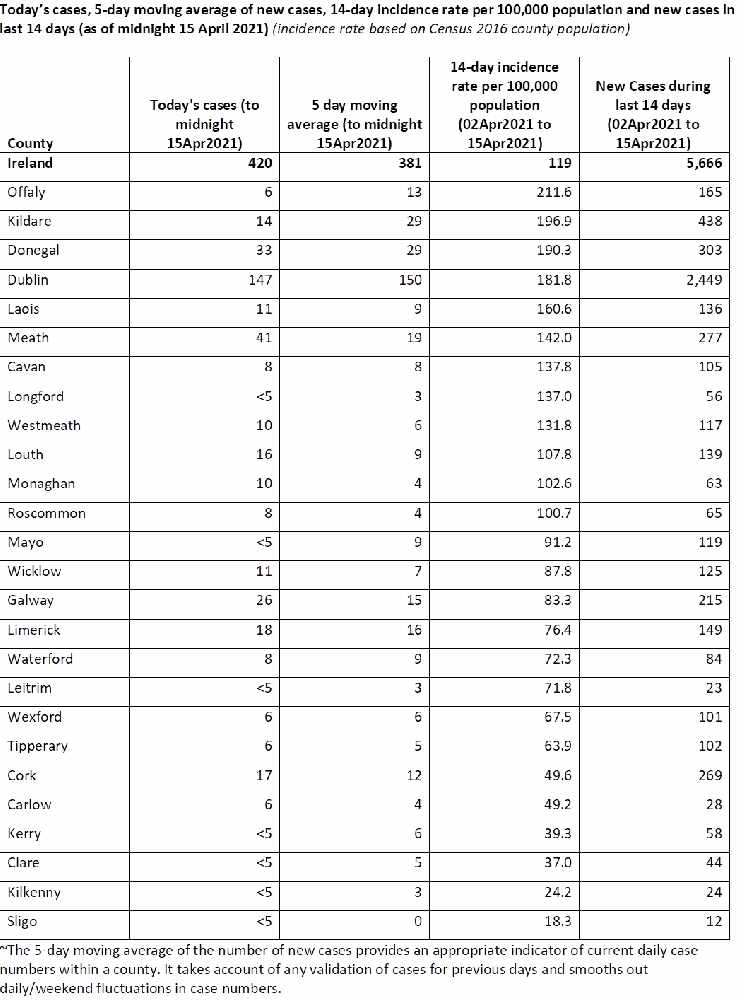 Live Aid:
Bob Geldof is in talks to create a LiveAid-style event to fund Covid-19 vaccines in poorer countries.
Former British Prime Minister Gordon Brown told the BBC he spoke to the singer about arranging a campaign in partnership with the People's Vaccine Alliance.
Mr Brown says the low vaccination levels in the developing world is a "form of apartheid" and called on the G7 nations to commit 25 billion euro a year to the global vaccination drive.

Vaccine anxiety:
GPs say they've noticed an increase in patient anxiety around the vaccination programme over the last number of days.
Out of 14 GPs contacted, five also said they've noticed an increase in vaccine hesitancy.
The change has occurred since NIAC recommended the AstraZeneca vaccine be given to people over the age of 60 only.
Monaghan based GP Illona Duffy says she has definitely noticed a change in attitude:
Tullamore still in top spot:
Tullamore in county Offaly continues to have the highest incidence rate of Covid-19 in the country.
Over the past two weeks there were 408 per 100,000 people more than three times the national average.
The figures from the Health Protection Surveillence Centre are up to Monday, when the national incidence rate was 131.
In total there are 10 local electoral areas with a rate greater than 300, including Ongar, Ballymun-Finglas and Donaghmede in Dublin, as well as Milford in Donegal and Cavan-Belturbet.
A number of those areas with high rates have had pop-up testing centres set-up to detect asypmtomatic cases in the past couple of weeks.
18 electoral areas nationally have a rate of less than five cases with areas of Kerry, Clare, Cork and Tipperary having some of the lowest infection rates in the country.
Covid in young people:
New research suggests previous Covid-19 infection doesn't fully protect young people against getting it again.
A study of more than 3-thousand US Marines aged between 18 and 20 found around 10 percent who'd already had Covid became re-infected.
But scientists say the close living quarters could have impacted the results.
Health screening:
An opportunity to redesign health screening of the whole population will arise from the aftermath of the Covid-19 pandemic.
That's according to the chair of the National Screening Advisory Committee, which is publishing its first annual report today.
The committee was set up last year following the Scally report into CervicalCheck.
Professor Niall O'Higgins, says the group is working at the frontiers of science:
Scotland:
Covid-19 travel restrictions have been removed in Scotland as more people are allowed to meet up outdoors.
From today groups of up to six adults from six households can socialise outside and people can travel between council areas.
First Minister, Nicola Sturgeon says the continued decline in virus cases meant restrictions could be relaxed earlier than planned.
Hospitality:
There's a call on the Government to immediately publish its plan to get hospitality reopened here.
The Vintners Federation of Ireland says pubs in the North have been told they can resume indoor drinking and dining on the 24th of May.
It's after the Tanaiste said he's increasingly confident the hospitality sector can open here by July.
Vintners Federation of Ireland Chief Executive, Padraig Cribben wants pubs to be allowed reopen at the same time as hotels and restaurants:
More testing centres:
The first of four new walk-in test centres will open today in Parnells GAA Club in Coolock in Dublin.
Another one will open in the The Liberties in Dublin and in Cahir, County Tipperary on Saturday.
While a fourth centre will open in Dublin on Sunday in Tallaght Stadium.
HSE National Lead for Testing and Tracing, Niamh O'Beirne says the system's worked very well in detecting cases:
Registration is now open for people aged 69 for your #COVIDVaccine. The quickest & easiest way to register is online. You'll need:
✔️PPSN
✔️Eircode
✔️Mobile number
✔️Email address
You will be vaccinated with the AstraZeneca vaccine. Register: https://t.co/5CbJwmbPUj #HoldFirm pic.twitter.com/CnHr3jZF99

— HSE Ireland (@HSELive) April 15, 2021
Damage to economy:
An economist says the Government's policy of rolling lockdowns may have caused lasting damage on the Irish economy.
Jim Power is also accusing the state of failing to carry out a proper risk assessment of current pandemic restrictions.
His report shows Ireland tops the Reuters league table of rolling lockdowns at 163 days, compared to 131 in second-placed Italy.
Jim Power says the Government's plan has damaged the economy and small firms may never reopen:
Third dose of Pfizer:
A third dose of the Pfizer vaccine is possible to be needed a year after the second.
The company's chief executive's told CNBC in the US that variants of the virus "will play a key role" in how regularly people will need their immunity topped up.
Dr Albert Bourla says a booster could be necessary every year after.
Changes to mandatory hotel quarantine system:
People who've been vaccinated against Covid-19 will be allowed to skip hotel quarantine, after new advice from the Acting Chief Medical Officer.
Quarantine bookings reopened overnight -- but the European Commission has now launched an investigation into the legality of Ireland's hotel isolation regime.
By tomorrow night, the main quarantine contractor Tifco will have 305 more rooms ready tomorrow night -- increasing capacity by 50% to 959 rooms.
And by the last Monday in April, there will be room for 1,607 in the system.
Health Minister Stephen Donnelly says he's determined to have "the strongest border biosecurity measures in Europe".
18 confirmed cases of Covid-19 have already been isolated in quarantine, four of them "probable variants of concern".
But the embassies of France, Belgium, Luxembourg, Austria and Italy have made a joint protest to the Department of Foreign Affairs.
Italian ambassador Paulo Serpi says the quarantine list is "discriminatory" -- and will push to have his country removed:
The European Commission's also confirmed it's opening an inquiry -- and is demanding answers on how officials in Dublin have decided what EU states are on the list.
New advice from the Acting Chief Medical Officer will allow passengers who've been fully vaccinated to skip quarantine.
Several people who've been fully inoculated have already been released on the orders of the High Court.
Minister Donnelly says he'll sign new regulations to exempt them within days.
Surpassing expectations:
Ireland's current Covid-19 numbers are 'better than anything we could have hoped for a few weeks ago', according to the National Public Health Emergency Team.
New cases of the virus have steadily dropped with 309 confirmed yesterday - bringing the five-day moving average to 358, down 12 percent on last week.
Latest figures show there were 174 patients with the disease in public hospitals, and 48 in ICU.
Deputy Chief Medical Officer Dr Ronan Glynn says the improvement is down to people following the public health advice: