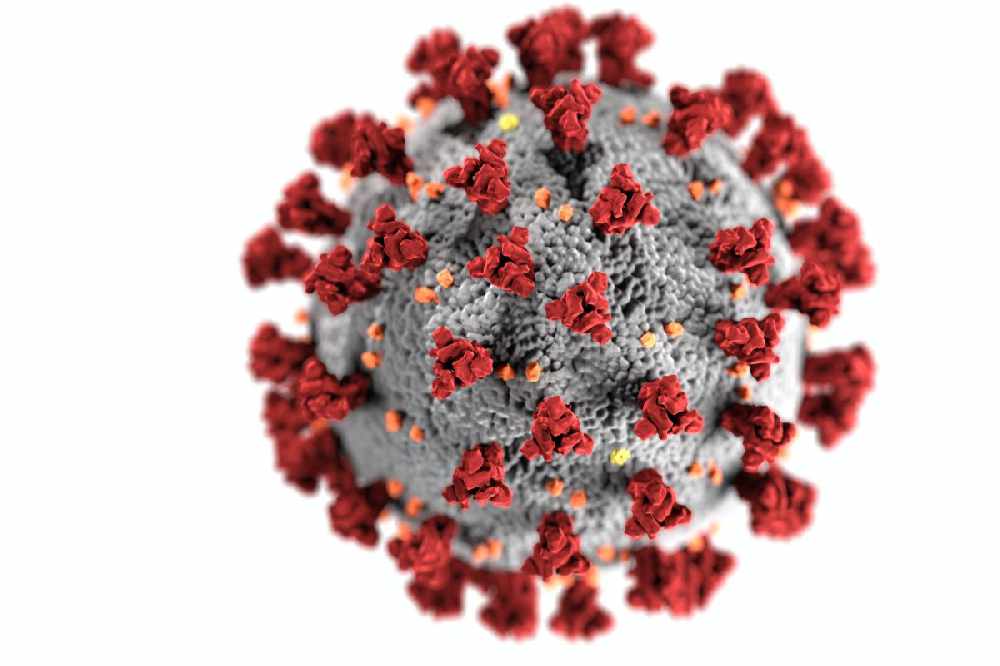 National news updates on Friday 5th March.
Latest figures:
The Health Protection Surveillance Centre has today been notified of 9 additional deaths related to COVID-19.
4 deaths occurred in March, 3 occurred in February and 1 in January*.
The median age of those who died was 82 years and the age range was 69-94 years.
There has been a total of 4,405 COVID-19 related deaths in Ireland.
As of midnight, Thursday 4th March, the HPSC has been notified of 522 confirmed cases of COVID-19. There is now a total of 222,169** confirmed cases of COVID-19 in Ireland.
Of the cases notified today:
275 are men / 243 are women

67% are under 45 years of age

The median age is 33 years old

280 in Dublin, 28 in Meath, 28 in Kildare, 26 in Cork and 19 in Donegal and the remaining 141 cases are spread across 19 other counties***.
As of 8am today, 426 COVID-19 patients are hospitalised, of which 102 are in ICU. 34 additional hospitalisations in the past 24 hours.
As of March 2nd, 460,637 doses of COVID-19 vaccine have been administered in Ireland:
316,056

people have received their first dose

144,581

people have received their second dose
The COVID-19 Dashboard provides up-to-date information on the key indicators of COVID-19 in the community including daily data on Ireland's COVID-19 Vaccination Programme.
*There is one death where the date of death is under investigation.
**Validation of data at the HPSC has resulted in the denotification of 2 confirmed cases. The figure of 222,169 confirmed cases reflects this.
***County data should be considered provisional as the national Computerised Infectious Disease Reporting System (CIDR) is a dynamic system and case details are continually being validated and updated.
Today's cases, 5-day moving average of new cases, 14-day incidence rate per 100,000 population and new cases in last 14 days (as of midnight 04 March 2021) (incidence rate based on Census 2016 county population)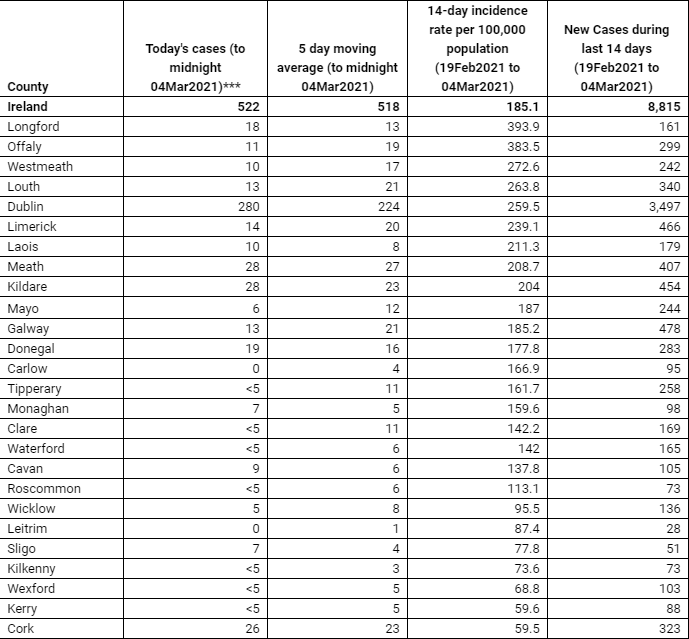 ~The 5-day moving average of the number of new cases provides an appropriate indicator of current daily case numbers within a county. It takes account of any validation of cases for previous days and smooths out daily/weekend fluctuations in case numbers.
7-day incidence 82.6

5-day moving average 518
Antivax:
There's concern that anti-vaccination books are being sold on Amazon, with five of the top ten best sellers in the children's vaccination category promoting misinformation.
Anti-vax books are also being sold by Waterstones and Foyles.
Here, just under 500 thousand injections have been administered - however there are fears that people will not take one due to conspiracy theories.
Pregnancy:
The deputy CMO says there are no plans to move pregnant women up the vaccine queue after reports linking Covid to stillbirths.
Health officials yesterday said there have been four preliminary reports of this where the virus could have been a factor.
But Dr Ronan Glynn says the details around the stillbirths have not yet been confirmed.
He says officials will wait for more information before changing any health advice.
Vaccine:
A public health expert says it's frustrating that the targets for the covid 19 vaccine are not being met.
The aim of 100 thousand doses last week was missed by the HSE and it will miss it's vaccine target for the second week in a row.
The shortfall is being put down to issues with the supply of the AstraZeneca doses.
Trinity College Dublin Professor of Experimental Immunology, Professsor Kingston Mills says new vaccines will help tackle the problem:
Globally:
Amnesty International's calling for urgent action to speed up the vaccination of frontline health workers around the world.
It's research shows at least 17 thousand health workers globally have died from Covid 19 over the last year.
It says there are more than 100 countries where not a single vaccine dose has been given to a health worker or patient.
Amnesty International spokesperson, Steve Coburn says it's vital to protect frontline workers:
R-Number:
The number of Covid-19 patients in public hospitals has fallen to its lowest level since December 29th.
It dropped to 427 last night - compared to 1,239 on the same day last month.
There are 105 patients in intensive care with the virus, continuing a fall from the peak of 221 in January.
Another 462 new cases of Covid-19 were confirmed yesterday, along with 39 additional deaths.
Professor Philip Nolan, who chairs NPHET's modelling group, says the country's R number remains below 1: