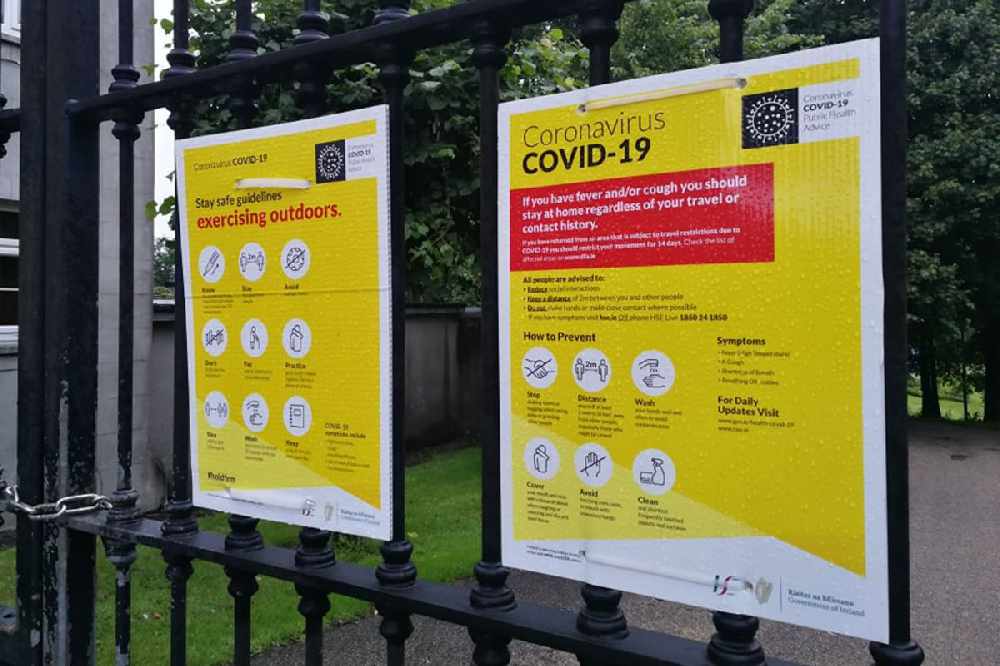 National news updates on Thursday 18th February.
Latest figures:
The Health Protection Surveillance Centre has today been notified of 47 additional deaths related to COVID-19.
44 of these deaths occurred in February, 2 occurred in January and 1 in December.
The median age of those who died was 81 years and the age range was 51 - 99 years.
There has been a total of 4,082* COVID-19 related deaths in Ireland.
As of midnight, Wednesday 17th February, the HPSC has been notified of 901 confirmed cases of COVID-19. There is now a total of 212,647** confirmed cases of COVID-19 in Ireland.
53 of the new cases are in the midlands - 22 in Laois, 16 in Westmeath, and 15 in Offaly.
Of the cases notified today:
473 are men / 422 are women

65% are under 45 years of age

The median age is 36 years old

437 in Dublin, 49 in Limerick, 43 in Galway, 39 in Kildare, 32 in Meath and the remaining 301 cases are spread across all other counties.***
As of 8am today, 771 COVID-19 patients are hospitalised, of which 151 are in ICU. 48 additional hospitalisations in the past 24 hours.
As of February 15, 280,581 doses of COVID-19 vaccine have been administered in Ireland:
182,193 people have received their first dose

98,388 people have received their second dose
The COVID-19 Dashboard provides up-to-date information on the key indicators of COVID-19 in the community including daily data on Ireland's COVID-19 Vaccination Programme.
*Validation of data at the HPSC has resulted in the denotification of 1 death. The figure of 4,082 deaths reflects this.
**Validation of data at the HPSC has resulted in the denotification of 5 confirmed cases. The figure of 212,647 cases reflects this.
***County data should be considered provisional as the national Computerised Infectious Disease Reporting System (CIDR) is a dynamic system and case details are continually being validated and updated.
Northern Ireland:
There will be a review of Northern Ireland's Covid-19 lockdown later, with the attention likely to be on schools.
Current restrictions are in place until March 5th - but the Executive's meeting to look at them again.
This current set of measures started on December 26th.
Education Minister Peter Weir says a definite answer about when classrooms can reopen for all children could come today.
Quarantine:
Mandatory quarantine for some international arrivals has moved a step closer after Cabinet signed-off on the new legislation last night.
Anyone arriving from 20 'high risk' countries, including Brazil and South Africa, will have to isolate at their own expense.
If they don't, they face fines of 4,000 euro and a month in prison, according to the Irish Independent.
The legislation will now go to the Dáil for debate, which is likely to be next week.
Variants:
The Taoiseach says health officials are 'hugely concerned' as the British variant now accounts for 90 per cent of Covid-19 cases.
It comes as the death toll from the virus exceeded 4,000 here yesterday, and 6,000 on the island of Ireland.
57 additional deaths were reported, along with 650 new cases.
There are 765 patients in public hospitals with the virus, which includes 151 in intensive care.
Dr Gerald Barry, an assistant professor of virology in UCD, says the decline of cases may slow down in the coming weeks.:
Reopening:
The cabinet sub-committee on Covid will meet this afternoon to get advice on when parts of the economy might re-open in the coming months.
Schools and construction are the two areas likely to be given priority.
Many of the big decisions about how the next few months will unfold will be informed by what happens at this evening's meeting.
NPHET will feed advice to the government - recommendations that will be very hard to go against for Ministers after the mistakes made in December.
It's expected to advise on a school re-opening date that could be as early as March 1st.
That will happen on a phased basis starting with Leaving Certs and the younger classes in primary school, and will be reviewed every two weeks.
NPHET will also advise on whether construction can more fully open in March.
Some Ministers are skeptical this can happen given the high number of cases, but the Department of Housing has prepared significant evidence that the sites that have been open to date have operated safely, in order to support its case.
The advice from NPHET will feed into the revised living with COVID plan which will be published next Tuesday.
But any easing of restrictions in March and April are expected to be very limited.