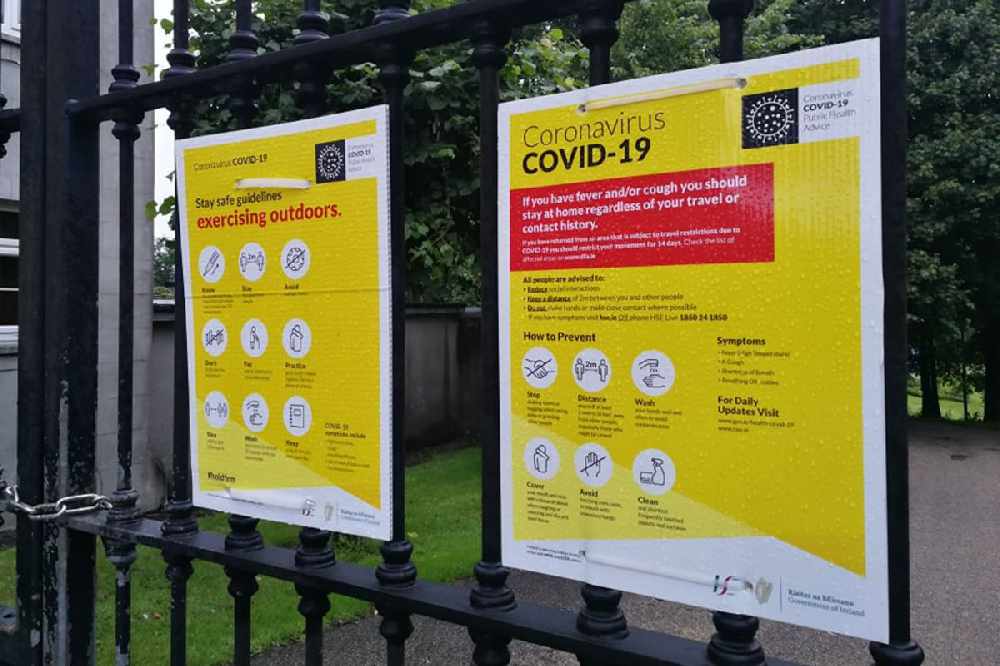 National news updates on Thursday 19th November.
Latest Figures:
The Health Protection Surveillance Centre has today been notified of 4 additional deaths related to COVID-19.
There has been a total of 2,010 COVID-19 related deaths in Ireland.
As of midnight Wednesday 18th November, the HPSC has been notified of 429 confirmed cases of COVID-19. There is now a total of 69,473* confirmed cases of COVID-19 in Ireland.
Of the cases notified today;
194 are men / 234 are women
69% are under 45 years of age
The median age is 34 years old
173 in Dublin, 44 in Cork, 26 in Donegal, 22 in Louth, 21 in Kildare and the remaining 143 cases are spread across the remaining 20 counties.
As of 2pm today 290 COVID-19 patients are hospitalised, of which 33 are in ICU. 15 additional hospitalisations in the past 24 hours.
Dr. Tony Holohan, Chief Medical Officer, Department of Health, said; "In our objective to use a six-week period to drive down COVID-19 infection in the community, our progress has stalled in the last week.
"We now have two weeks to get back on track. Drive down the disease by limiting the number of daily contacts you have. Work from home, stay at home and follow public health advice to get us to a reproduction number below 0.5 by December 1st."
Dr. Ronan Glynn, Deputy Chief Medical Officer, Department of Health, said; "Deaths associated with COVID-19 have increased by 18% in the European region over the past fortnight. Last week alone, Europe registered over 29,000 new deaths. That is one person dying every 17 seconds. We have made significant progress in Ireland over recent weeks, but the disease and its risks have not changed. Please continue in your efforts to follow public health advice, limit the transmission of COVID-19 in Ireland and protect those who are most vulnerable in our families and across our communities."
Professor Philip Nolan, Chair of the NPHET Irish Epidemiological Modelling Advisory Group, said; "For 3 weeks we saw case numbers declining at a rate of 5 -7% per day and a reproduction number as low as 0.6. We are aware that case numbers have now stopped declining and as a consequence the reproduction number has increased to an estimated 0.7- 0.9.
The data strongly suggests that a small, recent increase in the level of social contacts has led to the increase in reproduction number we see now. A small additional effort to reduce our contacts will make a big difference to reduce disease incidence before December 1st."
Dr. Colm Henry, Chief Clinical Officer, HSE "This pandemic has placed huge demands on our healthcare workers in addition to the standard care of patients. Their work now involves additional infection prevention and control measures which require constant vigilance and awareness. The best way we all can show our appreciation for their work is by doing your part to reduce community transmission."
The COVID-19 Dashboard provides up-to-date information on the key indicators of COVID-19 in the community.
*Validation of data at the HPSC has resulted in the denotification of 14 confirmed cases. The figure of 69,473 confirmed cases reflects this.
County

Today's cases (to midnight 18NOV2020)

14-Day incidence rate per 100,000 population (05Nov2020 to 18NOV2020)

New Cases during last 14 days

(05Nov2020 to 18NOV2020)

Ireland

429

116.5

5,548

Donegal

26

264.5

421

Limerick

14

221.7

432

Louth

22

175.4

226

Roscommon

6

167.3

108

Waterford

7

154.9

180

Offaly

6

150.1

117

Westmeath

<5

137.4

122

Meath

20

127.2

248

Dublin

173

124.6

1,679

Monaghan

9

118.9

73

Kilkenny

9

114.9

114

Tipperary

12

105.9

169

Mayo

8

104.2

136

Clare

5

103.5

123

Longford

0

100.3

41

Leitrim

<5

96.7

31

Laois

<5

95.6

81

Cavan

5

93.2

71

Carlow

9

91.3

52

Kerry

<5

86.7

128

Kildare

21

84.5

188

Cork

44

80.9

439

Sligo

<5

74.8

49

Galway

<5

70.9

183

Wicklow

7

56.9

81

Wexford

8

37.4

56
Post-Level 5 plans:
The Environment Minister says heated and passionate arguments are taking place about how to exit Level 5 restrictions.
The National Public Health Emergency Team is meeting today to discuss the spread of the virus.
Eamon Ryan says he would like to see people returning to their workplace one a day a week.
He also feels shops and gyms could reopen for people's mental health:
Mass testing:
A leading immunologist says the government's reluctance to introduce mass, rapid Covid-19 testing in Ireland is disappointing.
Health Minister Stephen Donnelly has said while he believes antigen testing could be a game-changer, public health officials are telling him they're not yet satisfied with the data.
But Trinity Professor Luke O'Neill says the tests have been cleared for use in America:
Student grant:
Third level students who receive the SUSI grant will get a 250 euro top up before Christmas.
The Department of Higher Education has launched a 50 million euro once-off payment scheme for students, recognising the strain the pandemic has put on their lives.
People who do not receive the SUSI grant can reduce their outstanding college fees by €250.
Minister Simon Harris will meet with presidents of all third level institutes today to discuss college life in the new year.
Retail roadmap:
The hospitality sector is among those calling for a clear roadmap over what happens when Level 5 is supposed to end in two weeks.
The National Public Health Emergency Team is meeting later to discuss concerns about the increase in covid cases.
Elaina Fitzgerald Kane from the Irish Hotels Federation says they need to have clarity before next week:
Living at home:
The Covid-19 pandemic has forced many young people to move back into their parents' homes.
A survey in the UK by comparethemarket-dot-com has revealed two-fifths of 18 to 34 year-olds have, or are planning to return to the nest.
The majority needed to for financial reasons - but a quarter thought it would be better for their mental health.
Dublin Airport testing:
One of two new Covid-19 test centres at Dublin Airport will open today - the second has been delayed until after the weekend
The facilities are to help passengers as part of the EU's new traffic light system for international travel.
The two centres were both due to start operations today, but only the drive through option will be open.
The walk in centre next to Terminal 2 won't be up and running until Monday.
The move to open airport testing comes as the travel and tourism sector aims to get back up and running under the EU traffic light system which Ireland has signed up to.
However, the government is still advising against non essential travel as part of our level 5 restrictions.
Meanwhile the outlook for the sector overall remains bleak - yesterday Norwegian Air become the latest airline to apply for examinership while Easy Jet announced its first annual loss in its 25 year history.
Covid in schools:
A teachers' union claims some schools are not following Covid-19 public health measures.
At today's Oireachtas Education Committee, the Teachers' Union of Ireland will call for enforcement where non-compliance is found.
Meanwhile Forsa will voice its concern at the lack of clarity regarding the supply of PPE to staff, and will accuse the department of minimising its use in schools.
Committee member, Sinn Féin's Rose Conway-Walsh, says they'll be looking for more detail on schools adherence to public health measures:
Exiting Level 5:
The Taoiseach says a decision on exiting Level 5 restrictions in early December will be made next week.
Micheál Martin told a meeting of the Fianna Fáil parliamentary party last night that he wants people to have a 'wholesome and enjoyable' Christmas.
A Dáil debate on exiting Level 5 will take place on Tuesday, however the ultimate decision will be taken by cabinet later in the week.
It comes as the number of deaths from Covid-19 here has now passed 2,000 - a further 12 deaths were reported yesterday along with 379 new cases.
Infectious disease specialist at the Royal College of Surgeons, Professor Sam McConkey, says the current trends mean we should be extending the lockdown rather than easing it: