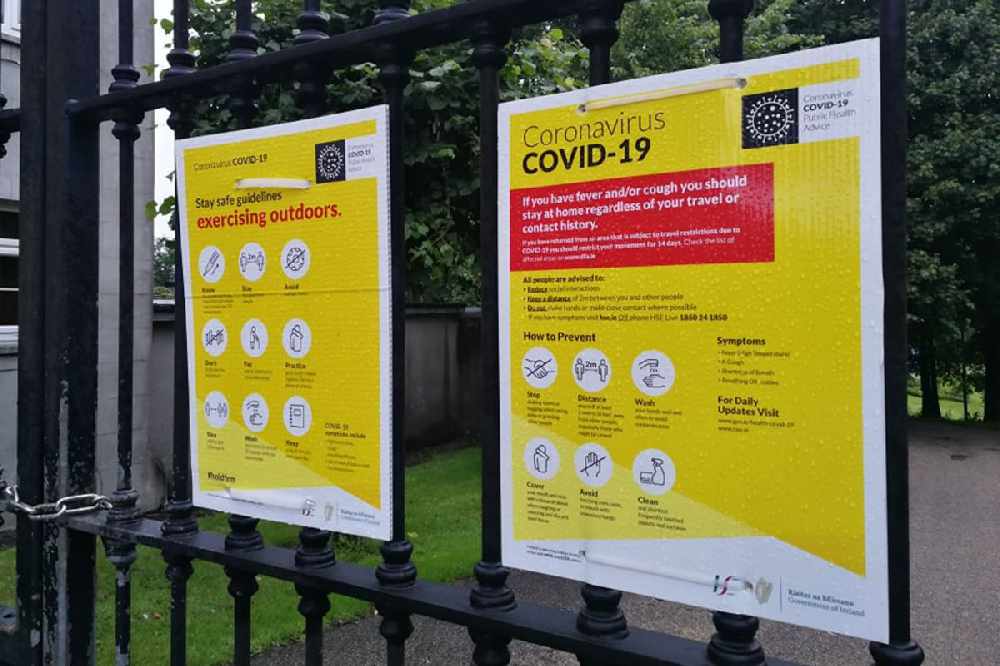 National news updates on Tuesday 20th April.
Latest figures:
The Health Protection Surveillance Centre has today been notified of 11 additional deaths related to COVID-19.
Of the deaths notified today, 4 occurred in April, 2 in March, 4 in February and 1 in January.
The median age of those who died was 83 years and the age range was 50-93 years.
There has been a total of 4,847 COVID-19 related deaths in Ireland.
As of midnight, Monday 19th April, the HPSC has been notified of 390 confirmed cases of COVID-19.
There has now been a total of 244,297* confirmed cases of COVID-19 in Ireland.
Of the cases notified today:
215 are men / 174 are women

67% are under 45 years of age

The median age is 34 years old

172 in Dublin, 42 in Kildare, 21 in Meath, 20 in Tipperary, 18 in Donegal and the remaining 117 cases are spread across 19 other counties.**
As of 8am today, 179 COVID-19 patients are hospitalised, of which 48 are in ICU. 18 additional hospitalisations in the past 24 hours.
As of April 18th, 2021, 1,208,459 doses of COVID-19 vaccine have been administered in Ireland:
855,512 people have received their first dose

352,947 people have received their second dose
The COVID-19 Dashboard provides up-to-date information on the key indicators of COVID-19 in the community including daily data on Ireland's COVID-19 Vaccination Programme.
*Validation of data at the HPSC has resulted in the denotification of 4 confirmed cases. The figure of 244,297 confirmed cases reflects this.
**County data should be considered provisional as the national Computerised Infectious Disease Reporting System (CIDR) is a dynamic system and case details are continually being validated and updated.
7-day incidence 55.3

5-day moving average 380
Today's cases, 5-day moving average of new cases, 14-day incidence rate per 100,000 population and new cases in last 14 days (as of midnight 19th April 2021) (incidence rate based on Census 2016 county population)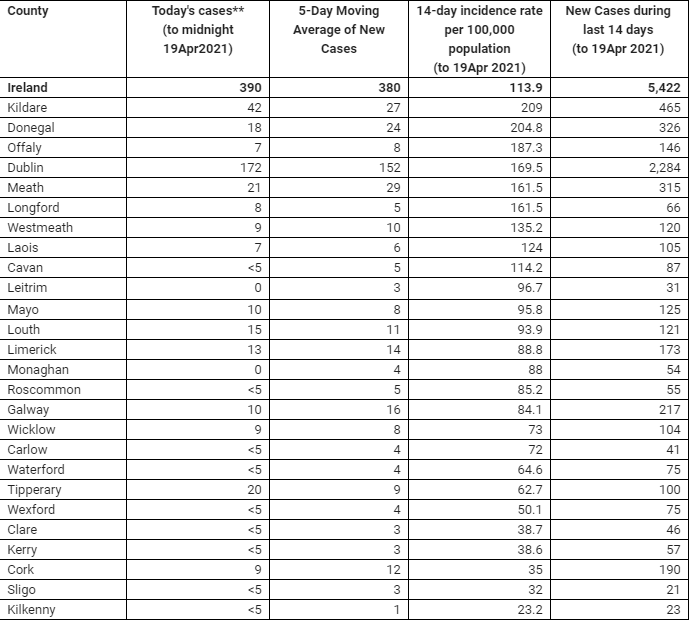 ~The 5-day moving average of the number of new cases provides an appropriate indicator of current daily case numbers within a county. It takes account of any validation of cases for previous days and smooths out daily/weekend fluctuations in case numbers.

CMO:
There's been no advice on changing the interval period for the Pfizer and Moderna Covid-19 vaccines, according to the Acting Chief Medical Officer.
The Government is believed to be considering extending the gap between the first and second doses from four weeks to between six and eight.
Some experts claim it would give the country the ability to give 80 percent of adults a first dose by the end of May.
Dr Ronan Glynn says officials are waiting to see what happens with the Johnson and Johnson vaccine:
Rollout:
The HSE will give an update on when people can get a Covid-19 vaccine over the coming months when it goes before the Oireachtas Health Committee later.
It's believed people aged 59 are due to receive a first dose of a vaccine in early May.
The plan is expected to exclude Johnson and Johnson's vaccine - the roll-out of which has been put on hold due to concerns of blood clotting events in the US.
The National Immunisation Advisory Committee will also attend the hearing.
Health Committee Chair is Fianna Fáil's Sean Crowe - he said despite progress there are still alot of concerns surrounding the roll-out:
Wales:
Wales is allowing pubs, restaurants and cafes to resume serving food and drink outdoors from next Monday.
Other Covid restrictions are also being eased.
From this Saturday, six people from different households will be able to meet outdoors.
Figures:
The incidence rate of Covid-19 nationally has fallen by 12 percent in the past week.
It now stands at 115, with seven counties with rates of less than 50 cases per 100,000 people over the past 14 days.
The number of patients in public hospitals has continued to fall to 175, while there were 48 in ICU overnight.
Last night the National Public Health Emergency Team confirmed 403 new cases of the virus were detected, while there were no new linked deaths reported.