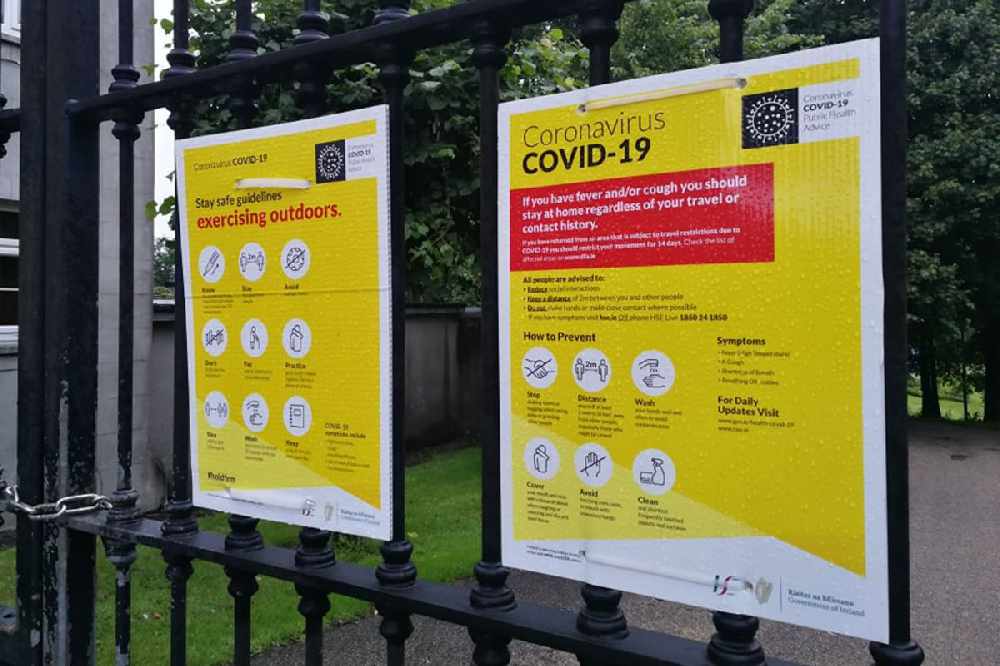 National news update on Wednesday 22nd July.
Latest Figures:
The Health Protection Surveillance Centre has today been informed that one person with COVID-19 has died.
There's been 1 further death from Covid 19 here while 17 more cases have been confirmed.
For the second day in a row, there's been a new case in Laois, bringing the total in the county to 267.
There's also been a further new confirmed case in Offaly, there's now been 487 cases there.
Westmeath has had no new cases today, leaving the total at 676 in the county.
The death toll is 1754, while there are now 25, 819 confirmed cases in the Republic.
As of midnight Tuesday 21st July, the HPSC has been notified of 17 confirmed cases of COVID-19. There is now a total of 25,819 confirmed cases of COVID-19 in Ireland.
The HSE is working to identify any contacts the patients may have had to provide them with information and advice to prevent further spread.
Dr. Ronan Glynn, Acting Chief Medical Officer, Department of Health, said; "I appreciate how difficult it is for people to limit their social activities and to physically distance from friends and loved ones.
"These actions are vital to our collective effort to suppress this highly infectious disease as we work towards reopening our schools and our healthcare services, and to protect our healthcare workers who have been at the frontline of this pandemic over the past six months."
US:
Donald Trump has urged Americans to wear masks, after what he called a "concerning" rise in coronavirus cases in the country's southern sunbelt.
The US president says many of those getting sick are under 35, even though the average age of those dying is 78.
America's had more Covid-19 cases than any other country, with more than 3-and-a-half million recorded.
At a White House briefing, Mr Trump's admitted there may be worse to come:
Case in creche:
A member of staff at a North Dublin creche is thought to be the first in the sector to test positive for Covid-19.
Tusla and the HSE have both refused to comment, but the Minister for Children confirmed the positive test to the Dáil late last night.
He said his officials have been assured "all necessary actions have been taken".
Sinn Féin's spokesperson for children, Kathleen Funchion, says the positive test is a huge concern for the childcare sector:
The Children's Minister says all necessary actions are being taken on the issue.
It's understood the worker tested positive last week but didn't have any symptoms at the time.
Parents of the children have been informed and appropriate testing is underway.
Minister Roderic O'Gorman says the situation is under control and nobody else has tested positive from the creche so far:
Professor Sam McConkey from the Royal College of Surgeons says children usually aren't considered high risk:
Re-imposing restrictions:
A leading health professor believes people should be told not to travel outside their own counties, unless it's essential.
The country reported its highest number of cases in a single day yesterday, at 36, but there were no new deaths.
The total number of cases is now 25,802, while the death toll remains at 1,753.
DCU health professor Anthony Staines says it's time to re-impose some restrictions:
COVID19 (coronavirus) update from Royal College Physicians (RCPI) https://t.co/DZ59Fe6Z8i

— HSE Ireland (@HSELive) July 22, 2020
Green List:
The government has agreed on a 'green list' of 15 countrys it's safe for people to travel to without having to quarantine upon return.
It was agreed at a meeting of Cabinet late last night after a day of obvious division in government over the plans.
However the official advice remains for people to only undertake essential travel.
Italy, Cyprus and Greece are all listed, as well as Finland, Norway, and the Danish territory of Greenland, but not Denmark itself.
The Baltic states of Estonia, Lithuania and Latvia are included, as are Hungary, Slovakia, Monaco and San Marino.
Arrivals from those states won't have to restrict their movements for fourteen days, but the controls will continue for everywhere else beyond the island of Ireland.
The list will be reviewed every fortnight based on public health advice
The government says it will press ahead with plans to beef up the monitoring of new arrivals, including a proposal to test passengers who have symptoms at ports and airports.
Passengers on a flight from the Lithuanian capital of Vilnius which landed at Dublin Airport at sixteen minutes past midnight were the first arrivals to benefit.
There's been criticism of the lack of an all-island approach with the plan, as Northern Ireland's 'green list' includes 58 countries.
But Dr Martin Daly, a former president of the Irish Medical Organisation, says the North's approach is wrong:
The Transport Minister says people should still stay in Ireland.
Eamon Ryan says the message is still to avoid all non-essential travel:
Local figures:
36 further cases of Covid-19 have been confirmed in Ireland today.
One of those is in Laois, bringing the total in the county to 266.
One case in Westmeath has been redesignated bringing their total to 676 while Offaly remains unchanged at 486 confirmed cases.
No further deaths of patients have been recorded in Irish hospitals.