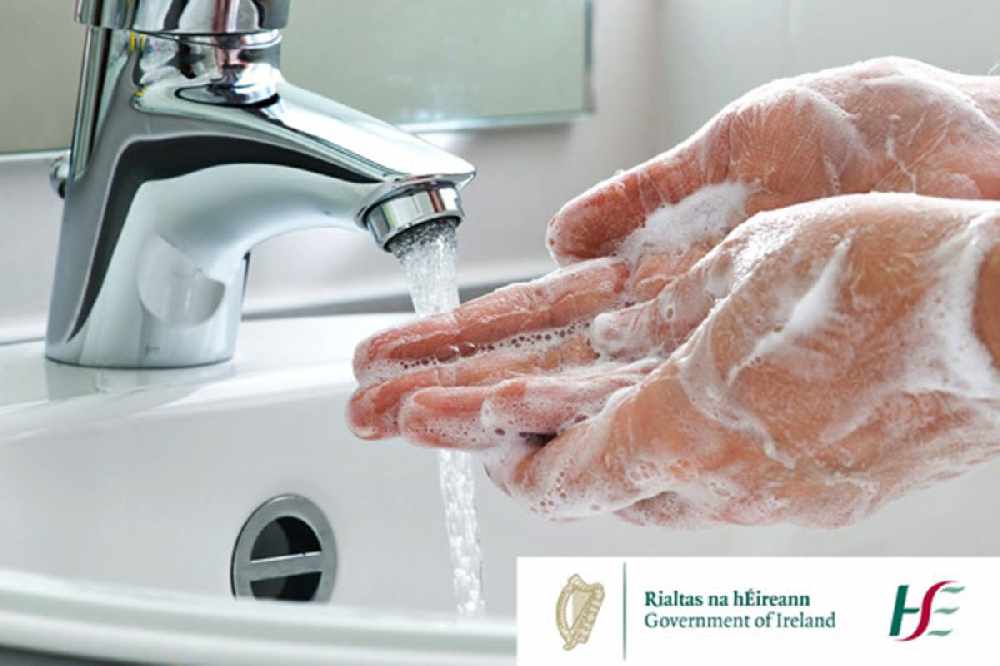 National news updates on Wednesday 28th April.
Figures:
The Health Protection Surveillance Centre has today been notified of 13 additional deaths related to COVID-19.
3 deaths occurred in April, 3 in March, and 7 in February or earlier.
The median age of those who died was 85 years and the age range was 60 - 95 years.
There has been a total of 4,896* COVID-19 related deaths in Ireland.
As of midnight, Tuesday 27th April, the HPSC has been notified of 371 confirmed cases of COVID-19.
There has now been a total of 247,857** confirmed cases of COVID-19 in Ireland.
Of the cases notified today:
190 are men / 181 are women
77% are under 45 years of age
The median age is 28 years old
131 in Dublin, 38 in Kildare, 33 in Donegal, 18 in Cork, 17 in Meath and the remaining 134 cases are spread across 17 other counties***
As of 8am today, 153 COVID-19 patients are hospitalised, of which 45 are in ICU. 17 additional hospitalisations in the past 24 hours.
As of April 26th, 2021, 1,417,942 doses of COVID-19 vaccine have been administered in Ireland:
1,014,640 people have received their first dose
403,302 people have received their second dose
The COVID-19 Dashboard provides up-to-date information on the key indicators of COVID-19 in the community including daily data on Ireland's COVID-19 Vaccination Programme.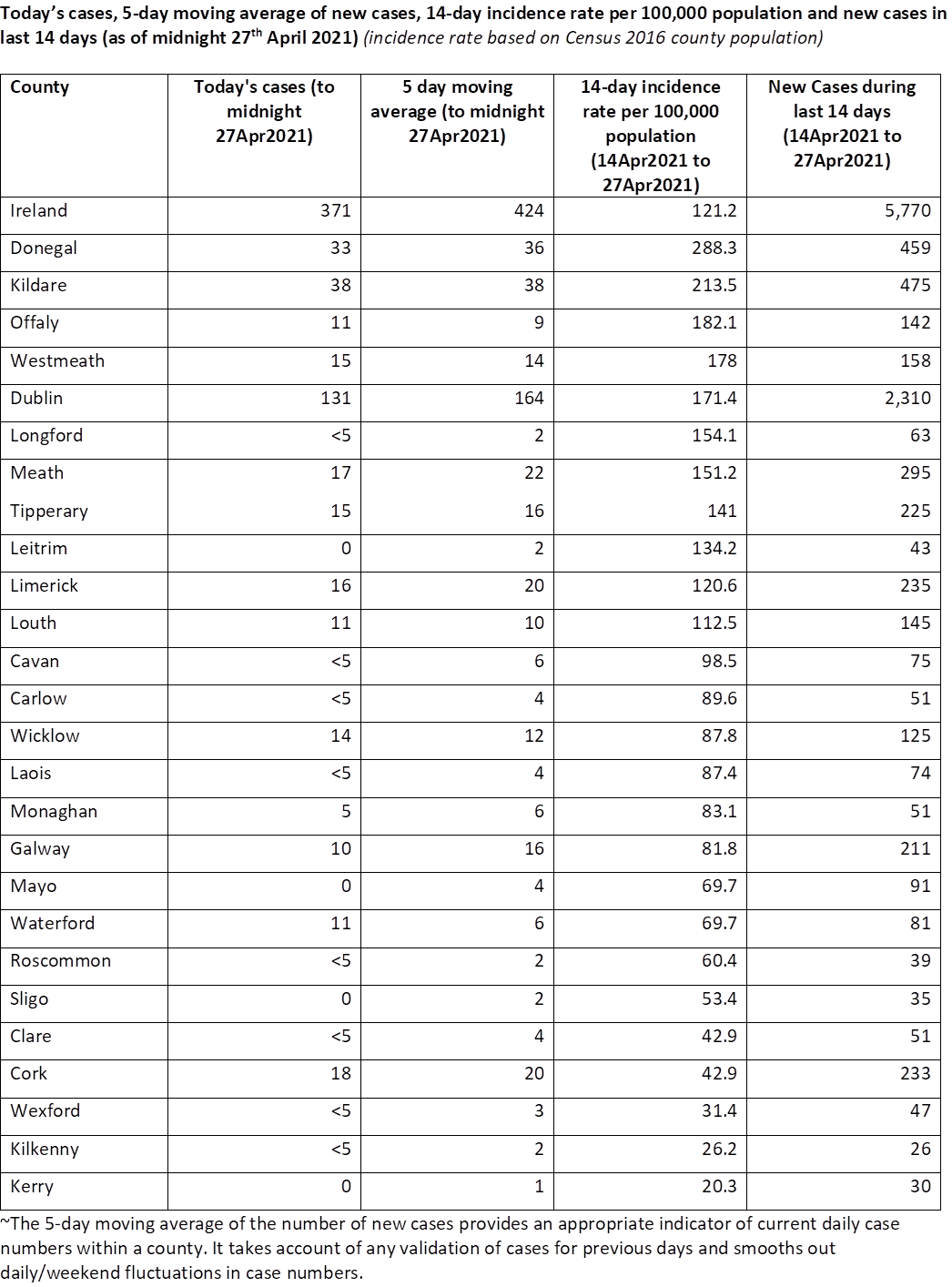 India:
The scale of cremations in India appears to suggest Covid deaths are being widely under-reported.
Most crematorium are struggling to meet demand.
The official death toll linked to the virus in India has hit 200-thousand.
But media outlets are recording significant discrepancies between official fatalities and the actual number of bodies.
Meanwhile, hospitals are lacking life-saving oxygen and beds - something that's angered Nishant Wadhwan, one of many to lose a loved one to Covid in hospital:
US:
Americans who've been fully vaccinated against Covid-19 won't need to wear masks outside, in a relaxation of the rules.
US officials previously advised people to have one on if they were within six feet of each other.
They're still recommending the use of face coverings in big crowds - like at stadiums.
More than half of adults in the country have now had at least one dose.
Optimism on vaccine target:
A former head of the HSE says it's definitely possible for 82 per cent of the adult population to get their first Covid vaccine by June.
The current rate is 26 per cent, with nearly 1.4 million first and second doses administered.
Yesterday the Johnson and Johnson and AstraZeneca vaccines were approved for use in the over-50s.
And Tony O'Brien says the government's end-of-June target can now be reached:
Vaccine update

For more info visit: https://t.co/lx1E5hp4bL pic.twitter.com/CxEJJAUey6

— Department of Health (@roinnslainte) April 27, 2021
Dublin Airport arrivals:
The number of people who flew into Dublin Airport decreased by nearly 17 per cent last week.
There were 10,075 arrivals - over 2,000 fewer than the week before.
The figure has decreased by 29 per cent in two weeks, with mandatory hotel quarantine now applying to 71 countries and territories.
Fine Gael senator Regina Doherty is calling for that policy to end in two months' time:
Vaccine passport:
MEPs in the European Parliament will vote on the proposal for a digital green certificate today.
The 'Covid passport' would allow a return to free movement of people across the EU this summer.
It would show whether someone's been fully vaccinated, tested negative or recovered from the virus.
Fianna Fáil MEP Barry Andrews says it should move a step closer to reality today, and be introduced in two months' time:
Hospital numbers:
The number of Covid-19 patients in public hospitals has dropped below 150 for the first time in nearly seven months.
The figure fell to 148 last night - the lowest since October 6th - while there are 47 in intensive care.
426 new cases of the virus and 10 deaths were reported yesterday.
Dr Shane McKeogh runs GP Buddy, which tracks calls to surgeries across the country - he says they have stalled this month:
Lifting of further restrictions:
Significant parts of the hospitality sector could re-open in June under plans being considered by the government today.
The cabinet sub-committee on Covid will meet this evening to discuss re-opening plans for the next few months.
NPHET will meet this morning to consider the Covid situation and prepare advice on what restrictions they think it's safe to lift in May.
The restrictions likely to ease in May have been well flagged:
The return of non-essential retail starting with click and collect; personal services like barbers, hairdressers and beauticians; and the full return of construction.
Museums, galleries and libraries are also likely to open in May, while religious services like mass could resume as early as next week.
The government is also examining a range of outdoor activities including non-contact training for adults and allowing more households to meet up outdoors.
Plans for June will also be drawn up with the expected return of domestic tourism through the opening of hotels, b&bs and guesthouses.
At Fianna Fáil's parliamentary party meeting last night there was a push to ensure pubs and restaurants could open in some form, with no distinction between wet pubs and gastropubs.
It's expected inter-county travel may also be allowed to return in June.
Sources at the meeting said the Taoiseach was generally supportive, but non-committal on dates - saying they have to get the balance right on hospitality.
NPHET will meet this morning to consider the situation before advising a team of senior Ministers at the cabinet COVID sub-committee this evening.
The final sign off will be done by the full cabinet tomorrow.
President of the Irish Hotels Federation, Elaina Fitzgerald Kane, says news of a June return is welcome:
But UCC Virus expert, Professor Gerry Killeen, says reopening without a plan to get infection rates down further is worrying: