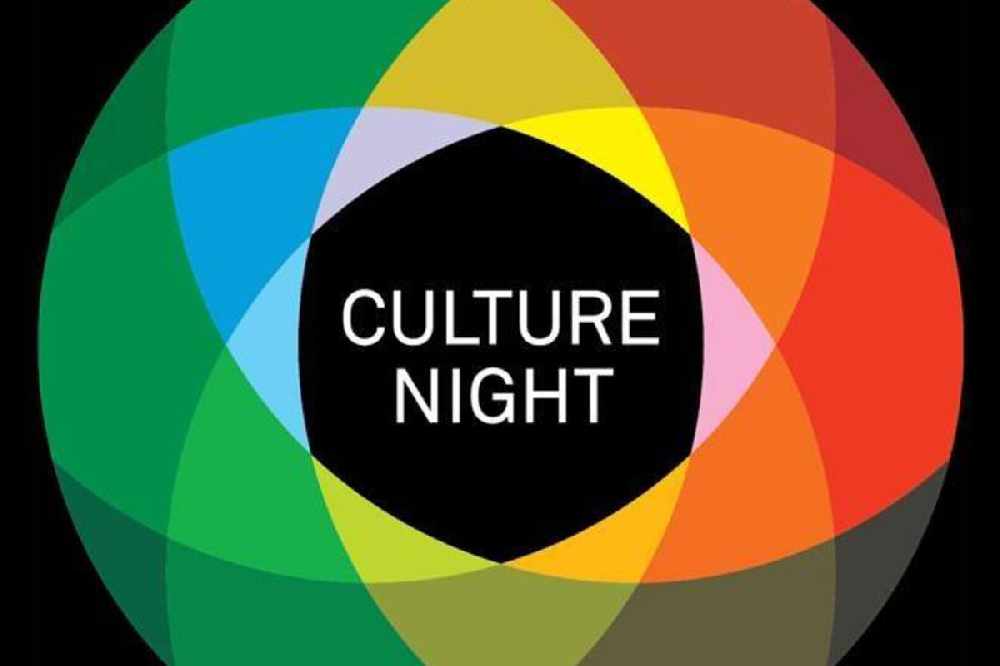 1,800 events are planned around the country.
More than 1,800 events are planned around the country as part of Culture Night, which gets underway this evening.
Close to 750,000 people participated in last year's events.
Communications and Engagement Coordinator with the Westmeath Arts Office, Laura McCormack says it's a night to show everything that the arts has to offer:
Sinead O'Reilly from the Arts Council said there will also be an array of outdoor events taking place:
So what's on offer in the midlands?
LAOIS
A highlight of the evening will be the official launch of 'Protectour' by Artist James Hayes. The polished concrete & stainless steel sculpture references the footprint of the historic Old Fort, Portlaoise and the celebratory nature of sport and participation to mark the nearby O'Moore Park GAA grounds. This artwork was commissioned under Open Competition by Laois County Council and funded by the Per Cent for Art scheme. The sculpture will be Launched by Cathaoirleach Thomasina Connell.
The Dunamaise Arts Centre host Live Sketching as well as the opportunity to view the wonderful Fadó Faces Exhibition from early until 8pm.
Also at the Dunamaise, enjoy a delicious & entertaining taste of international cuisine and culture in the company of fellow Laois community members from all over the world!
Portlaoise Library will host an Art workshop for Children with artist Caroline Keane. Suitable for children between 8 and 12, the children will use clay and a mix of other mediums to recreate pop up art of some characters from well-loved books.
For music lovers, Music Generation Laois will present award-winning Trad Flute Player Tommy Fitzharris, & Friends for a special evening of music celebrating our county's rich cultural diversity, open to all members of our community, at Laois Music Centre, Church Ave, Portlaoise. Lovers of the art of Dance can visit the Dance Laois Studio, Hynds Square, Portlaoise to see 'Memory Lane' as Laois Youth Dance Ensemble present a multidisciplinary exhibition.
The programme also includes events around the county including an invitation to visit Charis Garden Ballyadams and view the wonderful Garden and historic site of Ballyadams House with a poetry reading from the head gardener Jeremy Haworth.
Clonaslee also has a wonderful event called 'Where the Wild Things Grow' that includes foraging in Brittas Woods and a gathering at Clonaslee Heritage Centre for a chat and some local food and beverages from local foodies Hikers & Bikers aka the Sweeney sisters. Open to all ages. Emo Court will conduct a free guided tour of the exterior of this wonderful historical house.
Mountrath Youth Theatre will present an exhibition of photographs created as part of a series of free workshops for young people between the ages of 12-25, at the Square Mountrath weather permitting and indoors a short video of the young photographers telling the story of their work.
In Mountmellick a new street mural by artist James Kirwan, in celebration of the Swift - a bird that flourishes in the area will be unveiled.
In Portarlington the Port Art Collective will present the Port Art Crawl. From the library down to French Church Street, places and spaces open up to showcase Portarlington's cultural and artistic talent, with pop up exhibitions, music performances, dance, craft, photography and more.
At the Laois Arthouse Stradbally we have Myth & Magic as we invite you to Join artists Rebecca Deegan and Donna Kearns for a joint exhibition that will include selected work including paintings in acrylic and oil, watercolour illustrations, drawings and small sculptures that delve into Irish and Nordic Folklore as well as mythologies from other cultures.
An online Sculpture event by Evgeny Chubatyy will demonstrate the process of creating a small-scale sculpture in wood in this pre-recorded short film, shot at his studio.
OFFALY
JJ Hough's Singing Pub in Banagher is hosting a screening of the 'The Two Faces of Tomorrow' and exhibition by Offaly artists Patrick Hough and Sheila Hough. The film, from which the event takes its title, is a 40-minute experimental documentary about algae; how they have shaped all life on our planet, and how they relate to the issue of Climate Change today. Accompanying the film screening will be an exhibition of new oil paintings by Sheila Hough, all created in response to film's theme. The event will also include a discussion and Q&A with the artists.
Artist Tm Quinlan leads the live pop-up public art studio at Birr Technology Centre where participants will sit for a portrait drawing session. Visitors are also welcome to view and experience the process, which is as much about observing as it is about drawing or mark making. See art in motion as the artist uses charcoal on paper, creating fast-paced portraits on a large scale. The work will be hung and displayed for viewing.
A comedy outdoor performance by drummer Bryan O'Connell and former Birr resident dance artist, Nick Bryson will be on offer at The Growery. The show includes juggling, dance, clowning, and drumming.
This annual Culture Night gathering at The Growery features a medley of music, talks, recitals and spectacle in the environs of the urban food and cultural commons of The Growery, a tranquil walled garden restored by volunteers representing old and newcultures of Birr.
At the Birr Theatre and Arts Centre, through writing and photography, Poet Eileen Casey and Photographer Jackie Lynch capture impressions of a town where they were born and grew up in. A short film featuring photography and poetry will offer new insights into the landscape of Birr, focusing on 'hidden' elements as well as familiar ones, whilst the experience will be supplemented with the artists' speaking to their unique collaboration. A limited-edition publication of 'Birr Town Stills' will also be available on the night.
For over fifty years, the Clara Musical Society have been bringing quality entertainment and national award-winning productions to audiences in the midlands. They are delighted to return to Culture Night at the Friends Meeting House with an interactive fun way to enjoy musical theatre. The event will feature live performance of classic show tunes accompanied by live piano.
You are invited to 'Creative Community Social' at Edenderry GAA Club - a special evening celebrating the diverse cultures and nationalities of Edenderry and surrounding areas. It will be an opportunity for locals to both showcase and sample some of the distinct cultural activities and produce from Ireland and around the world. Come and explore the food, fashion, music and much more that is part of our town. Everyone is welcome to come along during the evening and discover the diversity of cultural offerings in Edenderry!
WESTMEATH
The Aidan Heavey Library Athlone welcome Athlone A Cappella back to the library to perform for Culture Night 2023. Athlone a Cappella are an all female chorus based in Athlone who sing four part close harmony a cappella. Formed in 2012 they have gone on to win many awards and have performed both nationally and internationally.
Ceramic And Ink Creations At Crane Bird Art Studio, Mullingar: The event will bring the community together for a cultural and shared experience and have two important aspects:
1. Is designed to encourage the experience and exploration of creating.
2. The creation of 3 pieces per person. Ranging from abstracts to objects we will walk people through the medium and show how the supplies work on the given medium. We will discuss what is needed to create the pieces of art and how to use each tool to get the desired effects. We are committed to making this project a positive and engaging experience for everyone
involved.
The Greville Arms Hotel in Mullingar is hosting a diverse collection of artworks of so many mediums acrylics, charcoal, oils ,pastels pencil and woodcarvings. It is a large collection of portraits ,national landscapes and so much more by local Artists, Mary Hunt, Kieran Gaine, Richie Clarke, Bernie Fay, Gordon Duffy, Tommy Bolger, Martina Cassidy, Peter Finch, Ann Keating and Kevin Meehan.
A free guided tour of Athlone Castle is available this evening, and it's the last chance to see 'Stories from the Castle' - a temporary exhibition centred around the stories of former residents of Athlone Castle.
A night of traditional Music and storytelling is on offer at the Fore Abbey Coffee shop - no booking required.
The Connaught Street and Environs Traders and Residents group is marking the rich history and heritage of the Connaught Street and O'Connell Street area through an exhibition across buildings and premises in the area. This will build on the original exhibition put together in August.
The primary objective of this community group is to rekindle the former vitality of the bustling streets, O'Connell St. and Connaught St., and to advocate for the interests of locals, residents, and businesses alike. The group is actively formulating a visionary outlook for the street's future, aspiring to be a resounding and clear voice for the area, articulating the concerns of its residents and businesses.