The HSE is teaming up with the GAA to roll out testing centres.
Laois GAA is teaming up with the HSE to deliver a drive-thru Coronavirus testing centre in the county.
People will be able to get tested for COVID-19 at MW Hire O'Moore Park.
It is by appointment only and only those who have been referred by their GP will be seen.
Peter O Neill, Chairman of Laois GAA, says they are welcoming the opportunity to play their part in the crisis and will assist in anyway they can. He says many clubs are assisting people in their local communities and is asking the public to follow the advice given by the HSE.
MW Hire O'Moore Park and the LOETB Centre of Excellence will be closed to the public as a result.
Visitors are asked not to leave their cars at any time during their appointment and once they are checked in they will be given a face mask, tissues and a disposable bag and directed to a test bay.
They will be then seen by a health worker wearing Personal Protection Equipment and the person will be asked to blow their nose and put the tissue in the bag and have a swab taken from their nose and throat.
The person should then leave and return to self isolation.
The HSE and Laois GAA are appealing for privacy for the staff and those visiting the centres.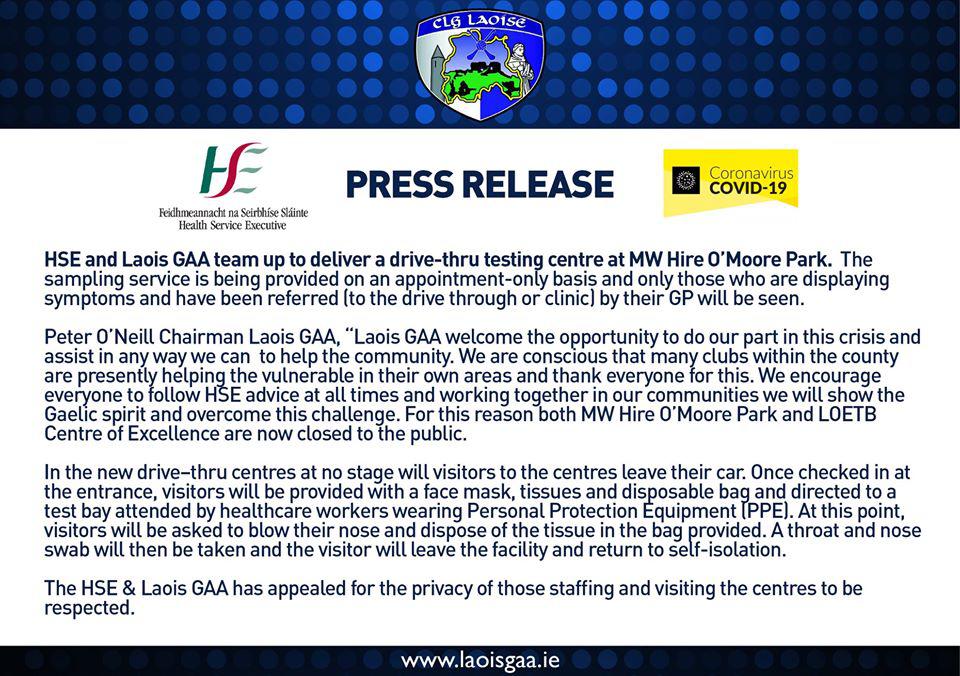 Further information on Testing for Covid-19 at https://www2.hse.ie/conditions/coronavirus/testing.html#home
Taoiseach asking people to stay at home if at all possible. https://t.co/9AyqYjd0yE

— Midlands103 (@Midlands103) March 24, 2020