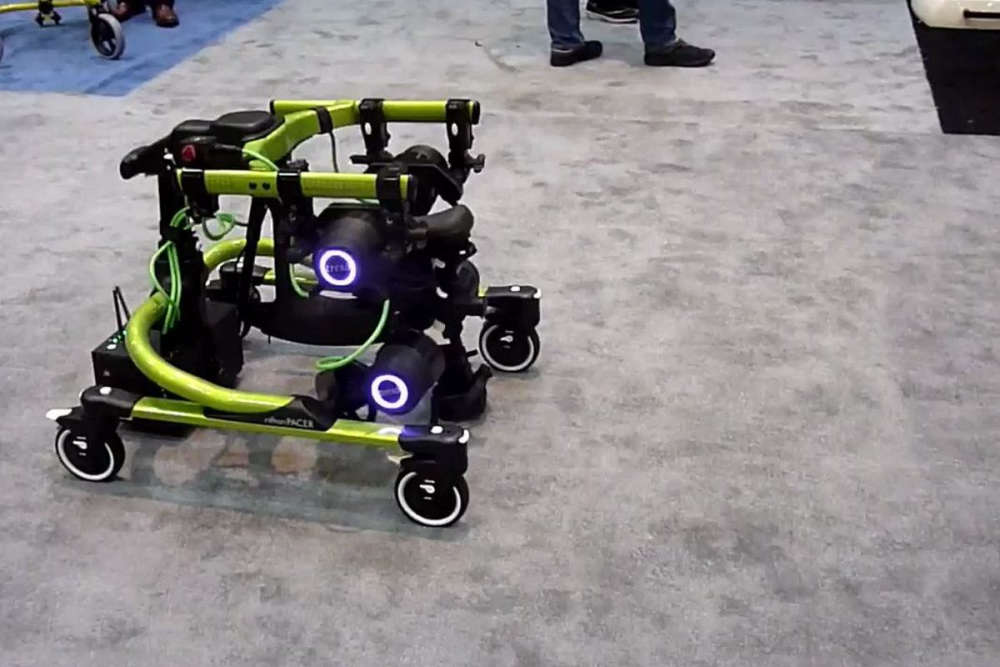 Photo Credit: Twitter/@trexorobotics
He has a rare and undiagnosed condition, is non-speaking, and is a full-time wheelchair user.
A 10 year old boy in the midlands needs help to learn how to walk.
Jamie Mannion, from Co. Laois has a rare and undiagnosed condition, is non-speaking, and is a full-time wheelchair user.
The Trexo for Jamie campaign has been set up to help Jamie become the first child in Ireland to be able to purchase a Trexo Robotic gait trainer to use at home.
This progressive, dynamic, and groundbreaking technology allows for a level of consistency that cannot be matched with home programmes or traditional walkers.
Jamie had the chance to use the Trexo Robotic trainer while at SMILE therapy for kids in Toronto and in just 2 short weeks he made considerable strides.
He he took hundreds of steps in each session and really gained confidence which would not have been possible with a typical gait trainer or walker.
Trexo uses technology to use robotic legs for the child to experience a perfect gait pattern.
It facilitates walking with the child and records the difference between the child and the robot's initiation of steps and how many steps were taken.
The Trexo Robotic Trainer helps to facilitate bone and muscle development, improves body awareness, assists with body alignment and will allow Jamie to reach his full physical potential and possibly take independent steps.
Speaking about the campaign, Jamie's Mum, Siobhan Mannion, commented, "Jamie can currently crawl, climb and with support can take a few steps. Through the various therapies we have been lucky to access over the last few years we know that Jamie has vast potential. With your help we want to purchase our own Trexo for Jamie to use at home which will greatly assist him on his journey to learn to walk. This, in time, will improve his standard of life as he will be able to experience activities such as walking with his friends or exercising with the family".
For more information on how you can help Jamie, log onto www.trexoforjamie.ie or you can follow Jamie's progress on Instagram, @jamies_gdd_diary.
As part of the Trexo for Jamie campaign, it is also hoped to set up a fund so that other children like Jamie from all across the country can access Trexo Robotics and other treatments that will help to enhance and improve their daily lives.