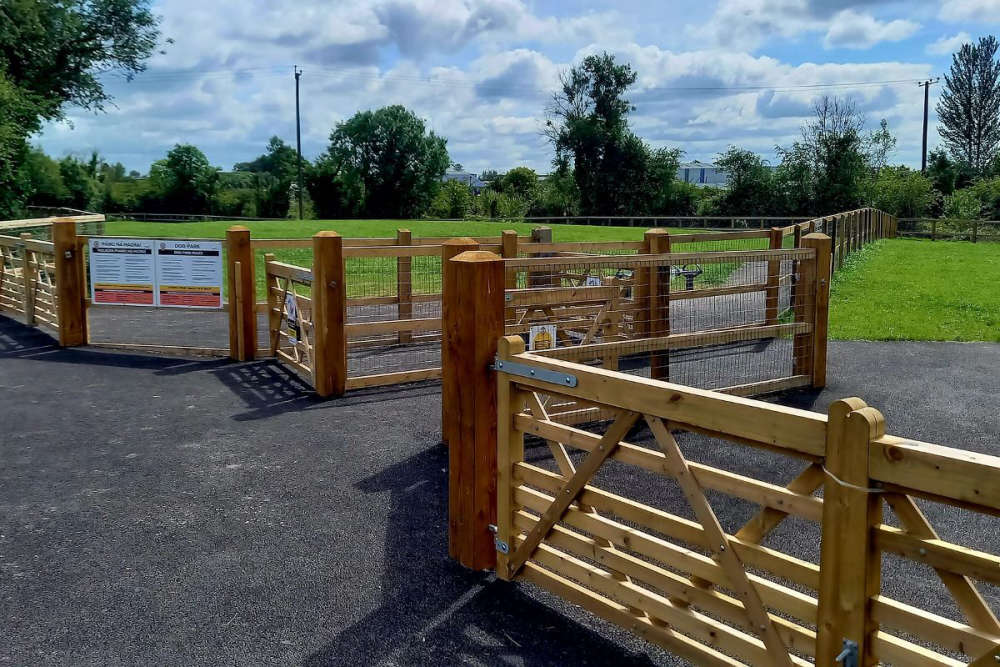 Photo credit: Facebook/@MullingarDogPark
The new amenity will no doubt be a hit with dog-owners in the area.
The midlands' first dog park has opened to the public.
Works are now officially complete on the development along the Royal Canal Way at Newbrook, Mullingar.
Separated into two sections for small and large dogs, it'll give owners the chance to let their pets off their leads and interact with others.
The three-acre Park, located between the Royal Canal and the Old Mullingar-Athlone Rail Line, can be accessed from the Royal Canal and Old Rail Trail Greenways.
The Park is also conveniently located beside the Old Rail Trail carpark.
Funding for the project was secured back in December.
Fine Gael councillor Andrew Duncan has been campaigning for the park for over four years - he hopes it can inspire other communities in the midlands to follow suit:
Smaller dogs (less than 15kg) may only access their designated section of the Dog Park.
The same principle applies to larger/medium-sized dogs (greater than 15kg) who may also only access their particular section of the Dog Park.
Owners/users must ensure that their dog remains within their designated section.
When attending the Park, users/owners are also requested to adhere to the following guidelines:
Close the gates upon entering and exiting.
Recognise that owners are always legally responsible for the behaviour of and controlling their own dog(s).
Owners must be within the Dog Park and supervising their dogs with their lead(s) readily available.
Owners must ensure that their dog is not causing a nuisance to other park users and their dog(s).
Users/owners must ensure that the maximum ratio of three dogs per person is not exceeded and must respect the overall park limit of a maximum of 15 dogs present in the Park at any one time.
Any children entering the Park must always be accompanied and supervised by a responsible adult.
Aggressive dogs MUST NOT be taken into the Park.
Dog vaccines must be up to date and if a dog shows any symptoms of being unwell (e.g. kennel cough or vomiting) please do not bring them to the Park.
Female dogs that are in heat must not be brought to the Dog Park.
Pronged or spiked collars are not permitted.
Owners/users are requested to clean up immediately if their dog fouls.
The following breeds are NOT permitted in the Dog Park:
American Pit Bull Terrier
Bandog
Bull Mastiff
Doberman Pinscher
English Bull Terrier
German Shepard (Alsatian)
Japanese Akita
Japanese Tosa
Rhodesian Ridgeback
Rottweiler