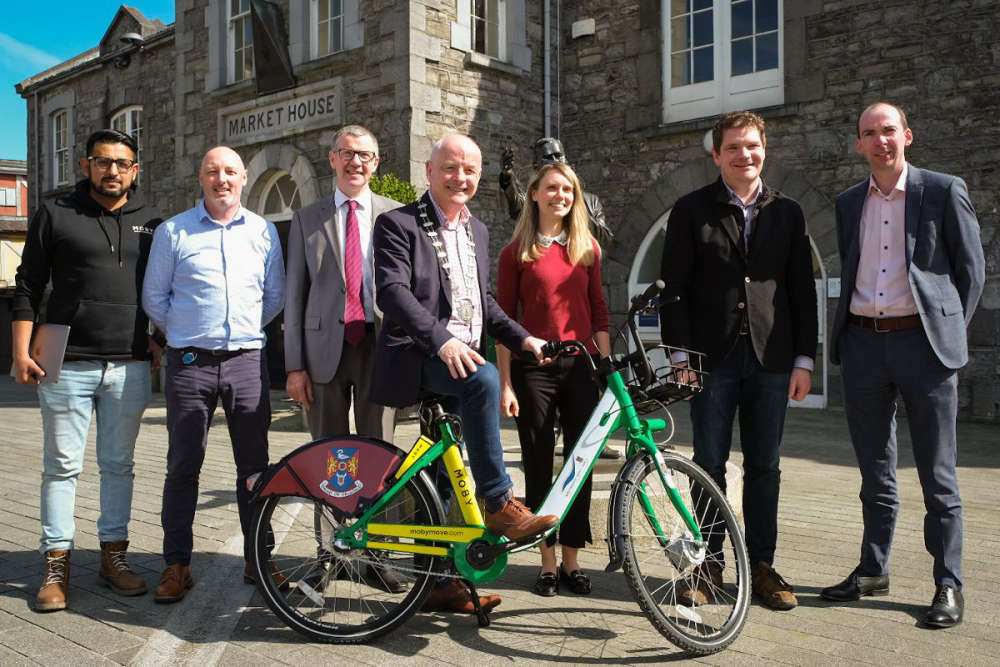 Anyone wishing to avail of the bikes needs to download the app.
A new bike scheme will be available in the midlands from next week.
Westmeath County Council's shared bike scheme is being launched in Athlone and Mullingar on Monday.
Anyone wishing to avail of the bikes needs to download the app.
The bicycles will be in 10 key locations in each town.
The local authority is already considering plans to expand the service depending on the take up of the scheme
Athlone:
Athlone Castle opposite Sean's bar
Athlone Castle beside tunnel
Church Street
Entrance to the Marina
Athlone Civic Buildings
Golden Island shopping centre
Dublin Gate Street
St Mary's Church Athlone
Garrycastle Greenway entrance
Regional Sports Centre
Mullingar:
Mullingar Train station
Fair Green Car Park
Dominick square x 2 locations
Market Square
Mullingar Arts Centre
Mullingar Civic Buildings
Castle Street
Mullingar Town park entrance
Mullingar General Hospital

The scheme will be managed by Moby Bikes who currently run similar schemes in multiple areas of Dublin City and County.
This is the first shared bike scheme of this kind in a regional town and will be a great addition to the transport infrastructure of both towns.
Having the option to use a bike around the town is now available to everyone and should help reduce the number of cars in both towns.
How does it work. T
The customer simply downloads the Moby Move App to your phone. Register your details and select your town. The app will then show you where the nearest bike is located.
When you find the bike, simply scan the code on the bike and the app will unlock it.
You are then free to use the bike for as long as you require. Your hire won't end until you decide to return the bike. The charge is set at €1 per hour with a maximum charge of €16 per ride.
When you are finished, simply return the bike to a designated station, lock it up and end your journey.
The bikes themselves are designed to be very user friendly and easy to ride. Even those that may not have ventured on a bicycle in a while will find it comes back to them very quickly.
Cathaoirleach of Westmeath County Council, Cllr. Frankie Keena has warmly welcomed the launch of the Bike for Hire Scheme in both Athlone & Mullingar where 60 bikes in total will be on the streets within days.
"This is a good news story which will be a marvellous incentive in attracting extra tourists into the county, and it will also be of great assistance to residents as they move around the towns doing their daily activities", he said.
"The bikes are fabulous and very comfortable to cycle. It is an initiative that I have been raising for quite a while and now I am just thrilled to see it coming to fruition", added Cllr. Keena.
"The main purpose of the project is to encourage people to get out of their cars and start cycling. The bicycles will be located at ten bike stations around both towns".
"A review of the scheme will take place later this year so I urge everyone to use these bikes as often as they can" he concluded.