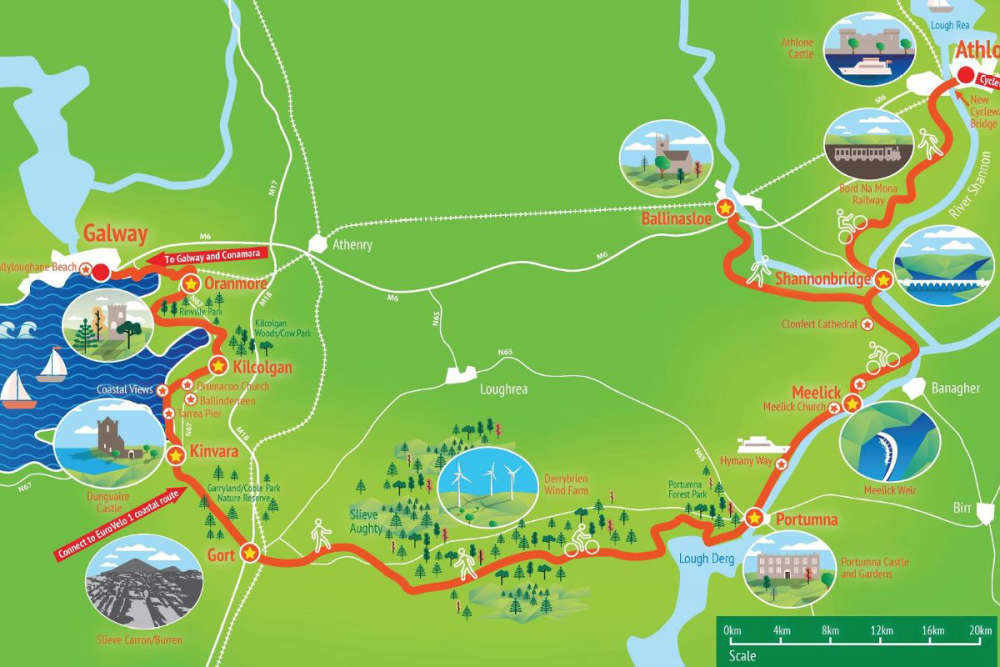 The route will travel through west Offaly on its way to Galway.
A preferred route for the new Athlone to Galway greenway has been selected.
Route Corridor 5 - which travels along bogs in west Offaly, through Shannonbridge, Ballinasloe, and Portumna, before continuing on to Gort towards Galway City.
The long-awaited decision has yet to be finalised though - with extensive landowner engagement to continue into 2022.
A public consultation on the preferred route is also open from today until 31st January - with interactive maps and information available online.
Local Social Democrat councillor Clare Claffey is among those welcoming the news;
"This is a beautiful, scenic area with lots of heritage. A huge well done to all the local people who worked so hard to make sure Shannonbridge would be recognised as a major location on the new route.
"I believe there was over 10,000 submissions, which shows massive public interest in this project. and it will also bring prosperity to a region that badly needs it.
"So it's absolutely crucial now that a full cycle network is delivered for the entire region and I look forward to that happening soon."
The Emerging Preferred Corridor uses publicly owned lands as far as possible including Bord na Móna lands, Coillte forest roads and ESB lands.
Chief Executive of Galway County Council, Jim Cullen says;
"This Emerging Preferred Route Corridor varies in width, being narrow in places where we are proposing to use existing paths, such as Bord na Móna railways and Coillte forest roads, and broader in areas where we will need to use privately owned land.
"In these areas, we wish to meet with landowners to discuss the project and explore where a route can be progressed, through voluntary acquisition of land, and along a farm boundary."
Following the consultation process, a preferred route will be selected, with the consent and agreement of the majority of landowners.
The project team say they're hopeful they can bring an application for planning consent to An Bórd Pleanála in 2023.
Detailed and interactive maps, a public consultation portal and other information is available at galwaytoathlonecycleway.com.
Landowners and interested parties can contact the project team at telephone 091-509 267 or email info@galwaytoathlonecycleway.com.
The project office will close at 1pm on 23rd December 2021 and reopen on Tuesday 4th January 2022.
You can also take a look at all the latest info here - Public Consultation No. 3.