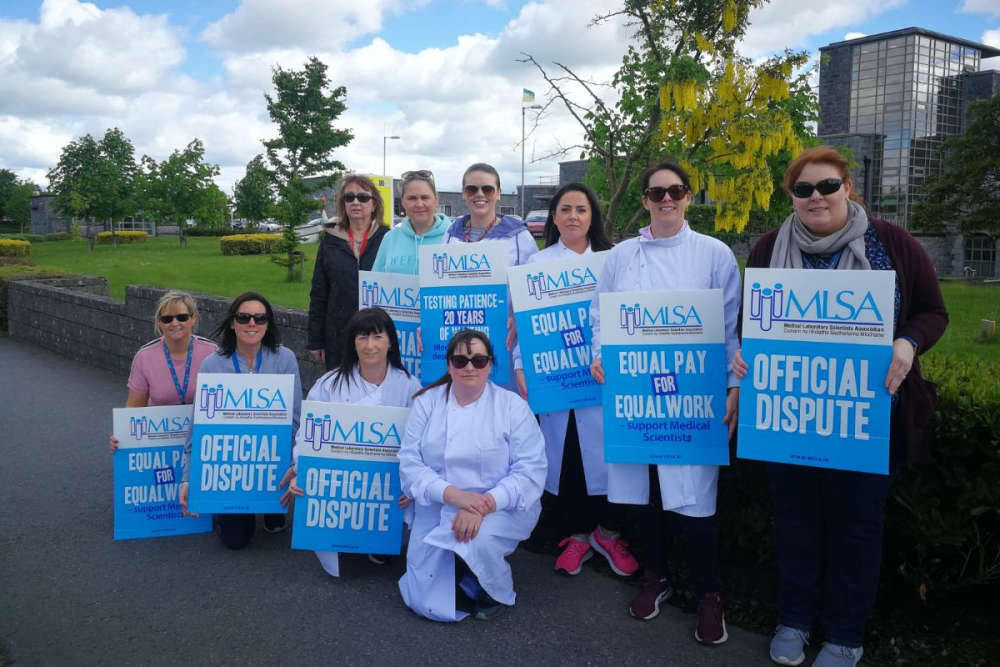 Medical scientists have suspended further industrial action. They have agreed to a Labour Court invitation.
Medical scientists have now suspended further industrial action.
A total of over 2,000 scientists had downed tools around the country in decades-long dispute over pay and career progression.
The Medical Laboratory Scientists' Association says the current system sees them earning on average 8% less than their lab colleagues, clinical biochemists.
Procedures and services at the midlands regional hospitals have been severely disrupted.
Yvonne Murray was among the medical scientists picketing outside Tullamore Regional Hospital today - she says the long-running dispute is having a knock-on effect on retention and recruitment.
She explained to Midlands 103's Ellen Butler why they decided to strike...
Medical scientists picketing outside Tullamore Regional Hospital on their second day of strike action.

They're hoping their pay and career issues can be resolved tonight, to avoid another 12 hours work stoppage tomorrow.

More on https://t.co/CW6rTaEeqX 📻 📱@DMHospitalGroup pic.twitter.com/BIDASOHqo8

— Midlands103 (@Midlands103) May 24, 2022
READ MORE: Strike Action: Here's All You Need To Know About Disruption At Midlands Hospitals