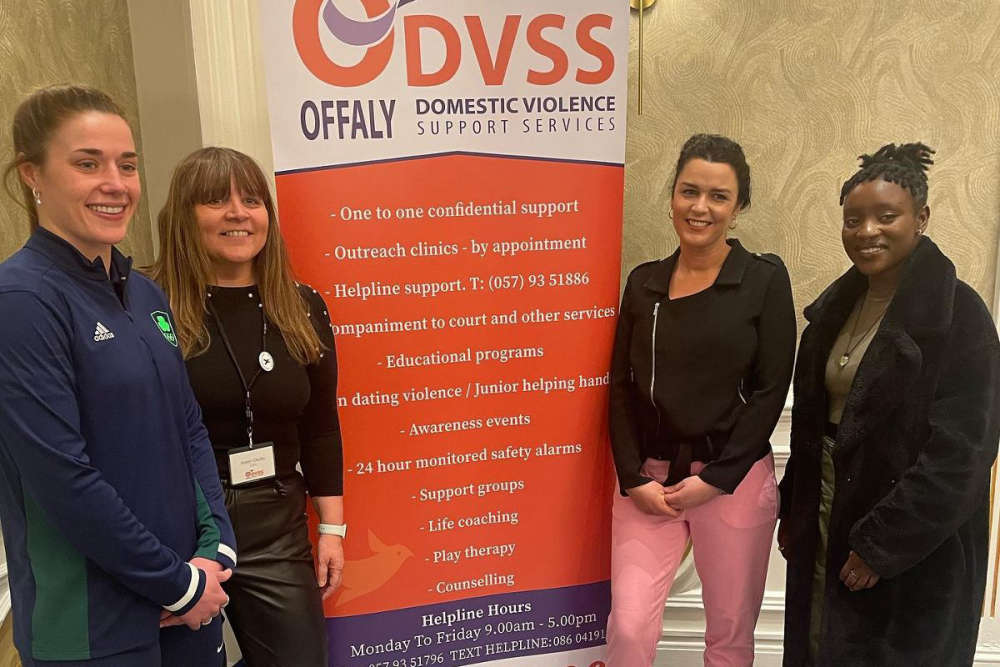 Photo Credit: Offaly Domestic Violence Support Services Facebook
Do you believe in the power of positivity?
A number of events have been held in the midlands this week to mark International Women's Day.
Over 100 ladies attended the Offaly Domestic Violence Support Services lunch in the Bridge House Hotel on Monday, where a chef, a singer and boxer shared their powerful stories of overcoming challenges in their lives.
Alannah Sheehan had just given birth to her third child and was only 32 when she was told had a brain tumour.
The young mum was only given over a year to live.
The news floored her but she decided that she had to live her life and now she says her mental wellbeing has never been better.
She believes in the poor of positivity and has a number of affirmations she tells herself on a daily basis.
Alannah has been speaking with Sinéad Hubble on Midlands Today and says that she is a fighter who is determined to get through this:
Offaly singer, Tolu Makay,also spoke at the event. She opened up about the difficulty in finding a place to belong and being the only "black kid" in school.
She believes sometimes you need to take time out and ground yourself.
The psychology graduate says life has not always been easy and she's been speaking with Midlands 103's Sinéad Hubble and says while she's had her struggles, music gives her the outlet she needs to express herself:
Meanwhile, Laois County Council held an event in its County Buildings on Wednesday evening.
Women from all types of backgrounds gathered in the chamber.
Rathdowney's Ellen O Malley Dunlop who is the former CEO of the Dublin Rape Crisis, spoke about her work and life and the progress women have made.
The Mountmellick Yarn Bombers, Laois Integration and the ICA were also represented.
Angela McEvoy, from Teac Tom, spoke about setting up the charity after losing her son and husband to suicide.
Fianna Fail Councillor Catherine Fitzgerald recalled joining the council in the 1990s and called for the women present to get involved in their local community.
Cassia from the Laois Brazilian Association says their members want to get involved in their local community and want to learn English and be part of society.
Laura Murphy, who was part of the campaign to have St. Brigid's Day made a public holiday, recited this poem: