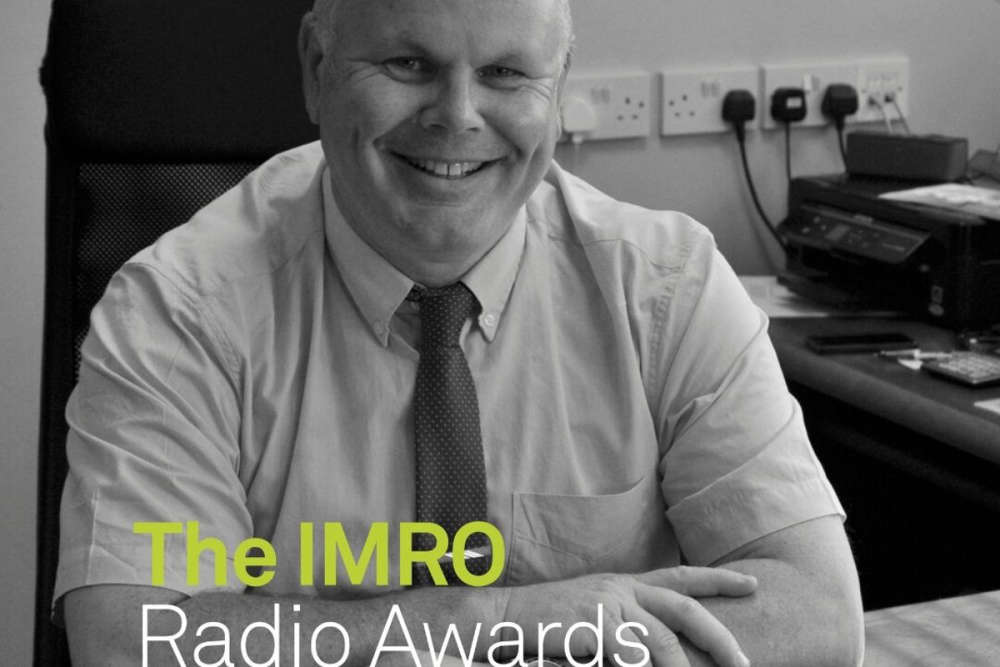 He's been inducted into the IMRO Radio Awards Hall of Fame.
Midlands 103's Albert FitzGerald is being inducted in the IMRO Radio Awards Hall of Fame.
The broadcaster passed away last month at the age of 59.
The IMRO Hall of Fame recognises individuals who have made an outstanding contribution to radio.
Chief Executive of the BAI, Celene Craig says it's a pleasure to be able to honour the 59-year-old for all his work in the industry:
Mr. FitzGerald was a staunch supporter of many industry innovations including the training body Learning Waves, the Independent Broadcasters of Ireland and IRS Plus in Dublin.
He began his radio career as a salesperson with Cork's ERI, instantly falling in love with the medium and receiving promotion to Sales Director in less than six months.
Romantic love lured him away from Cork, and he briefly left the industry, returning in 1995 to then-Midlands Radio 3. The business was deeply loss-making, and listenership was the lowest in local radio. Albert pledged his future wife that he would spend less than a year there.
However, Tullamore remained their home because of the impact Albert would have. The training was his first priority, a belief that saw him later serve as a founding director of the radio industry training body, Learning Waves. With proper sales structures in place, the company became profitable, and major competitions drove greater listenership.
Albert's wife, Siobhan, accepted his award:
The all-new Midlands 103, its fortunes reversed, was an attractive takeover target, and when the Tindle Family conducted due diligence, they wanted Albert to become Managing Director as a condition of purchase. On assuming control, he successfully secured the 2004 licence renewal and launched a capital investment programme in transmission, vehicles and studios. Fortunately, these projects were completed in advance of the economic crash, which set the stage for Albert's biggest test.
Confronted with plummeting revenue, client failures and doubtful debts, Midlands 103 adopted unconventional tactics. It immediately launched CrunchBusters, an early e-commerce platform on which the station would sell discounted products and services directly to listeners. These offers were sourced from clients who needed to advertise but no longer had the cash to do so. It was a win-win concept for all parties: the listener received terrific purchase offers, the radio station generated income, and advertisers could inexpensively maintain their brand profile. It proved popular with discretionary businesses such as hotels, restaurants and leisure centres.
Midlands 103's commercial resilience caught the eye of Sir Ray Tindle, and, on Albert's advice, he consolidated his radio interests into the three most profitable stations and appointed Fitzgerald as Group Managing Director. His commercial acumen also saw Albert hold a position on the Executive Board of IRS. These achievements were noted locally, too, with a Businessperson of the Year Award from the Tullamore Chamber in 2012 and a similar distinction from the Midlands Gateway Chamber a year later.
The 59-year-old was an accomplished presenter and producer, too, with a gold PPI Radio Award and a Justice Media Award. He used his music passion to promote charity concerts, raising over €100,000 for the Tullamore & District Rotary Club - the same organisation where, as President, Albert spearheaded a modernising policy to admit women as members.
Albert's final year at the Tindle helm saw the birth of DAB in the Channel Islands and a new service called Soleil Radio. He stepped down as Group Managing Director of Tindle Radio in December 2021 in order to concentrate on his health and family.
Speaking at the ceremony today, Chair of the IMRO Radio Awards Committee , Chris Doyle, said, "We are delighted to celebrate three giants of the radio industry from across Ireland and induct them into IMRO Radio Awards Hall of Fame. Rachael, Keith and Albert have worked in front of and behind the microphone delivering audience and commercial success in their respective careers. It is great to recognise their immense contributions to making the radio industry the vibrant success story it is.
Today is tinged with sadness that Albert Fitzgerald is no longer with us, he is such a deserving recipient of the award, and we know he would have thoroughly enjoyed being here. We are delighted that his wife Siobhan and his sons Stephen and Andrew could join us to remember Albert and his amazing radio career."
Speaking on behalf of sponsors, IMRO Chairperson Eleanor McEvoy said :
"On behalf of IMRO, I would like to say how delighted we are to be involved once again with the IMRO Radio Awards Hall of Fame. It gives us great pleasure to be inducting three of our most revered and cherished radio professionals Keith Finnegan, Rachael English and the recently deceased Albert Fitzgerald into the Hall of Fame. Each of our inductees have made a lasting impression on the industry and they now sit alongside the leading lights of broadcasters in Ireland."
Watch the broadcast of the IMRO Radio Awards Hall of Fame below:
Our sound is back! #IMRO22 https://t.co/mZwItdUBlR

— IMRO Radio Awards (@IMRORadioAwards) September 13, 2022
Three New Inductees Announced for IMRO (Irish Music Rights Organisation CLG) Radio Awards Hall Of Fame 2022#IMRO22
The 2022 Hall of Fame inductees are: @EnglishRachael – @RTERadio1
Keith Finnegan - @gbayfm
Albert Fitzgerald - @Midlands103 pic.twitter.com/iTA7FZMh6W

— IMRO Radio Awards (@IMRORadioAwards) September 13, 2022
Read More: Tributes Are Being Paid To Midlands 103's Albert FitzGerald